---
Jet Song
Verse 1 and Chorus lyrics from The Green Hills of Earth,
© 1947 by "Noisy" Rhysling and Robert A. Heinlein
Additional verses and Music © 2006 by Dr. H. Paul Shuch

Click on the speaker icon to hear this song
When the field is clear, the reports all seen,
When the lock sighs shut, when the lights wink green,
When the check-off's done, when it's time to pray,
When the Captain nods, when she blasts away --
Chorus:
Hear the jets!
Hear them snarl at your back
When you're stretched on the rack;
Feel your ribs clamp your chest,
Feel your neck grind its rest.
Feel the pain in your ship,
Feel her strain in their grip.
Feel her rise! Feel her dive!
Straining steel, come alive,
On her jets!

When the booster's spent, and you throttle back,
When it's time to float, and you leave your rack,
When the pain and pressure are left behind,
When your world turns weightless, within your mind
Chorus
When the arc is high and your speed is great,
When you know it's time to decelerate,
When your weight increases in fifteen gee,
When you've been where no man was meant to be --
Chorus
When the rockets cool and your journey's done,
When again you're warmed by your native sun,
When the days draw short and you'll fly no more,
When you stand there knocking on heaven's door --
Chorus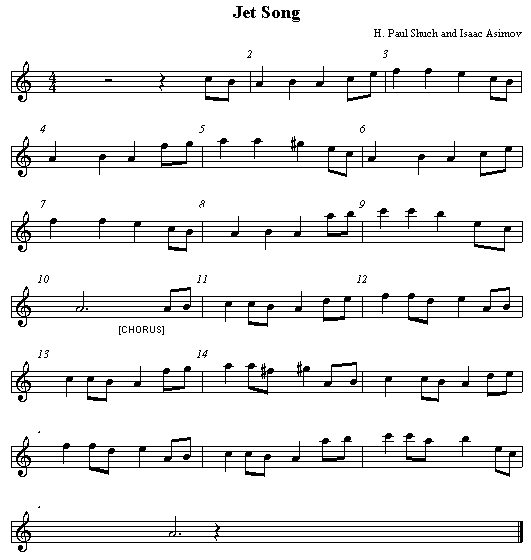 Return to Just Trekkin'
---