Due to the generosity of Michael Kalter as of 4/11/2017 we are KB8OCP! This was Co-founder Dave Kalter's (SK) call sign.
The 2018 trip is on! We are going to Curacao July 19-24, 2018.

Team applications are now
closed for this trip.


A HUGE thanks to ICOM America for donating a IC-7300 for our traveling use last year! It replaced another radio that died after returning from Saba. Thanks Ray Novak and ICOM America for committing and supporting to youth involvement in Amateur Radio.

Pages
Our donate page is currently broken. Please send checks to:

Youth DX Adventure
c/o Jim Storms
PO Box 24028
Huber Heights, OH 45424-0028
2014 Photos
2017 and previous Teams
2017 and previous Sponsors
2011 Photos
2010 Photos
Our Support Team
QSL Information and sample QSL Cards for all trips
Our Current Sponsors
Our Current Team

KB8OCP (SK) 11/18/13

Dave Kalter KB8OCP is a long time friend of Don DuBon N6JRL and fellow contester and DX'er. Dave has been on the CQWW SSB contest team at TI5N since 2008. Dave is also a founder of the YDXA (Youth DX Adventure) an organization that sends young hams age 12-17 with a parent to Costa Rica during the summer to operate as DX. Dave is the past vice president of the Southwest Ohio DX Association (SWODXA) and an active member in DARA and Hamvention. Dave likes RTTY and PSK and CW we have seen him maintain a rate of 275 Q's per hour in the CQWW SSB contest. An inspiration to all hams of all ages. Dave became a silent key on November 18th 2013 at his home with his family at his side. Dave is survived by his brother Michael W8CI, former General Chairman of the Dayton Hamvention and past president of DARA Dave is also survived by his father Jack ,sister Patty and his beloved soul mate Lynn. (Picture at TI5N in Costa Rica Oct. 2012 working the CQWWSSB contest) Photo by N6JRL
Dave Kalter Memorial Youth DX Adventure
The 2018 trip is PJ2T site in Curacao

The is July 19-24, 2018 with a team of 4 Youth and 4 Adults.
We expanded the team. Welcome Violetta Latham!
Thanks to all who visited our booth #2602 at Dayton Hamvention®.
We raffled off an Icom IC7300 to raise additional funds.
Ray Novak, N9JA pulled the winning ticket of Joe (the cat in the hat guy) Eisenberg K0NEB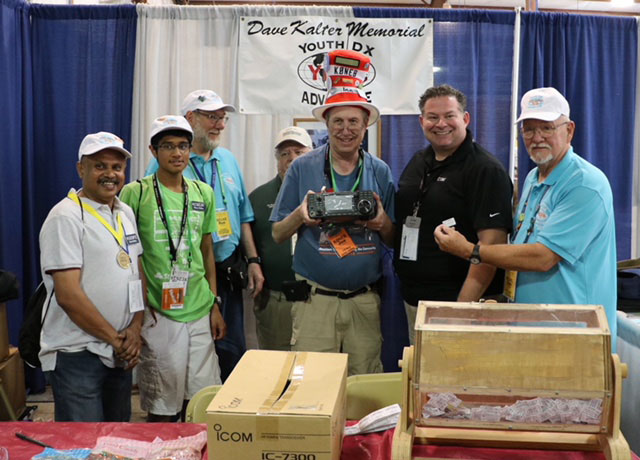 The HT we raffled off was won by Gwynn Jones, KD8UZV
Unfortunately he was not present so no picture. We did get his prize to him.

We apologize but our donate page is currently broken. Please send checks to:

Youth DX Adventure
c/o Jim Storms
4968 Tilbury Rd
Huber Heights, OH 45424-3755
---




We are excited to announce that through the generosity of Geoff Howard W0CG and the Caribbean Contesting Consortium the 2018 trip is returning to the super contest station PJ2T Curacao.


With the purpose of operating DX and learning the finer points of handling pile ups, working gray line and propagation and antenna's,

The experience is interesting and exciting for all of the youth operators as this is the first time many of them actually travel outside of the United States.