Due to the generosity of Michael Kalter as of 4/11/2017 we are KB8OCP! This was Co-founder Dave Kalter's (SK) call sign.
The 2017 trip is on! We are going to Costa Rica
Aug 3-8, 2017.

Team applications are now closed for this trip.

At the Dayton Hamvention(r) we raffled off a ICOM IC-7300 which was donated by DARA club.

The winner is Rob Thomas KE8ATJ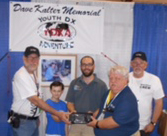 Ron Doyle N8VAR, Brody Thomas, Rob Thomas KE8ATJ
Jim Storms AB8YK, Don DuBon N6JRL



Also, a HUGE thanks to ICOM America for donating another IC-7300 for our traveling use! It replaces another radio that died after returning from Saba last year. Thanks Ray Novak and ICOM America for committing and supporting to youth involvement in Amateur Radio.





Pages



2014 Photos

2017 and previous Teams

2017 and previous Sponsors

2011 Photos

2010 Photos

Our Support Team

QSL Information and sample QSL Cards for all trips

Our Current Sponsors

Our Current Team




KB8OCP (SK) 11/18/13

Dave Kalter KB8OCP is a long time friend of Don DuBon N6JRL and fellow contester and DX'er. Dave has been on the CQWW SSB contest team at TI5N since 2008. Dave is also a founder of the YDXA (Youth DX Adventure) an organization that sends young hams age 12-17 with a parent to Costa Rica during the summer to operate as DX. Dave is the past vice president of the Southwest Ohio DX Association (SWODXA) and an active member in DARA and Hamvention. Dave likes RTTY and PSK and CW we have seen him maintain a rate of 275 Q's per hour in the CQWW SSB contest. An inspiration to all hams of all ages. Dave became a silent key on November 18th 2013 at his home with his family at his side. Dave is survived by his brother Michael W8CI, former General Chairman of the Dayton Hamvention and past president of DARA Dave is also survived by his father Jack ,sister Patty and his beloved soul mate Lynn. (Picture at TI5N in Costa Rica Oct. 2012 working the CQWWSSB contest) Photo by N6JRL
Dave Kalter Memorial Youth DX Adventure
Announcing 2018 trip is PJ2T site in Curacao

The is July 19-24, 2018 for a 4 Youth and 4 Adult team.

Application coming soon!

---
The 2017 trip to Costa Rica Aug 3-8 is now complete!
Coming soon applications for the 2018 team

We visited the contest site of Byron Swainey TI5/WA8NJR in San Ramon, Alajuela Costa Rica. The team consisted of 3 kids, 3 parents and 2 leaders. See the 2017 Team link on the left for more information about the team.

Conditions were bad as everyone knows. However at this site high in the mountains weather prevented operations for almost one entire day. Lightening and radios do not mix! The kids decided among themselves to skip their tourism day and operate. This was the best day of operations and 20M held until late in the night.

Total Qs were over 3,100 even with the bad conditions. Further statistics are coming soon.

Thanks to all who made contact with one or more of the kids. The adults were almost completely shut out, Ron and Jim were, as the kids kept on the radios which is our goal.

Remember to QSL to each ones home call per QRZ. Most will load to LOTW, Clublog, QRZ, etc and is their responsibility. Not all will set them up.

We are in the group QSL card design process and should have them soon. Please standby.