Visit our new site: http://www.n4wis.org
N4WIS
USS Wisconsin Radio Club Norfolk, Virginia
The USS Wisconsin Radio Club will operate a Special Event Station on the weekend of 12/2 & 12/3 plus on Thursday 12/7/06 in memory of Pearl Harbor. The club call N4WIS will be activated from the "Educational Space" inside the battleship using an antenna hung from a flag line on the superstructure. Hours of operation will be the same hours as the ship is open to the public 10 am to 6 pm EST (1500Z – 2300Z) each day. Modes of operation will be both Morse code and single sideband on whatever band supports good propagation. Come on by and say hello or give us a call on your ham radio.
Ron Young, W8RJL
President, USS Wisconsin Radio Club

Club Officers
President
Ron Young
W8RJL
Vice President
Al Crawford
WA4TCJ
Secretary
Jack Main
W4YCZ
Treasurer
Terry Buzzard
KA8TNF
License Trustee
Carey Brown
KT4P
THE USS Wisconsin Radio Club
The purpose of the USS Wisconsin Radio Club is to promote public interest in the Battleship USS WISCONSIN, BB-64, the United States Navy, Nauticus National Maritime Center, the Hampton Roads Naval Museum and Norfolk, Virginia. We serve as volunteer Goodwill Ambassadors for the Tidewater community. We strive to display our wonderful hobby, Amateur Radio, to the public in a favorable way and to help educate young people about Radio Communication and its usefulness to the Navy. By means of "Ham Radio" many persons throughout the United States and the world will learn about the presence of this great ship in our Historic Seaport. Our services are provided without charge.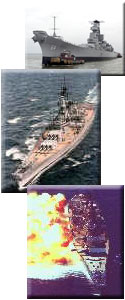 Next Meeting:
Saturday
October 14th, 12:00 Noon
C&M Cafeteria