MultiFAX MFMAP Version 7 Software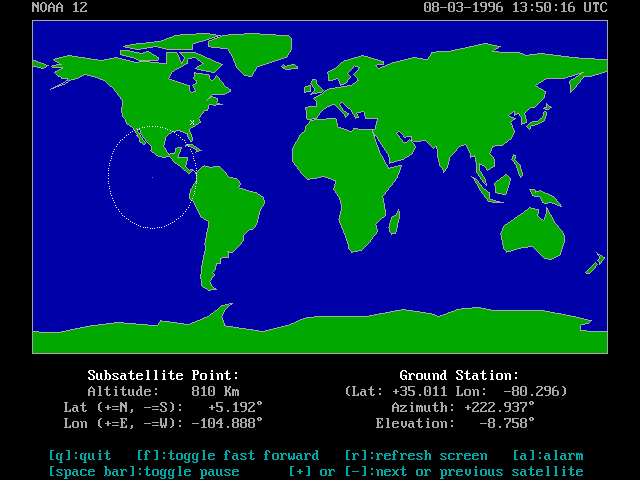 Satellite Tracking Map in MFMAP7 Software
---
Software is used to control the MultiFAX demodulator as well as capture and process (enhance, zoom, grid, colorize, etc.) the resulting satellite images. This software must be fast, powerful, and easy to use. MFMAP version 7 (MFMAP7) sets new standards in all these areas.
To provide speed, much of MFMAP7 is written in assembly language. Speed is one of the reasons MultiFAX can support writing the incoming image directly to disk (or RAM disk), display the image on the screen, and track the source satellite-all at the same time!
Review the new features and complete software feature summary listed below to get a feel of the power of the MFMAP7 software. You won't find any other image capture package that provides this much function with FULL satellite resolution at such a low price!
Lastly, MFMAP7 is easy to use. A "graphical user interface" with mouse support makes the software very easy to learn and use with simple, uncluttered screens and menus. A complete, clear manual is also included.
---
MultiFAX systems capture ALL the APT detail the satellites can provide!
---
MFMAP7 now has satellite tracking-built in! No need to purchase stand-alone software at prices higher than the complete MFMAP7 upgrade price! View the satellite track and visibility "footprint" on a world map with "fast forward" and pause capability, view the orbital elements, and print a schedule for the satellite of interest to the screen or printer!
MFMAP7 can output the elevation and azimuth of the polar orbiting satellites right on the record screen, real-time, as you're capturing and displaying the image! Perfect for users that track satellites with manually controlled rotors!
For users with the Kansas City Tracker: MFMAP7 now provides automatic, computer controlled tracking capability while recording the polar orbiting weather satellites. No need for two separate computers to record and track! MFMAP7 will send the satellite location information to your KCT driver directly during the record function.
The Record Level Meter has been changed to a graphical display of signal level as the satellite signal is sampled. The new display works like an oscilloscope displaying signal level and holding the display until a new line of data is sampled. You can achieve perfect level settings the first time and every time. Fine tune recordings to optimize the visual or IR image from NOAA satellites.
A new record option for the NOAA satellites using the demodulator onboard crystal clock is now available. This new feature will prevent image "breakage" during severe signal fades when recording under less than ideal conditions.
Image enhancement is easier than ever with the new Palette Function. The cursor (arrow) keys can be used to vary brightness and contrast of your image over the complete range of gray scale. Previous methods, including the popular programmable function keys, are still available for custom "instant" image enhancement.
New enhancements to MFREC and TIMER software make unattended recording a snap. MFREC is a completely command line driven record program that now includes AutoStart for NOAA, Meteor, GOES, and Meteosat images. The Show function is also available for GOES and Meteosat. Given a few command line parameters, MFREC can be "called" from any customized software or batch file and capture an image from any WEFAX source that MFMAP7 supports. TIMER is a "Front End" calling program for MFREC that allows up to 200 timed record events to be programmed from a simple schedule file.
---
Main Menu Screen in the MFMAP7 Software
---
Complete MFMAP7 Feature Summary:
Store Image to Hard Disk or Memory using a Ramdrive (Extended or expanded memory can be used but not required for direct write to disk).
"Point & Shoot" User Interface with Mouse Support on Text and Graphics Screens.
Full Satellite Tracking Support with Schedule Printout and World Map.
Kansas City Tracker Software Interface for Automatic Tracking.
PLL Sampling (Pictures have straight edges-no Doppler bending. Satellite transmissions can be stored or retrieved using a simple cassette recorder).
NOAA, Meteor, GOES, Meteosat, HF Fax signals supported.
Animate Your GOES and Meteosat images-Animation Continues Looping Until Stopped.
1024 by 768 resolution with 256 Colors/64 Shades of Gray with SVGA-VESA Cards Fully Supported.
Zoom up to 8X (64X area).
Powerful Image Enhancement.
AutoStart and "Show."
Simple, Easy to Use Image Enhancement using Cursor Keys.
10 User Definable "Instant" Enhancement Palettes.
False Colorization.
Multiple Unattended Timer Recordings.
"3D" enhancement.
Visible and IR pictures Recorded Simultaneously.
Calibrated IR Temperature Readout and Calibrated Temperature Colorization.
Binary or GIF Image File Output-Use Your Images with Hundreds of Other Programs.
Dot Matrix and Laser Printer Support.
Stores 3.5 Million 8 Bit Pixels for one 12 minute NOAA Recording.
Optional 50% Smaller File Size for VGA Recordings.
"Split & Join" Picture File Utility for Copying Your Images to Diskette
Graphical "Oscilloscope Level Meter" Provides Perfect Exposure Every Time.
Latitude/Longitude and Map Overlay (USA included)
Command Line Driven Record Only Utility-Run From Batch Files or Custom Software
MFMAP7 Supports Both the Internal and External Demodulators
Clear, Complete User's Manual (Over 80 pages)
Minimum computer requirements: IBM Compatible Computer with 640 KB Memory and either 1) An 8 or 16 bit slot OR 2) A parallel port (LPT1, LPT2, or LPT3), VGA Card and Monitor, DOS 3.0 or higher, Hard Drive or RAM Disk with 4MB Available Space.
---

Return to first page
Copyright © 1996 MultiFAX