Now In Stock!
VIEWING THE EARTH FROM SPACE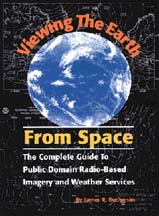 By James R. Buchanan
The Complete Guide to Public Domain Radio-Based Imagery and Weather Services will open new horizons to you. Sixteen chapters containing information on HF-Fax, NAVTEX, Polar Orbital US and Russian satellites, APT, HRPT, and Geostationary satellites are included.

Two very detailed (and big) chapters on mobile/portable operations, including complete design criteria from the guy who has logged more miles chasing satellites than anyone. If you are planning a facility for your personal use or for an event that relies on weather data, this is the book for you!

This 8 1/2 by 11 inch information source holds nearly 150 pages and 90 graphics.
---
This Is The Book You've Been Waiting For...
A fresh approach offering an overview of the popular sources and transmission formats used for viewing the Earth from space. Individual sections for each source examine every component in the system from antenna to video monitor. Illustrations, diagrams, and lots of images will show you exactly what is available, what to expect, and how to put it on your computer screen, quickly!
This book is ideal if you are wondering about Earth watching. If you are already watching the Earth, you may learn about options available and how to improve your station. For the veteran, new insights may fill in the blanks about a particular problem or oddball phenomonon you have experienced.
Information is presented in a non-technical vocabulary with a good helping of "asides," anecdotes, and an irreverent sense of humor. This is not a dry technical manual but an accurate presentation of real-world information and techniques.
A conservative and cynical comparison of different offerings and expectations will assist you in selecting the right equipment the first time. We tell you what the manufacturers don't tell you, but you'll need to know.
---

$24 plus $3 shipping per copy via Priority Mail

Return to first page