Woodhouse APT-2CP Turnstile Antenna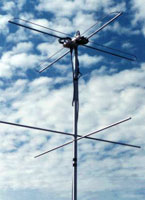 The Woodhouse APT-2CP turnstile antenna is probably the most commonly used antenna to receive APT signals from the polar orbiting satellites. It is omnidirectional and therefore needs no tracking system. High quality images are usually obtained once the satellite is above 20 degrees in elevation -- providing approximate 140 degree beamwidth.
Return to first page.