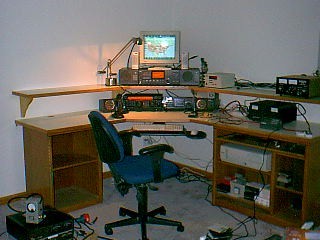 STATION LOCATION/OVERVIEW:
Located in Elizabeth, Colo. (35 miles SE of Denver) in grid square DM79rj, at an elevation of 6,530' ASL and an app. population of 3,500. Higher than the Mile High city right before the drop off into the Eastern plains.

I've recently acquired a 72' self-supporting crank up tower. It is all in place, but waiting to be lifted up vertically. I will be stacking 2x arrays using my current VHF/UHF yagis for 144/222/432/1296 MHz as well as a 4-bay array for 902 MHz. I hope to be done in early spring, but may at least get the 2m array going when the temperatures are above freezing!

HF Equipment: ICOM IC-756 PROII, Mosley TA-53-M at 50' with an ACOM 1000A Amplifier (1KW+)

6m Equipment: ICOM IC-756 PROII and Yaesu FT-920 (6m/100 watts) and an ACOM 1000A amplifier (1KW+) into 7 elements (6M7JHV) at 25'-55'. I was using a nicely converted HL-2200 on 6m with good results until I purchased the ACOM amplifier. I currently have this as a back up, or may be parting with it soon. So far I really like the ACOM amplifier, it is really easy to tune and operate and is so quiet (my rig fan makes more noise). 50 watts of drive will drive the amp up to 1,200 watts easily. I'm keeping it back at a comfortable level with much less drive as I don't like to drive anything up to maximum output. I have found a source for new 4CX800's for around $35-$40 plus an additional $10 for shipping from Lithuania. Sure beats the prices of new 3CX800's!! See eHam Reviews for the ACOM 1000A

2m/70cm Equipment: ICOM IC-970H (2m/70cm) 1.5KW Lunar Link LA-200 into 18 Elements (M2 2M18XXX) and M2 (432-13WLA) 38 elements at 57' and 200 watts.

222 MHz Equipment: DEMI transverter with the ICOM IC-756 PROII as an IF (222 MHz/150 watts), into 23 elements (2227WL) at 55'.

1.2 GHz Equipment: ICOM IC-970H (1.2 GHz/50 watts) into 55 elements at 60'.

10 GHz Equipment: Pair of homebrew rigs by Dave (K1FK). He did a very nice job on them!!! 35mW into a 17db horn. They are wide band FM at 10.250/10.280 GHz.

Mobile Equipment: I operate my ICOM IC-706 MKIIG when mobile, including vacations away in the motor home, into a screwdriver antenna on the HF bands. I have recently added stacked KB6KQ loops for 2m and 70cm and a single loop for 6m. So far I'm very pleased with their performance.

I mainly occupy weak signal SSB on 2m (144.200 MHz) and (50.125 MHz) and enjoy chatting on 17 meters. My next venture will be into 903 MHz and maybe some of the other microwave bands. With the 6m F2 season in full swing and currently at a double peak, most of my time now is chasing 6m DX.

73 from the High Plains of Colorful Colorado!
Brian (N0VSB) DM79rj




I was born and raised in the Colorado Rockies in Fairplay at an elevation of 10,000' ASL. Actually, "South Park", yeah those funny characters that have become popular, but I didn't run into many of those guys in growing up! I currently work in the field of computers, mainly mainframe computers as a Database Development Manager, designing, maintaining and providing applications programming, for a long-lived Online Information Company (The Dialog Corporation at http://www.dialog.com). I now live in Elizabeth, Colorado with my wonderful wife Diana, and our four children, Brent, Brittany, Chelsea and Brianna (boy has time flown!).

Finally made it into our new location in 1998 here in Elizabeth. Use to be down in the valley floor, but now a little higher in elevation, but still blocked horizon in several directions. My friend Tom, helped me build our home. What a venture it was doing all of the work ourselves. It took us about 9 months to complete part time, but is nice to look back on it now!



My interests include amateur radio, touring the US, hiking, camping, fishing, boating, water sports, and my family. I am currently a member of the American Radio Relay League (ARRL), 10-10 Club, and an active member in the Rocky Mountain VHF+ Club.

I'm active as the Net Control for the Rocky Mountain VHF+ Net, which meets every Monday night on 144.220 MHz USB, from 8:00-9:00 PM Mountain Time. Net control rotates, and you can find me the 4th Monday of each month. The net starts north at 8:00 PM and follows the direction of the minute hand, looking for distant check ins.






Updated Saturday, November 16, 2002...
----------------------------------------------------------------------------------------
6m DX continues to be pretty good even back into the Rockies! Currently up to 83 DXCC countries this being my first cycle on 6m. F2 is back, with nice openings into South America, Africa, Hawaii, scatter from Europe, and the Caribbean. I worked a few VK4's on 10/11/2002, and Argentina, Chile and Uruguay on Oct. 9, 2002 (a little earlier than last year). GD0TEP was worked for #76 (Isle of Man). Prior to that I worked KG4PK in Guantanamo Bay (also heard V44KAA and HC2FG for new ones, but big pileups). Worked 9H1AW in Malta for a new on 12/30/2001 and heard EH6FB in the Balearic Islands.

Currently redoing the shack and making the operational set up a little more comfortable. I've completed the "carpentry" work, but now have to put everything back together. Will update the main picture when things are in their place.

Slowly involved with the new WSJT (High Speed Meteor Scatter). Have had very good success rate up to about 1,200 miles on 2m. I will be putting together a switchable station console so I can go between different rigs on different bands (winter project).

F2 and links into it have come back to 6m! Wonderful openings everywhere. Got my first European 6m contact and have worked 7-8 European countries in November. Also, a big opening into Japan working MANY as well as DU1, DU7, 9M6, VR2.

Listen for me on 50.125, or I'll be listening on 50.110 as well as 144.200, 432.100.






As my father inspired in me, "If you work hard and just try at things, that's what really counts." "It's better to at least try and at worst case fail, than to have never gained the experience & knowledge".















Watch for more things to come... I'll soon be adding similar information for other bands and maps of grids worked. I'll also be adding better and more pictures soon (including pictures of my portable set up).



| | | | | | |
| --- | --- | --- | --- | --- | --- |
| Band | Grids | States | DXCC | Zones | LongestMiles * |
| 50 MHz | 555 | 50 | 83 | 28 | 10,695 |
| 144 MHz | 179 | 35 | 4 | ? | 1,443 |
| 222 MHz | 18 | 6 | 1 | 1 | 502 |
| 432 MHz | 32 | 9 | 1 | 1 | 502 |
| 902 MHz | - | - | - | - | - |
| 1296 MHz | 6 | 2 | 1 | 1 | 179 |
| 10 GHz | - | - | - | - | - |

Last Updated on Saturday, November 16, 2002 (* Non-EME)


50 MHz North America Gridmap Worked (50 States)
50 MHz World Gridmap Worked (555 World Grids)
50 MHz Europe Gridmap Worked (52 Grids/20 Countries)
50 MHz South America Gridmap Worked
50 MHz Asia Gridmap Worked
50 MHz South Pacific Gridmap Worked
50 MHz Africa Gridmap Worked
50 MHz DXCC Listing (Currently at 83 Countries)
50 MHz CQ WAZ Listing (Currently at 28 Zones)
50 MHz DX Log (1999-Current)
144 MHz North America Gridmap Worked (179 Grids/35 States)







Soundclip - Dave, MM0AMW in Scotland 11/15/2001 (6m QSO)
Soundclip - Tim, V73AT in the Marshall Islands 2/2/2002 (6m QSO)
Soundclip - Provided by Alan, GI0OTC in Northern Ireland (6m QSO)
Soundclip - Provided by Jeff, VE4/KG0VL in EO36 (6m Aurora)
Picture - 6 Meter & HF Tower/Antennas
Picture - VHF/UHF Tower/Antennas
Picture - Closeup of the VHF/UHF Antennas
Picture - VHF/UHF Station
Picture - VHF Station
Picture - UHF Station
Music - Hotel California










TEC Map - NASA's Latest TEC Map
MUF Map - Near Realtime MUF Map
foF2 Map - USA foF2 Realtime Map
Auroral Activity - N1BUG's Auroral Monitor
N1RZ Chat Page - Lots of 6m DXers here
50 MHz Propagation Logger - 50 MHz Propagation Reports
144 MHz Propagation Logger - 144 MHz Propagation Reports
DX Summit - Worldwide Propagation Reports
K1SIX - Bob Mobile's 6m Prop. Information
W7GJ - Lance Collister's Home Page
VK3SIX - Steve Gregory's 6m Prop. Information
WA5IYX - P.J. Dyer's 6m Prop. Information
KM0T - Mike King's Home Page (Nice VHF/UHF Station and great guy)
RMVHF+ - Rocky Mountain VHF+ Home Page
6m Beacons - Worldwide 6m Beacon List
CQ Zones - CQWW Zone Map of all Zones
Gridmap - Japan Gridsquare Map
Frequencies for Chile Music - 6m Prop. indicators/South America
TV Transmitters/Europe - 6m Prop. indicators/Europe
TV Transmitters/Pacific - 6m Prop. indicators/Pacific
TV Transmitters/Africa - 6m Prop. indicators/Africa
QRZ.COM - Callsign Lookup Database
Buckmaster's - Callsign (Includes International) Lookup Database
ARRL - American Radio Relay League






eHam.Net - Favorite Amateur Classifieds and Reviews
QTH.COM - Nice Online Swap/For Sale Site
Virtual Hamfest - Another Nice Online Swap/For Sale Site
BARC Swap - BARC Online Swap
TCRG Swap - TCRG Online Swap
SMRA Swap - SMRA/K06OY Online Swap
eBay - eBay Amateur Radio Items Only






M2 Antennas - Favorite Antennas
Lunar-Link Systems - Great QRO VHF/UHF Amplifiers
Heil Sound - Very Nice Audio Products
ICOM America - ICOM Amateur Products/Support
Yeasu - Yeasu Amateur Products/Support
Texas Towers - Great Mail Order for Gear
AES.COM - Another nice Mail Order Place
Burghardts - New/Used Amateur Gear and Repair
Ross Distributing - Good prices on M2 Products
SSB Electronics - Nice Preamps, Good prices on M2 Products
DEMI - Microwave Equipment & Transverters
Acom International, Inc. - Nicely Priced QRO Amplifiers
Harbach Electronics - Upgrade Kits/Modules for Heathkit Amplifiers
Andrews Homepage - Andrews Heliax/Specifications
Heathkit Reference - Excellent Source for Heathkit Information







VQLog - Really Nice VHF/UHF Logging Program by EA6VQ
WSJT - Great Digital Program for FSK441 and JT44 by K1JT
TRX Manager - Great Rig Control Program by F6DEX
BD - ARRL Standard Distance Calculations Using 6-Digit Grids
WinGrid - Great Distance Calculator/Grid Locator by W4SM