May 2001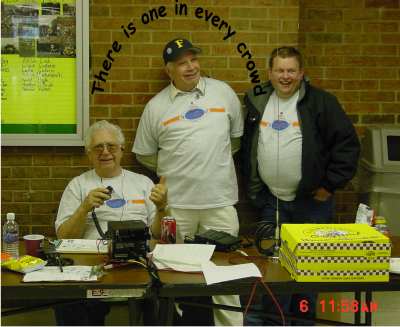 Hank, K8TRS; Dan, KC8MNY & Rick, N8RHT
Our function during the event was to support communication between the rest stops, EMS trucks, and the sag wagons, to pick up walkers that were not able to make the complete trip. The course was divided into three parts; a three mile, a six mile and a twelve mile course. The walk was held in Grosse Pointe on Sunday, May 6th from 8:00 am to 12:00 pm and about 1100 people participated. A good time was had by all and the turn out was good. John, W8CDU, was net control, with Dan, KC8MNY, as back up net control. Hank, K8TRS, was the event coordinator for the MECA group. John, WD8R was at the 3 mile spilt, Al, NW8M and Ray, Sr., KC8AQL, were at rest stop #1. Ed, N8RUJ was at the 6 mile spilt, Rick, N8RHT was stationed at rest stop #2. Phil, W8IC and Anna, KT8F were stationed at rest stop #3. Fred, N8ONE and Hank, N8UXT were on the water side at rest stop #4.

Elana Chrisman, KB8ZAW Ray
Dan, KF8VM, was at rest stop #5, Grant, KC8OGC, John, KB8DSC and Dennis, N8IAH, were on sag wagons. Diane, WI8K, worked with Amy Medich the MS route manager and Ray, KB8ZAW worked with Elana Chrisman the MS team leader. Ed, K8MDV worked with Lance Williams on the supplies, and John, N8TKH worked with Lisa Chaunty the site coordinator. There were some that I missed too. Some hams worked hard like Ray, KB8ZAW, throughout the event hanging signs, fixing doors, as well as passing traffic back and forth - and some hams were just clowning around . . .

Dan, KC8MNY, and the Clown
Hank, K8TRS, and John, N8TKH, delivered pizza and pop to the stops on the course to workers at their posts.

Hank, N8UXT; Fred, N8ONE and Hank, K8TRS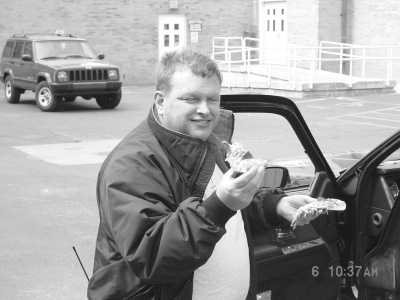 Rick, N8RHT
---
Home