MCARC Repeaters
UPDATE - 4/25/12 - The official documents from SERA approving our coordination on 145.390 arrived on February 2nd. Although no firm date has been set to re-tune the repeater for the new frequency, we hope to accomplish this prior to the end of June. If you cannot bring up the repeater on 146.655, try the new frequency pair of 145.390/144.790 with a PL of 107.2
The above photo shows the repeater at the new location. This machine is a GE Mastr II repeater station with a 4-can duplexer. More information about the repeater will be posted here in the near future.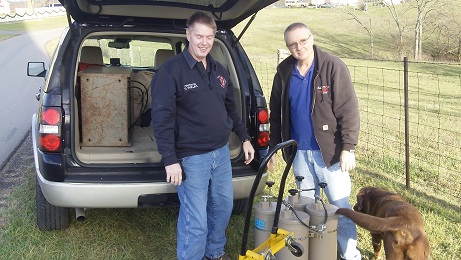 Glenn, N4VAY, and Chuck, KK4EYF, prepare to move the repeater.
In the photos above, Chuck, KK4EYF, and Mike, KE4YUC, work on installing and testing the repeater.

All photos courtesy Glenn, N4VAY.