53rd Annual Moultrie Amateur Radio Klub Hamfest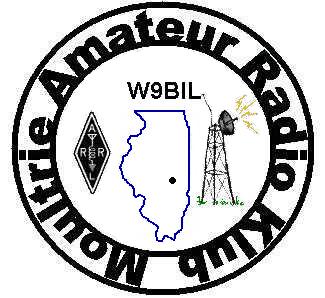 Sunday April 27, 2014
8 a.m until noon
Arthur, IL
Moultrie-Douglas Fairgrounds
Talk-In Talk-In
146.655 - 444.925+
Tone 162.2 Tone 103.5
Note: Repeaters are linked
D-STAR Repeaters:
145.195 W9BIL C
440.64375 W9BIL B
Echolink Node #744697, Call KC9S-R
Hourly Drawings
Huge Indoor Facility 8' Tables $15.00
Admission 14 and up $7.00
You must have a ticket to enter.
EXAMS WILL BE GIVEN IN THE ARTHUR HIGH SCHOOL GYM LOBBY STARTING AT 10:30 a.m.
PLEASE BRING THE PROPER EXAM FEE AND DOCUMENTATION REQUIRED.
FOR INFO, OR TO RESERVE A TABLE
EMAIL:
CALL: 217-254-7574
217-873-5287 EVENINGS
OR WRITE: MARK, P.O. BOX 91, LOVINGTON, IL 61937
If you're interested in Amateur Radio, electronics, and/or computers you should attend. We hope to see you there!