EMAIL: nick@powerstation.demon.co.uk
LOOKING NORTHWEST LOOKING SOUTH
LATEST NEWS FROM M1DDD RADIO STATION (15-1-05)
*OY /M1DDD: Arrangements are well underway for holiday DX-Activity from Faroes in MAY 2005
* Mid January will be active W1/M1DDD from The Big Apple - probably just VHF and via Echolink
*Early FEB 2005: Will be active from 9H - details being worked on
* 80mCC 12-1-05 - Poor score as had to use a DX Vertical for working inter-G. Have now erected a NVIS antenna for the next legs. Huge signal imrpovement with the new cloud-warmer antenna
* PICTURES ABOVE TAKEN BOXING DAY 2004 - PORTABLE QTH - ABANDONED IDEA OF CUMULATIVE CONTEST DUE TO SNOW. COULDN'T GET VEHICLE TO CONTEST SITE. SOME DAMAGE TO 2m VERTICAL BEAM. AH WELL - BACK TO THE SHACK TO SEE WHAT ABOUT - Managed XU7 Cambodia for a new one on 80m
* FINALLY UNPACKED THE MQ36SR READY FOR SOME PORTABLE HF. Managed to get round to buying that 1:1 balun - after shopping around I went for the Comet CBL2000 which covers 20M thru 6m+ with a decent power rating.
* THE NEW QSL CARDS FROM LY1YE QSL PRINT SERVICE are on their way - Thanks to Nasko and Bob M0MJA for a super quick service at a super price. Second to none and hard to beat for value. Take a look.......
* The old 1968 Series IIA Land Rover gets his MOT test and ready for more Portable Use
Welcome to the station of M1DDD located in the Staffordshire Moorlands / Peak District National Park in Central England. Interests include motor racing and amateur radio (Ham Radio). I am active on all HF bands excluding 30m. Main interests are DX and contesting
QTH is at 1528 feet ASL. Portable station behind the house is at 1682 feet ASL
RADIO CLUB: I am an active member of the Buxton Radio Amateur Society...I am presently contest manager for the club. We meet 2nd and 4th Tuesdays each month at the Lee Wood Hotel in Buxton
GENERAL MONITOR / TALKBACK - 145.700 (HH Repeater), 433.050 (ST repeater), 145.425 Simplex
CONTEST ACTIVITY
1998 Xmas 6/4/2/70 cumulatives - 50MHz and 70MHz Certificates, 2000 Winter 70MHz Cumulatives- leading QRP single antenna, 2004 80m RSGB Clubs - Buxton Radio Amateurs -19th Overall/9th SSB, 3rd in 100W SSB section, 2004 VHF National Field Day (Station run solo)- 6th Overall Low Power Section, 2004 70MHz Trophy- 4th place and certificate winner 10W single antenna, 2004 144MHz Low Power Contest - 2nd Place SO Section
NEXT CONTEST ACTIVITY:
Christmas 2004 - Xmas Cumulatives 50-70-144-433 - ABANDONED BECAUSE OF SNOW!
Jan - July 2005 - 80m Club Contest
May 2005 - Radio Activity OY Faroe Islands
Other: From 9H in 2005 also
RECENT INTERESTING DX WORKED: Updated 27-12-04: ZD7 St. Helena, XU7 Cambodia, K6 California, KS7 Washington state,1B (N.Cyprus -yes I know its not recognised as DXCC but thats what the /P station was issued with !),HL9 S.Korea,VU4 Andaman Is. Expedition - The Aves Island DXpedition QSL has arrived !!!!!!!
5R8, HB0, YB0, VQ9, EP3, 4S7, FP, 9L, 5U7, V8B, YI, 7Q7, ST2, HS1, R1MVI, HF0, KP2L, YV0D (Aves Is), 4U1, JW0, 3A2,1A0KM, OJ0J
THIS WEEK NOTABLES 15/1/05: 5G,VU3,VP8 (Falklands),8P6; 30/11/04 on HB0CC Leichtenstein (20m), 5R8DF Madagascar (40), 6O0W Somalia (20,40,80),VK3PA Oz(40), JA3GAX Japan (40), EX8NP Khyrgystan (80), NG1I USA(80), 5B/G4JCH Cyprus (20), SU5HR Egypt (15), 3E1A Panama (20), JR2KDN/TF Iceland (40), TI4CF Costa Rica (80)
ECHOLINK: I often monitor GB3HH repeater which is local to me. This can be linked to using Echolink. Node number is 97616
Need a contest operator / team member for up and coming contests ? - email me: nick@powerstation.demon.co.uk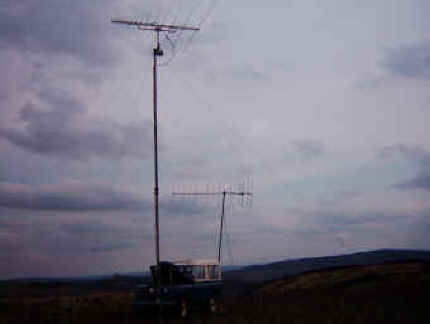 MAIN HF STATION: Kenwood TS950SD, Yaesu FL2100Z (400W), KW107 Supermatch, Hustler 6BTV (ground mounted with 4 buried quarter wave radials per band - approx 500 feet total), Carolina Windom 160 (252 feet long) and MQ36SR 6 band beam.
VHF STATION: Yaesu FT847 - 11 ele & 9 ele X-Y yagi on 2m, 19 ele on 70cms, Diamond X700H colinear 2m/70cm. 5 to 160W
PORTABLE STATION: Alinco DX70TH / Yaesu FT847 + AT230 + Create 21 ele LPA (50 to 1300MHz) + 10 ele yagi on 2 (vertical polarised) at 1700' ASL. Various other wire antennas. Waiting for weather to install Sterba Curtain Array on 10m
THE LOCALITY...IN THE PEAK DISTRICT
I am located between the towns of Leek, Stafordshire (The Queen of the Moorlands) and Buxton (an old Roman town). Below are some interesting links that tell you some more about the area.
AMATEUR RADIO LINKS
Note that I have no affiliation with any of the companies or persons below. This is purely a service for Ham Radio enthusiasts...or what I am saying is that I take no responsibility for them ! If you want a link adding, please Email me. I intend to add commercial broadcast links very soon
CALLSIGN and MANAGER INFO
GENERAL INFO
SHORWAVE LISTENING ON FM VHF (88 to 108 MHz)
Always good to listen to a bit of FM radio. I use a 3 ele loft mounted and am in the process of installing a 6 element rotatable folded driven element yagi outdoors for fine tuning those weaker signals. Here are a few links.......
MOTOR RACING