Welcome to page 1 of my website
My name is David Edwards, and I live in Cromer, in Norfolk, about 2km from the sea. I have lived in Cromer for almost 13 years and find it an extremely pleasant place to live out my retirement with my very tolerant XYL Claire.
Born in Wrexham, in North Wales as an evacuee during WWII, I was brought up in Birkenhead, in Cheshire and developed an interest in radio when I was about 11 years old, circa 1954! My late father George, G6IPU who moved to Cromer and lived to the spritely age of 97, got me interested when he built the Practical Television homebrew television (circa 1948) using an ex WWII radar scanner with a green screen VCR97 tube! On it I remember watching the FA cup final in 1950 (I think), and the Coronation of Queen Elizabeth II in 1952, broadcast from Sutton Coldfield. Then Holme Moss opened up with improved reception.
I began by listening to commercial broadcast stations on a Hallicrafters EX102 receiver, closely followed by a Hallicrafters SW54, Radio Nederland being one of my favourite stations, playing my record requests on air every Sunday. Soon radio stations around the world were being listened to on such receivers as R1155, BC348, NC46, HRO (Junior…never had a senior!), AR77, AR88, CR100, and PCR2, to name but a few which my Dad owned, and allowed me to operate. My aerial for such reception was a simple long wire, about 90ft long in our back garden.
I soon progressed to the amateur bands, and having constructed three ZL specials for 10, 15, and 20m, I was listening to the <![if !vml]>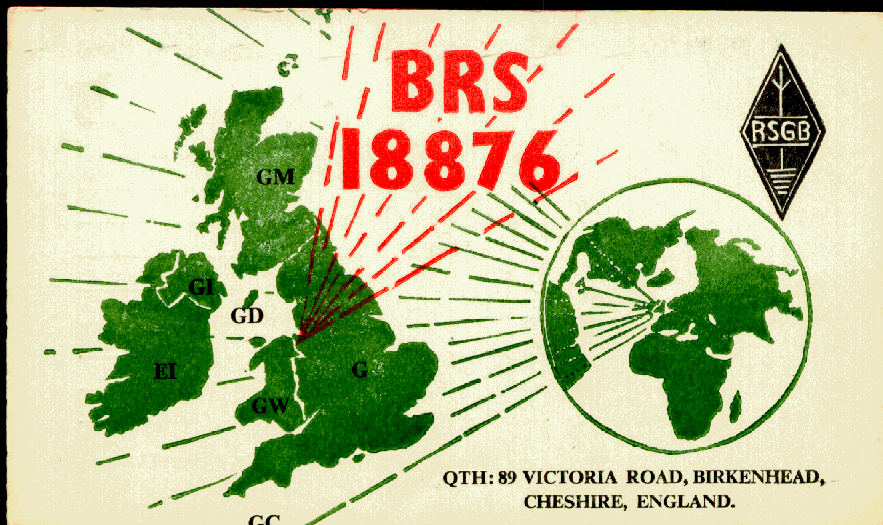 <![endif]>best of DX at the time, which was on AM! I was soon sending out listener reports with my new SWL call-sign A3000, which was combined with my Father's swl card with the call sign BRS18876.
Some of the more exotic call signs of stations from whom I have QSL cards include BV1US, CE3VU, CR7IT, DU7GB, DU7SV, EP1AD, EP2AT, EP3RO, FP8AP, HK2YO, HK3LX, JA1BK, JA1GV, JA0SZ, K3HOR/MM, KA2HO, KG1FD, KG6AJB, W0RTV/KH6, KH6CVM, KL7DKG, KP4AYD, KP4BV, MP4BDC, MP4DAA, OX3DL, PX1PF, PY7DT, PZ1AY, FQ8AQ, T!2W, TI2WA, TL8AB, UA1KED, UA9KCT, VE2AIG/SU, VE5MK/SU, VE3JAM, VE8YG, VK2AHH, VK2AHM, VK2AIA, VK2LV, VK3AYR, VK3TE, VK3TG, VK5WO, VK7AI, VO1BD, VP3RW, VP4BO, VP7NC, VP7NQ, VP9AK, VP9MM, VQ3HS, VQ3PBD, VR6AC, VS1GQ, VS1KS, VS9APH, VS9MB, VU2BK, VU2SR, YV2DW, ZB1FG, ZC4GB, ZD2JKO, ZD6HK, ZE7JK, ZE7JR, ZK1AR, ZL2ARW, ZL2SE, ZL2UD, ZL3JO, ZL3RB, ZS1AB, ZS3AH, ZS4PB/ZS9, ZS6AFJ, 4S7IW, 5N2AMS, 5R8AD, 5U7AMS, 6W8CU, 9K2AP, 9M2DW, 9Q5CI, and 9U5MC.
A long time ago I know, but it would be great to QSO with any of these stations still on the air or email or snail mail after such a long time. I've heard from 4S7IW which was a great delight. Also, VK2AIA, but a different operator as Australian licensing is not exclusive as in the UK. If you're still around, or you know of them, please give me a call david@m0cnp.fsnet.co.uk
I left school, went to study in Cambridge and did an apprenticeship at Pye Ltd, the radio people. I did all the usual things; got married; had kids; bought a house; bought a car; and generally had a <![if !vml]>
<![endif]>"good time". It was in 1977 that I decided that a transmitting licence was needed, so having passed the RAE I was issued the call sign G8NEO. Thus it was that I became very active over the next few years on 2m and 70cms.
I became very interested in Fast Scan (B & W at the time) Amateur Television and had a very active 70cms station running some 100 watts when TVI permitted, ie after , from a homebrew transistor transmitter and 4CX250 linear.
I was very much into cross-band working (2m up-link, 10m down-link) on the Russian polar orbiting satellite RS8,9,etc in the early 1980's. Confirmed QSO's include those with Y38WA, Y25FG, YU3UXT, WB4OSS, W5LFL from the spacecraft Columbia, W1NU, UU2M, SV1OE, SP6FUN, SM7NGR, SM7JUD, SM7MDN, SM6JDO, SM6DER, SM3KPX, RA3UDD, OK1KPU, OK1KHI, LA5XAA, KE2N, and many more British, and European stations. For these contacts I used an FT480 with an Eddystone EC10 receiver. The FT480 was then the only transceiver upon which the TX frequency could be varied whilst transmitting, essential to overcome the Doppler shift on the satellites.
I was also very active on 2m and 70cms SSB with homebrew valve linear amps running in excess of 100 watts using single QQVO6-40's with 1kV on the anodes! How the plates glowed when approaching maximum power! Oh happy days!
My career then became more important, and it was not until 1999 that I decided, having retired to Norfolk, to sit and pass my morse test. I am eternally grateful to Tom, G3WQY and Alan, G0TAM for their dedication and perseverance in coaching me to the required 12 wpm. Thanks guys! A big thank you must also go to our long suffering XYL's who go through all manner of <![if !vml]>
<![endif]>disturbances and inconveniences in our pursuit of our hobbies. Thanks, ladies!
I am now active on all HF bands (6m to 160m including WARC up to 100 Watts) using a Yaesu FT-920 and an MFJ-948 Versatuner. My antenna system consists of an Optibeam 10/5 for 10/12/15/17 and 20m (a beautiful antenna) on a 10m mast with ProSisTel rotator, and a 136ft Off Centre Fed Dipole (OCFD) running E-W at about 6m high.
 For portable/mobile operation, I use a Yaesu FT-857D and MFJ 16010 tuner with kite borne long wire, and Watson W-25SM power supply unit. A fishing rod is carried to cast a line over a tree if needed. The car is fitted with base loaded whips for HF, and a dual band loaded whip for 2/70. I also have an ICOM IC-718 which is used occasionally for special events. A Sandpiper multiband aerial completes the line up, though this has yet to be tried.
Active modes are RTTY, SSTV, PSK31, CW, SSB, FM and AM
For 2m, and 70cms FM, RTTY, SSTV, PSK31, CW and SSB, I have a Yaesu FT-726R (with linear amplifiers for 2 and 70), feeding a log periodic on the 10m mast. A triband (6/2/70) collinear completes the antenna line up.
Data modes are catered for with an Advent 3309 PC with AMD Athlon 2100+ processor, 512 Mb RAM, and on board soundcard for the main station, and an ACER laptop with Intel Celeron M processor, 80 Gb HDD using on board soundcard for the portable station. Both machines have TFT displays. HamScope is used for Data modes, and Win95SSTV is used for Slow Scan TV. Winlog32 is used for all station logging. Super Duper is used as occasional contest logging software. I am currently into getting MixW up and running.
I am also very much into receiving real time weather satellite pictures from NOAA and other polar orbiting imaging satellites, using a homebrew RIGSat2 receiver, with WXtoIMG software, and a turnstile antenna. Good horizon to horizon pictures are usually obtained. I have the wherewithal to take images from the geostationary satellites, but that project will have to wait a while.
I have just found my old homebrew 70cm TV transmitter (35W), so hope to get that working some time this year or next. This has re-kindled my interest in ATV, and I am now also running portable 23cms and 13cms systems, which are used extensively with the Bittern DX Group at their special events. I have 5 or 6 cameras, several beam antennas, and lots of cable.
My main passion is in chasing DX and IOTA islands, contesting, and special eventing. I currently have DXCC for 20m and 15m SSB, and have applied for my 5BWAC and 10m DXCC.
My new passion is the DX group I and some friends started in North Norfolk, the Bittern DX group, which will put on special events (lighthouses, museums, etc) and partake in contests, field days, etc, with club call signs MØNBG/P, G2B, and G6IPU. Special event callsigns are listed below.
I am the Bittern DX Group QSL manager, and currently handle  GB200CLB, GB2CLB, GB2NNC, GB4SM, G2B, MØNBG, GB2BML, G6IPU, GB50RFR, GB2TX, GB4NSR, GB2OH, GB2GFH, GB5FRR,  and VP9/MØCNP.
My other hobbies are stamp collecting, antique clock maintenance and repair, kite flying, N gauge model railway building, and model boats activity at home!
TO ALL THOSE WHO HAVE SENT ME QSL CARDS, I THANK YOU MOST SINCERELY.
End of page 1 of my web-site. Thank you for your indulgence. Click index.htm to return to my home page.