Click on the LLDXT logo to go back to the Menu
Welcome to the Caribbean Tour 1998 home page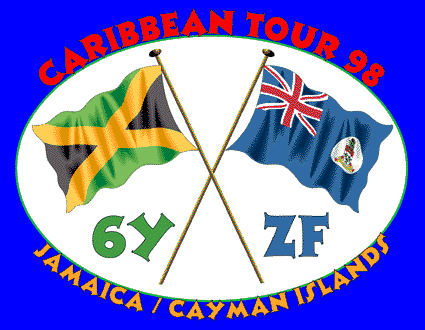 Presented by
Rob PA3ERC & Ron PA3EWP
The 1998 Caribbean Tour went to Jamaica (6Y) and Cayman Brac (ZF). This website was raised to provide the "DX Audience" all relevant information in relation to the tour. Prior, during and after the trip to the Caribbean this website was updated on a daily basis. Full logs were available during the tour, as were pictures showing the actual stations. This page summarizes the tour in chronological order i.e. from planning till now.
The Caribbean Tour 1998 objectives :
Focus on the new bands and the warc bands for Europe.
2 HF stations will be aired on the modes CW,SSB and RTTY.
6 meter and satelite operations.
The Crew :
The 1998 Caribbean Tour is presented to you by :
Call
PA3ERC (now : PA5ET)
6Y5/PA3ERC - ZF2RC/ZF9
Call
PA3EWP
6Y5/PA3EWP - ZF2WP/ZF9
Name
Rob Snieder
Name
Ronald Stuy
Experience
HB0/PA3ERC, VP5/PA3ERC, VP5C, FG/PA3ERC, TO5C, J77C, J79RC, FM/PA3ERC, J6/PA3ERC, 9Y4/PA3ERC
Extensive contest experience at PI4COM, PA6WPX, PA6HQ
Experience
HB0/PA3ERC, VP5/PA3EWP, VP5C, FG/PA3EWP, TO5C, J77C, J79WP, FM/PA3EWP, J6/PA3EWP, 9Y4/PA3EWP
Extensive contest experience at PI4COM, PA6WPX, PA6HQ
Mode
CW,some RTTY & SSB, 6 meter
Mode
SSB, some CW & RTTY, Satellite
Profession
Network & System Specialist
Profession
Networking & System Specialist
Email
pa5et@muurkrant.com
Email
RonaldS@Simac.nl
The Equipment :
Yaesu FT990
Icom IC-706MKII
2 x Cushcraft R7000+ multiband verticals 10-80 meter
PTC Controller for RTTY + RTTY software by WF1B
2 x notebooks with CT9 software by K1EA for logging
300 meters of copper wire for beverages, wire antenna's and a 6 meter wire beam
The QTH :
The locations were again on the north side of the islands with a perfect take off to Europe and North America :
Montego Bay

Jamaica

Leeward

Cayman Brac
The Diary :
The team created a diary which gives a good impression of what you will and can experience during such a tour :
June 1998 :
The team announce the 1998 Caribbean tour to Cayman Brac and Jamaica.
Thursday 27th August
The Caribbean Tour 1998 started for Rob PA3ERC and Ronald PA3EWP.

They left Holland at 11.30 Dutch time with destination Montego Bay Jamaica via Cuba were they had to wait for 2 hours due to severe thunderstorms.At 18.00 local time they arrived at their destination. They had no problems with customs since to the paperwork was all prepared before departure. In the evening they checked out the location but it was to dark to do anything so they decided to setup the equipment and setup the antenna's next morning.
Friday 28th of August
At 04.30 local time they where awake again so why not setting up the antenna's before it gets warm. At 10.00 local time the 2 Cushcraft R7000+ antenna's where setup with a perfect swr.
Also a 6 meter wire dipole has been put up just in case 6 meter opens. After doing some shopping the expedition started at 1800Z. They noticed the propagation was very poor in the afternoon and only a couple of stations were worked. All of these weak signals came from the southern part of the USA.
At 2100Z the bands started to open to Europe on 20 and 30 meters and a couple of 100 stations are logged. Since it was a long day the team decided to stop after the European grayline with 750 stations in the log.
Saturday 29th August
Around 06.00 local time they were allready awake, after logging approx. 100 stations there breakfast was served.
After breakfast they noticed that the higher bands (10, 12 meter) were good open to North America. During the day they logged nearly 100 Qs on 10 meter and 230 Qs on 12 meter. In total there are now more than 2.000 Qs in the log. Rob has given some guys a new multiplier in the SCC RTTY contest. During the day there was a power-cut for approx. 1 hour so we had to spent the time in the swimming-pool with a nice cold beer.

Sunday 30th August
The whole day it was possible to work on 10 and 12 meters to North America. In the afternoon we had a heavy thunderstorm just above the Island, we had to disconnect the antennas for a half hour. During this thunderstorm there was also a lot of wind. One of the R7000 verticals dropped on the ground because one of the 'little' guy anchors came out of the ground. There was luckely not much damage on the vertical. A half hour after the thunderstorm the vertical was in position again. They tried to work on 80 meters during the greyline to Europe but the QRN was to heavy.
Monday 31th August
It was a very nice day, by the way the first day without rain. The propagation was very poor so we spent a lot of time in the swimming-pool. 80 meter was very bad again, the qrm was very high 59+, so we didn't made any QSO on 80 meter.
Tuesday 1th September
We behaved us today as normal tourist, we went to a few accomendations, like the Black River and the waterfalls. After dinner we were only active during the greyline to Europe, we worked 30 and 40 meter. On 80 there was no activity at all. After the greyline 20 meter was open to Europe.
Wednesday 2th September
We spend a lot of time at the radio, 10 and 12 meters were perfect for Europe.
Thursday 3th September

During the day we went to Kingston, we visited the Bob Marley museum. Back at home we didn't spend much time at the radio. During the greyline we were not active. After the greyline Ronald was active on 20 meters to Europe.
Friday 4th September
The propagation was not so good as the days before. On 15 meter we had our first opening to Japan, we worked a lot of JA in SSB and CW. On 80 meter it was possible to work a few Europeans during the greyline. After the greyline it was possible to work on 20 meter Europe and Japan. The band was so big mesh that it was impossible to find a clear frequency and work SSB. So we worked a lot Europeans and Japanese stations in RTTY.
Saturday 5th September
All day there were nice propagation's on the higher bands. On 12 meters we had at the end of the day a nice pile-up to Japan. The propagation on 17 meters is still very bad, we didn't work much Europe at all. We made a serious effort to work Europe on 80 meters but we worked only 1 station.
Sunday 6th september
The propagation was very good again, only 10 meter SSB was not possible to Europe. We worked a lot of JA on several bands. A lot of RTTY QSO's were made on 15 and 20 meters. We tried a few times to be active with RTTY on the WARC bands but there was no response. We changed a lot from bands and/or mode to satisfy a lot guys to give 6Y on all bands. We worked many stations more than 20 times on several bands and/or modes.
We made now more than 9.000 QSO's maybe we will reach the 10.000 at the end of our stay but we noticed that the pile-ups are not so big anymore.
Monday 7th September
Today we worked 4 stations on the RS12 satellite. We try to focus on 17 meter, for a strange reason we don't have many response on that band. There was a excellent opening to state side on 12 and 17 meters for hours. We spent a lot of time on 17 meters and made a lot of QSO's. We disconnected the equipment at 02.30z. The last QSO was on RTTY with J69DS. We are satisfied with the result of 10.494 bruto QSO's, we never expected to reach this amount.
Tuesday 8th September
Early in the morning we will take down the antennas and go for the airport. We were around 16.00 local time at our destination in Brac. We started installing the antennas on the beach. Both antennas are on the beach about 2 meters from the water. The antennas are more than 70 meters separated from each other so we hope that we have less interference. At 19.00 local time it went dark, but both antennas were ready. After a quick dinner we were ready to go. After a few hours the first couple of hundred stations were in the log. So we did it this year again to be active on the second Island within 24 hours. We went early to bed before the European greyline.
Wednesday 9th September
Early in the morning Rob was already working his pile-up on 15 and 12 meters to Europe. All day the propagation was average, we noticed that ZF is wanted in Europe much more than 6Y. We made also our first RTTY QSO's. It is not possible to control the pile-up for Europe on 30 meters. Rob quits more than one time the pile-up on 30 meters. They don't listen at all. During the greyline Ronald worked 80 meters, the QRM was heavy but the signals were also loud, we worked more than 50 Europeans. On the lower bands we have QRM from something around the house, this day we try to make a dipole for 40 meters and put it in the sea, so maybe the qrm is less.
There is not much space for a beverage, but we are going to make one (very short) for Europe and USA. Ronald worked again some Europeans on 80 meter during the greyline and a lot on 20 meter. Rob is more focusing on 30 & 40 meters and Ronald on 80 meters during the European greyline.
Thursday 10 September
Again in the morning 15 and 12 meters was wide open to Europe, this time they more focused on SSB. Again we had great problems to handle the pile-ups on 30 & 40 meters. Everybody keeps on calling without listening if they are called. People must know by now that if somebody is called even if it is with 2 letters they should only answer if that combination is in their call. The weather is overcast today, some influence of Tropical Storm Francise with big waves near the verticals, lets hope it's not getting worse. The new 40 meter dipole in the see works very good and is a big improvement. All stations are about 3 points louder then on the vertical.
Friday 11 September
As usual in the morning 15 and 12 was open again to Europe and many stations are logged again. In the afternoon they went for a tour around the island. In the later afternoon several JA's are logged on 12 meters. We tried to work some stations in the WAE contest but couldn't find a clear frequency to run so we continued on the warc bands and cw to avoid the contest qrm. Every night at 2100 local time we get a lot of interference on the transmitters from a local broadcasting station which makes it almost impossible to listen on the low bands. Only with ATT we can hear the loud stations, together with the qrm of stations which don't listen it is very hard to run the pile-up. At the greyline Rob worked on 40 and 30 meters on his own frequency which was causing chaos, this is what we hear every day even if we work split, so listen and only call when your initials are called and after the qrz. Ronald worked again a lot of Europeans on 80 meters. After the greyline Ronald worked many stations on 20 meters RTTY. There are now 350 stations in the log for RTTY.
Saturday 12th September
We mostly concentrated on the warc bands and cw. When the WAE contest started we tried to find a running frequency on 40 meters but we didn't succeed in doing due to the contest qrm so we aborted that and continued on the warc bands and cw . Again a lot of JA's made the log on 12 and 15 meters. Most of the afternoon was spent on touring around the island. Rob took an early nap and Ronald worked 80 meters during the greyline and gave away some contest points on 20 meters and worked rtty afterwords.
Sunday 13th September
Rob started early at 5 o'clock just before the local sunrise and worked a big pile-up of JA's on 30 meters. A lot of US stations were logged on 10,12 and 17 meters in the morning. We made a 160 meter dipole which hangs over the Caribbean See so lets hope we can get some stations in the 160 meter log in the coming night. When returning from dinner we soon found out that we has a S9+ carrier on the whole 160 meter band so it won't be possible to work any weak stations on the topband. Only 1 station is logged till now on 160 meter. Rob had a good 80 & 40 meter run during the greyline, this time everyone behaved and he even made some 40 phone contacts. At the end of Sunday evening we have 8279 QSO's in the log. We were very pleased with the 10.000 contacts from Jamaica but this is going to be a new personal record for us.
Monday 14th September
The propagation to Europe was not so good as usually so we concentrated us to North America. On 10 meters there was a very good opening to the USA, in 2 hours more than 300 stations were logged. Also the QRP stations with only 1 watt that were calling were 59+.
Tuesday 15th September
Rob started at 5 o'clock in the morning and worked a pile up of JA's on 40 meters. During daytime the propagation was not to good so we went sight seeing on the island. We reached the 10.000 QSO milestone ! Low bands in the evening were very bad so we went early to bed. Ronald will get up early this time.
Wednesday 16th September

In the morning during our greyline Ronald worked 9 NA stations on 160 meter and 25 stations on 80 meter. The propagation was not so good. In the afternoon we worked quit some Europeans on 17 meters and a lot if US stations on 12 and 10. During the European greyline Rob worked several Europeans on 80 meters and later on 40 phone. Unfortunately a local thunderstorm came over and caused a lot of qrn so we had to stop. Ronald worked a few stations on 80 meter SSB in the morning during the greyline.
Thursday 17th September
Again a normal day, we removed the 160 meter dipole and installed the 40 meter dipole again. Not much propagation during the day so we went touring around the island. The greyline was perfect on 40 ssb, Ronald worked 270 Europeans on 40.
Friday 18th September
Rob started early at 5 o'clock local time, no Japanese pile-ups this time but plenty of US stations are logged on 80,40,30 and 20. Rob also had a good opening to Europe on 12 and 10 meters. It looks like that category 5 hurricane Georges is coming in our direction and can hit the Caribbean islands earliest Sunday morning the day of our departure … hopefully all will go ok. The station will be dismantled Saturday afternoon or earlier if the hurricane demands this. 12029 QSO's are now in the log
Saturday 19th September
We noticed that it was impossible to go for the 15.000 QSO's from Brac, but we tried to go for the 25.000 QSO's for the total Tour. During the day the propagation was good but the pile-ups were not so big anymore. We spent a lot of time on 17 meter. At 21.00Z we logged the last station, number 14.137. During the total Tour we made 24.631 QSO's. We took down the antennas at daylight. When we finished we enjoyed the nice sunset with a cold beer. After the dinner we packed our equipment and we were ready for departure. We went early to bed this time.
The Logs :
During the trip full log search have been available.
This has now been removed as this page is no longer a "live" site.
The Tour Stories © :
The team published a story in several magazines.
This story is available here to read :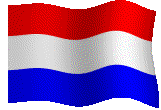 All rights of these stories is reserved by Ronald PA3EWP,and the Tour 1998 team.
Use and/or publication of the stories (or parts of it) is only allowed after written confirmation by Ronald PA3EWP.
The QSL :
The QSL manager for this tour is Rob PA3ERC (new call : PA5ET).
QSL can be send via his CBA or via the buro.
The address of PA5ET / PA3ERC is:
Rob Snieder
Van Leeuwenstraat 137
2273VS Voorburg
The Netherlands.
The Website :
As previous years Alex PA3DMH (now : PA1AW) maintained a Tour Web site.
Alex , PA1AW & Caribbean Tour 98 Team
All rights reserved.