Recent activities :
***
Iota operations from Hvaler Island ( EU-061)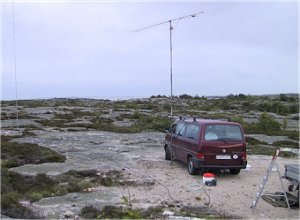 This year several IOTA expeditions have taken place from Hvaler Islands just off the coast of southeastern Norway. They have been joint operations with LC3NAT-Bjorn,-who has concentrated on VHF/UHF-activity. I have been working HF using a small base-tuned vertical just visible in the left side of the picture (left)
---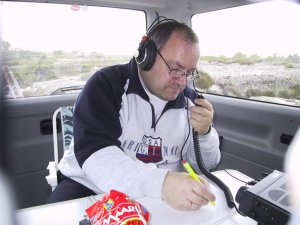 The "HF-end" of the shack (right) Yours truly giving the IOTA-collectors the chance to work this exclusive part of our beautiful country. I am not kidding,-The Hvaler islands really are exclusive,- in the sense that unless you are fortunate enough to be born here, you have to be a millionaire to afford even a small summerhouse near the beach !
---
IOTA-operation from EU-079:
There was a last-minute change in the announced operation. Instead of Rundoy, we operated from Hareidlandet island on 19 and 20. of august. I made a total of 1052 QSO's (763 CW). The conds were not favourable for VHF. Thank you to everybody that made the operation a lot of fun !
See the pictures!
---
Stay tuned for more IOTA-news !
Recent activities :
***
EU-036 * EU-056 * EU-079 * OJ0
I have been active from EU - 079 , EU - 036
and EU - 056 in the period June 12 to June 27.
Report from the trip will appear on this page soon !
OJ0 will take place august 5 to august 8 - 2001 .
SEE MARKET REEF PAGE !
Please come back later for more info !


---
stay tuned for updates !

Everyday-activities:
***
Activity from LA5M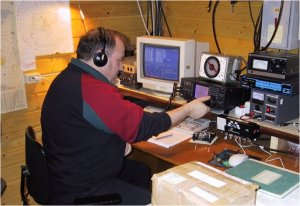 As the station-manager for our local clubstation LA5M,- I frequently put this call on the air. The station is very well equipped with rigs and antennas for all bands from 80M trough 70cm. The station is located on a farm near the city of MOSS

* Operating LA5M (left) *
---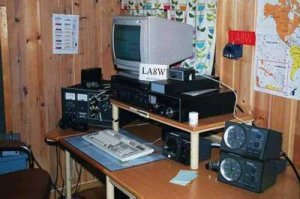 LACC
As a member of LACC (LA-Contest Club) I participate as an operator from our contest-station LA8W. This picture right shows part of the LA8W-shack. The station is in the process of moving to a new QTH.
Visit la8W !
---
stay tuned for more photos and info !