How to keep your drink cold and your PA hot !













Way up north-at nearly 80 North-You will find what must be one of the worlds most exciting locations for ham-radio! Beautiful aurorae cover- ing the dark arctic sky,-Tall snow-covered mountains. Polar bears waiting outside,-hoping to grab an operator or two for a little night-snack. Sounds OK ? - Just catch the plane from Tromso,-Northern Norway- and enjoy! But you should place a reservation for the shack and facilities well in advance,-or you will find yourself on the next plane back!
---
Some facts of the QTH:

Svalbard Arkipelet ('Cold Coast')

76·50-80·80°N : 10-34°E

Four main islands and about 150 lesser ones

Area
62 800 km2, 60% glacierized
Highest elevation
1717 m
Possibly sighted
1194
Discovered
1596 by a Dutch whaling voyage
(Jacob Heemskerck)
First wintering
1630
Permanent mining
settlement established
1906
Currently three mining settlements operate, four scientific stations operate
Norwegian territory, Svalbard; under the Spitsbergen Treaty of 1920
---
The shack and the neighborhood !
Longyearbyen, the largest community on Svalbard, has a population of about 1100 people and about as many snow-mobiles. Located in the Advent fjord at the entrance of the Advent valley, this community has an infrastructure fit for a much larger city. In the center of town you'll find the post office, bank, conference rooms, travel agencies, public library, cafes/restaurants, miners' bath, hospital, laundry, tourist information, super- market, general stores, and the world's northernmost newspaper, Svalbardposten. There are various forms of lodging, including a brand new full service hotel. Of course, there's nightlife too... During summer, most of the people you meet here will be tourists or young people working to accommodate the visitors. A very friendly and international atmosphere reigns.
---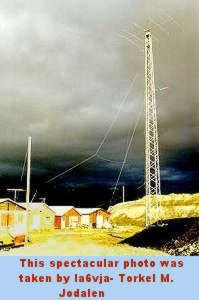 | | | | |
| --- | --- | --- | --- |
| JW5E | Equipment | Info I | Info II |
| Rig: | Kenwood TS440S | All band HF | 100 W |
| PA: | Kenwood TL922 | 80-40-20-15-10 M | 1,2 KW |
| ANT 1: | 5 el Fritzel yagi | 20-15 and 10 M | 100 ft up |
| ANT 2: | Inverted L | All HF band | 100 ft vertical, 150 m sloping |
| ANT 3: | Delta loop | 40 M band | Top 90 ft up |
| Tuner: | MFJ | All HF-bands | * |
| Modem: | PK-232 | RTTY, Etc | * |
---
Welcome inside the shack of JW5E ! And have a look at this view from the shack-window!!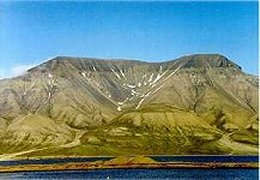 ---
The JW9VDA expeditions :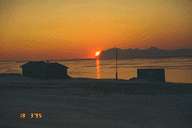 My first operation as JW9VDA was in the end of may 1990. At this time of the year Svalbard has 24-hour daylight

(mid- night sun ),-and I can remember me and my good friend LA9ZV (JW9ZV) (who regrett- ably passed away 1994..) sun-bathing at mid- night !! The aurora attenuation was bad, but I made about 1500 QSO's,- mostly 20 meters, and most of them the last 24 hours (WPX-CW). I still keep the logbook and QSL-cards for JW9ZV if anybody needs a QSL ....
LA9ZV - Leif
---
During the February 13-20 -1991-operation, I was blessed with excellent 10M- conditions ! The band was wide open to USA far into late night hours! At times I had worldwide openings and unbelievable pile-ups !! Big fun ! I forgot the rather cold weather and worked more than 5500 contacts...
---
The February 1993 -expedition was a battle against very strong aurora. Signals could be 59++ just to disappear completely the next moment! The weather was bad too,-one night we had a strong gale and blizzard. I got myself a very bad electric shock from the static-build-up on a 160M inverted V ! I made about 4000 QSO's during my week there, and had a lot of fun,-despite bad conds.
---
My last JW-trip so far was in February 2000 in company with LA5UF and LA6YEA. It turned out to be another battle against very strong aurorae causing long periods of total radio blackout. In between the blackouts we were blessed with fantastic propagation,-resulting in a total of more than 16 000 QSO's ! I worked abt 4200 of these myself. Have a look at the picture (left). It shows my friends LA5UF- (left), oldman himself (middle) and LA6YEA Paul (right). The roadsign warns against polar-bears and says: "Valid for all of Svalbard." These polar bears can be a real threat,-and not only to your car !!! Touring Svalbard without carrying firearms for your own protection is defi- nitely not recommended...













Svalbard-links :
---
Realtime JW-propagation !
Aurora is quite often a problem in JW. It can completely shut down all HF-bands, or make propagation very unstable. A significant aurora is most often (if not always..) accompanied by fluctuations in the local (Geo-) magnetic field. A mag- netometer will detect these fluctuations and provide a good indication of local propagation-conditions. Please note that these disturbances may be of a relatively local nature ! There is a magnetometer located abt. 500 M away from JW5E, and this is much more than close enough to be a good indicator ! This magnetometer is available via the (compass) link to the left. It updates data every 4 minutes.Relatively straight lines indicate quiet (good) conditions.Large peaks and valleys indicate a significant disturbance. Use this tool when looking for a JW-station!
---
| | | |
| --- | --- | --- |
| The Svalbard pages is a commercial site with a lot of info ! | A lot of yl-hams from all over the world meets in JW! | Visit the JW5E homepage ! |
| | |
| --- | --- |
| The CIA world fact-book provides good information on Svalbard ! | Please email me if you have any questions or comments! |
---
---
---
---