LA8G
Latest news
YU8/LA5IIA info, new JW8G operation.
Member of P35 LA5IIA operates for the time being from YU8 with the call YU8/LA5IIA from Pristhina, where Johnny (JJ) serves as a lieutenant with the Norwegian Infantry Battalion.
YU8/LA5IIA Johnny by his radio station in a quiet moment.
Calls that JJ may use:
YU8/LA5IIA from Pristhina
LZ/LA5IIA from Sofia
9A/LA5IIA from Varazdin
SV2/LA5IIA from Thessaloniki
Z38/LA5IIA from Skopje
S5/LA5IIA most likely from Nova Gorica
TX8G on the trip to New Caledonia
VK2ITU (in transit) from Sydney
QSL direct via LA9GY.
LA9GY Morten Antonsen
Hallsetreina 6
N-7027 TRONDHEIM
Norway
QSL via buro to LA5IIA.
---
JW8G active again.
LA8G was also this year QRV in the WPX contest. LA9IY Bjørn and LA9GY Morten went to Spitzbergen and joined the QTH of JW5E outside Longyearbyen.
Also in 2001 the call used was JW8G during the contest, but JW9IY and JW9GY was used outside the contest. Operations were primarily CW on all bands where condx and antennas were available. They worked some PSK31, SSTV and satellite.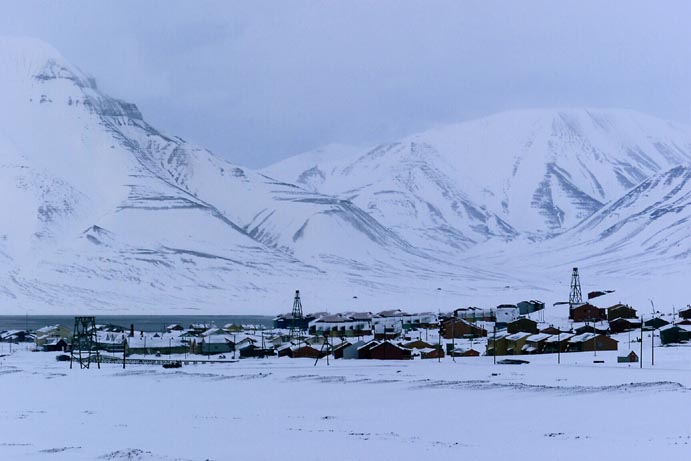 Longyearbyen, Spitzbergen. About 50% of the settlement is visible. The club station JW5E that Bjørn and Morten will use is by the sea to the left on this picture.
QSL as follows:
JW8G to LA8G
Radioamatørklubben P35
POB 941 Sentrum
N-7409 TRONDHEIM
Norway
JW9IY to LA9IY
Bjørn Digre
Stadsingeniør Dahls gt. 38
N-7043 TRONDHEIM
Norway
JW9GY to LA9GY
Morten Antonsen
Hallsetreina 6
N-7027 TRONDHEIM
Norway
---
Some members: LA4OFA - LA9GY
Other clubs: LA1K - LA2T - NRRL
---
Mail address: POB 941 Sentrum, N-7409 TRONDHEIM, Norway
E-mail: la8g@qsl.net
---
Updated 24th of May 2001 by LA9GY and LA8GK