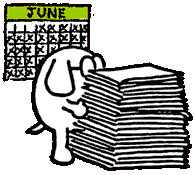 My favorite part of amateur radio is running HF contests. Unfortunately I do not longer live at 10'th floor in the students dormitory in Oslo, 300m above see level. Still I try to do my best with the little gain I have.
I will here express my great thanks to Lisbeth, mother of my YL, who lets me keep my 3 element tribander atop of rotten tree at her house.
As you can see, I only run CW contests nowdays. I guess I am getting older, and my voice is not what it used to be. And CW is so much more fun! My favorite contests are WAE DC and HSC. Receiving QTC from a DX with lots of QRM at 40 WPM is not easy. I love HSC contests because you can work lots of QSOs during few hours, and you are off. I would prefer shorter contests with many participants. There are such local contests in Norway, but activity is very low (great number of active LA participants in the international contests are in fact foreigners, myself, Piotr LA9HFA and Andy LA2HFA come from Poland, and Uli LA0CX is German).
But still CQ World Wide is the king due to so much activity.
The best Norwegian contesters are at LA Contest Club LA8W. You can also visit LA9HW Contest Calendar. It is probably the best!
CONTEST
CLASS
QSOs
MULT
SCORE
RESULTS
HSC Fall '99

Members

181

60

10980

3 in EU

WAEDC CW '99

SOAB

538 + 926

187

273768,474

38 in EU

All Asia DX CW '99

SOAB

808

253

204,424

4 in EU

CQ WPX CW '99

SOAB HI

1753

637

2,669,667

29 in EU

SP DX Contest '99

SO7

82

15

3690

20 in EU

HSC Spring '99

Members

84

30

2580

ARRL DX CW '99

SOAB HI

1385

203

843,465

CQ WW CW '98

SOAB HI

1844

107

1,595,230

HSC Fall '98

Members

204

46

9430

8 in EU

VK/ZL CW '98

SOAB

24

54

972

21 in EU

SAC CW '98

SOAB

566

119

144,823

WAEDC CW '98

SOAB

311 + 723

161

166,474

54 in EU

All Asia DX CW '98

SO14

191

79

15,010

6 in EU

CQ WPX CW '98

SOAB HI

1354

524

1,327,816

48 in EU
---
This page was written and designed by Lech Slawomir Tomczak