A Little More About Me and Walt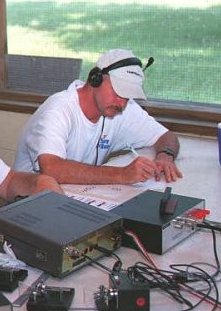 Well, I have been a Ham for ten years and hold an Extra class license. I live in Bloomingdale, Georgia and work as an Emergency Management Plans Officer for the US Government.

My radio (rig) is a Kenwood TS-440S/AT and my antenna is a G5RV (Inverted Vee) up about 50 feet. I use both a straight key and iambic paddles (both Bencher) which are configured parallel so I can switch from one to the other as needed.

As you might have guessed from my home page, I love CW . When I started in this hobby, I didn't realize that Morse Code proficiency was required to obtain higher class licenses. As I studied the technical material for upgrading and practiced for the CW tests, I slowly drifted in the direction of CW. Today, with the exception of 2 meter FM, CW is about the only mode I use. I dabble in other areas because I think we should experience every aspect of the hobby, but I always seem to come back to Morse.

A Little Bit About Walt ...

My father was a commerical artist, so I guess I come by the cartooning talent naturally. About 6 1/2 years ago, I joined a group called FISTS . I sent in a cartoon to the editor of the monthly newsletter, The Keynote , and she published it. ( Thanks Nancy ) So, I decided to create a character as a re-occuring cartoon, and the rest as they say, is history. WALT was (and is) a combination of a lot of Hams. First and foremost, he is a lover of CW; and like a lot of us, no matter how hard he tries, something always seems to stop him from being fully successful. You can rest assured; however, that Walt will always keep trying. I'd like to take this opportunity to thank all of people that have written to me and either said that they enjoyed Walt or offered ideas for future cartoons. I really appreciate the support. If I use your idea in a cartoon, look for a credit at the bottom. It will appear in the form of a 2 meter handheld radio named Sparks

Some of the Walt's World cartoons can be seen on my friend, Dan Tang's (VE3CQD) website. He has graciously agreed to keep them there for free. (he was going charge Walt room and board, but Walt talked him out of it). DAN has an excellent site, and it's worth going over to for a visit.

About Elmering ...

In Ham radio, an Elmer is a person who assists less experienced hams, teaching them about the various aspects of the hobby. Elmers come in all shapes and sizes. Typically, they have a wealth of experience and knowledge and are willing to share it. Although a lot of Elmers are older Hams, a person doesn't have to be old to be an Elmer. Much of what I have learned has come from Elmers who were my age or younger. I strongly believe in this system of sharing knowledge. If you are a new Ham, or an experienced one, go find an Elmer and learn something new today.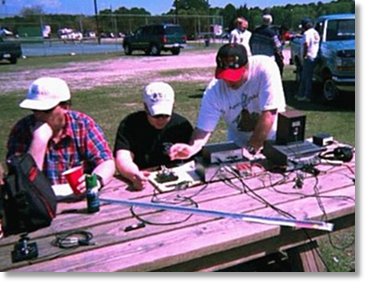 Our club conducted a mini Field Day about a year ago.
Here I am (standing) teaching a prospective new Ham
how to use an iambic keyer.