Rechargeable A/B Battery Power Supply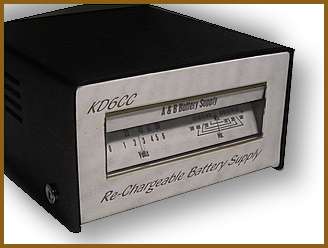 This is the final leg in the portable "GlowBug" project. The entire project consists of a 3 tube Qrp transceiver for 40 meters, an AC power supply/charger, and finally this battery supply for field use.
The design parameters for the supply were to provide for an adjustable filament voltage of 1 to 6 volts and capable of supplying approximately 500ma of current. The HV supply was to be adjustable as well, with fixed stops at 22, 45, 67.5, and 90 volts. Current requirements are on the order of 100 to 125 ma. maximum. In addition, a fixed supply of 18 volts was added to enable operation of the low plate voltage receivers of which I have been experimenting. This was necessary as many of the Qrp Tube type transmitters use cathode keying, requiring an isolated ground from the receiver ground. Otherwise the ground paths are completed through the power supply causing the transmitter to be keyed all of the time.
The filament and HV supplies were to be metered for both voltage and current. The current meter was to monitor both discharge and charging conditions.I chose to use one meter for both supplies by switching in the appropriate resistors for the intended purpose.