---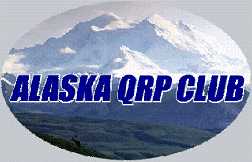 KL7AQC
This is a near static website with changes mostly to member numbers.
---
Welcome to the official web site of the "Alaska QRP Club"... The "AK/QRP" Club is dedicated to the enjoyment of low power Amateur Radio operation from the "Great State of Alaska"...

---
---
On Line Club Membership Application
.....You can now join the club or send comments or modifications from the "Membership Application" page...




Making Sense of the Solar Reports
.....Paul Harden - NA5N has been doing a wonderful job of keeping us up to date on the current Solar Cycle, however, many of us still felt a bit bewildered by all the names and numbers...
.....If you look on the Resource Page you will find a great piece by Paul called "Propagation Primer 101"... Our thanks to Paul for allowing us to reprint this on the AKQRP website...




.....Membership in the "Alaska QRP Club" is growing at a steady rate... We are over 750 members strong with 85 members in Alaska... We have numerous members in 48 of the 50 US states as well as station members from at least 40 countries as of March 2008...




..... Members, if you have an address change or callsign correction please

let us know so we can update our database ...

73 - Jim Larsen - AL7FS

http://www.al7fs.us/

---

Your Feedback is Welcome...


---
This Web Page is maintained by Jim Larsen- AL7FS...

---