My Pilgrimage to Memphis in May
I had a great time at Memphis in May this year. This was something I have wanted to do for years and finally got there! One of the unexpected highlights of the trip was getting to meet (and get the autograph of) Al Roker, the NBC Today show's weatherman. Al was covering the event for the Today show and had done several live broadcasts from the site. I'm convinced that Al knows real BBQ! In this shot, he is at the helm of a golf cart at Riverside Park, taken on Saturday morning about 11AM. The rather portly fellow (who obviously partakes of too much BBQ) second from the left is me...
BBQ lovers taking a breather on the banks of the Mississippi River
---
Here are some of my favorite images from Memphis in May!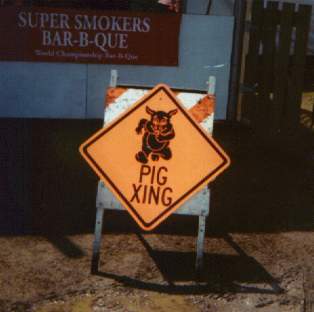 Any pigs crossing at MIM are bound to end up cooked!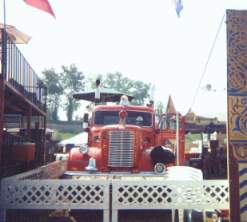 Fire Truck with bed made into a Smoker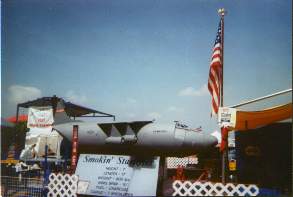 Model of C141 Starlifter made into a Smoker; Cargo: 7 shoulders!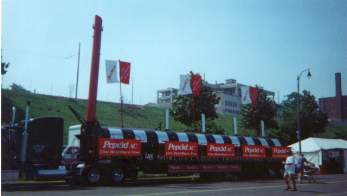 World's Largest Smoker, Mounted on a Flatbed Trailer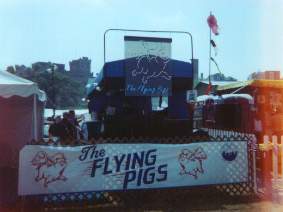 Well, maybe pigs really do fly! One of my favorite teams.

View from MIM looking north toward the Pyramid. Mud Island is on the left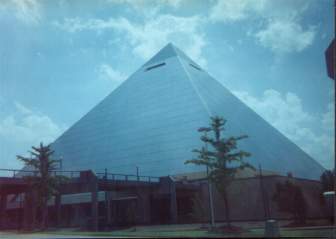 Closer view of the Pyramid
Reviews of Restaurants from the trip
Click above to go to a page with reviews of restaurants I ate at in Arkansas and Tennessee, including the Dixie Pig in Blytheville, Arkansas, and of course, the Rendezvous in Memphis. My oldest son and I had a great time there with my then-good friends Beth and Jeff. Here's a picture of the famous Rendezvous sign in the alley just north of the landmark Peabody Hotel:
This page was last updated 10 August 2009 0511Z