Welcome to the KF8GR Weather Page

My weather page is intended as a gathering place for local hams who need local weather info. As such, it will probably be boring to anyone else. This page is, like all my pages, in a constant state of evolution. If you like, you may disect my code and adapt it for your own weather page. I don't care if you copy the entire page and just change the links. If you do, please send me a link to your weather page, and I will add it below.
---
Internet Radar
| | | |
| --- | --- | --- |
| NWS | Earthwatch | Wx Underground |
Why do different doppler systems look at the same sky and see different things? Well, first, Doppler has different modes, and some doppler programs take out "ground clutter", etc. better than others. Doppler radar also scans the sky at defferent angles and produces a composite image, it all depends on what point the image was taken, and at what altitude. Basically, if there is something out there, they will 'see' it, but, it still takes a well trained weather specialist to detirmine what it saw.
---
Internet Satellite Weather Image
| | |
| --- | --- |
| Earthwatch | NOAA Goes 8 |
| | |
---
Weather Watches and Warnings
| | | |
| --- | --- | --- |
| | NWS Watches/Warnings | |
| | | |
---
Local Television Doppler and Weather Webpages
| | | |
| --- | --- | --- |
| WZZM 13 Weather | WOOD TV Weather | WXMI Weather |
| | | |
---
Ottawa County Webcams


Holland Channel


GVU


Grand Haven Pier


Rolling Meadows Golf


Grand Haven Marina

---
Road Conditions around West Michigan From Michigan State Police
---
Ottawa County and Surrounding County forecasts From NOAA/NWS
---
EMWIN
EMWIN stands for Emergency Managers Weather Information Network, and is probably the fastest way to get weather alert information, (unless you work for the NWS!). EMWIN is broadcast on several different types of equipment, and on several radio bands, across the Internet, etc. The NOAA/NWS has a good page for available equipment/software here.
NWS/NOAA Central Regional Headquarters EMWIN page.
The NWS/NOAA has a nice
EMWIN user-intro
page.
---
IWIN
IWIN stands for Interactive Weather Information System, and is an NWS operated internet based weather system. This page can be your homepage, and if you have an "Active" desktop, you can keep it there all the time.
It of course can be linked, and is a very capable and accurate program. The only problem with this info (and my weather page for that matter), is smart people don't leave their computer on in thunderstorms.
Interactive Weather Information Network
---
SKYWARN
Skywarn is a program of trained weather watchers who acting under the authority of the Department of Commerce NWS/NOAA, man strategic locations to report potential weather problems to the NWS. They become the eyes and ears of the NWS, who provides their training. They give on the spot information, that coupled with radar, APRS, and other information, can help the NWS decide if or when to issue alerts.
Linux program Xastir running APRS with wx info. Ham Radio in my local area provides wx info for NWS GRR, and each other.
Click
here
to view larger picture
I am a member of the Ottawa County Skywarn Program, and the NWS in our area deserves a lot of credit in keeping this program going, and manned. The staff at NWS/GRR is professional, courteous, and all business.
National Skywarn Page
Grand Rapids area Skywarn webpage
Ottawa County Emergency Communications - KC8LCP
---
LINKS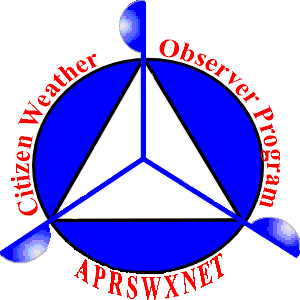 Click this Icon for Interesting weather info
---
NOAA Weather Radio
NOAA weather Radio with SAME should be as common in this country as fire and smoke detectors. These radios can sit quietly until a local weather alarm, then they 'go off' like a smoke detector, followed by the weather information that caused the alert, whether it is a watch or warning. With ALL HAZARDS alerts, this system is able to broadcast "Amber Alerts" and other notifications. This simple existing technology could save lives, and it is simply irresponible for government not to mandate it's use.

NOAA weather radio is heard on 7 different frequencies across the United States, every 25KHz from 162.400 to 162.550. Check them out, and get armed.

This page updated by KF8GR on May 16, 2005