This is the Yaesu FT 840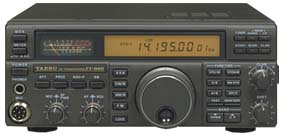 My equipment consists of Yaesu FT840, MFJ 969 tuner, Astron RS-20m power supply, Yaesu MD-100 a8x, W2IHY dual band EQ, MFJ 422b keyer, and an old cheap straight key. For antennas I have a Maco 5/8V at 60 ft for 10 meters, and a 80 meter double zepp for hf, which works really well on all bands. I use a Icom 2100H on vhf with a stacked 5/8 wave antenna at 40 ft and now have a Cushcraft 13B2 beam at 45 ft.
Most of my DX contacts are made on the 10 meter band. I believe 10 meters is my favorite band. It's a good local band and when it's open you can work the world with a few watts. 10 meters is in the HF ham bands, which consist of the 160, 80, 40, 30, 20, 17, 15, 12, and 10 meter bands. On these bands, you can easily work all of the U.S. or the world. In the mobile I use a RCI 2950 and a K 40 mag mount, which does a great job.
The ARRL sponsers many award programs, such as Work all States, Work all Continents, and the DXCC awards. To recieve these awards you must contact a station and get a card from that station confirming contact. This card is called a qsl card and will have contact information , such as the date, time, signal report, frequency or band, and the stations call sign. For this card to be valid for ARRL awards, it must have several important pieces of information, such as the stations callsign that you worked, the band worked the signal report and the qth. I have my W.A.S. ( with SSB and 10 meter singleband endorsements ) and W.A.C. awards and am working for my DXCC award, which consists of recieving 100 qsl cards from other countries contacted. Below is a list of countries I have made contact with, the asterisk indicates a card recieved from that country.
| | | | | |
| --- | --- | --- | --- | --- |
| Argentina * | Denmark * | France * | Paraquay | Canary Isl * |
| Armenia * | El Salvador* | Jamaica * | Romania | Polynesia |
| Aruba * | Azores * | Kuwait * | Russia | Balearic Isl * |
| Australia * | Estonia | Kaliningradsk | Scotland | N. Cook Isl * |
| Austria * | Brazil * | Lebanon | S. Africa * | Venezuela * |
| Algeria * | England * | Lithuania * | Slovenia * | Alaska * |
| Anquilla * | Finland * | Luxembourg * | Sweden * | Hawaii * |
| Belgium * | Croatia * | Mexico * | Switzerland * | Curacao * |
| Belize * | Greece * | Morroco | Spain * | Cueta |
| Bermuda * | Grenada * | Macedonia | Surinam * | Virgin Isl * |
| Barbados * | Germany * | Norway * | St. Lucia * | Phillipines * |
| Caicos Island * | Galapagos Is * | New Zealand * | Wales * | Uraquay |
| Caymen Isl * | Guyana * | New Caledonia | Dominican Rep * | Dominica * |
| Canada * | Bulgaria | Netherlands * | Turkey * | Antartica * |
| Colombia * | Haiti * | Nicaraqua | Ukraine * | Iceland * |
| Costa Rico * | Honduras * | Peru * | Yugoslavia * | St Paul Isl * |
| Chile * | Italy * | Poland * | Hungary * | Sao Tome * |
| Cuba * | Ireland * | Panama * | St Helena | Netherland Antilles * |
| Cyprus * | Israel * | Puerto Rico * | Saint Kitts * | St Pierre |
| Czechoslavakia* | Japan * | Portugal * | Libya | Quatamala * |
| Guantanamo Bay * | Ecuador | S. Cook Isl * | Antigua * | San Marino * |
| Bolivia * | Latvia | Martinque Isl. | Nigeria | Qatar |
| Ducie Isl. | Cocos Isl. | Medeira Isl. | Clipperton Isl. | French Guyana * |
| | | | | Namibia * |
my Worked All Continents award and code proficiency award with 15 & 20 wpm endorsements

some of the guys from the old group ( abt 10-1999 )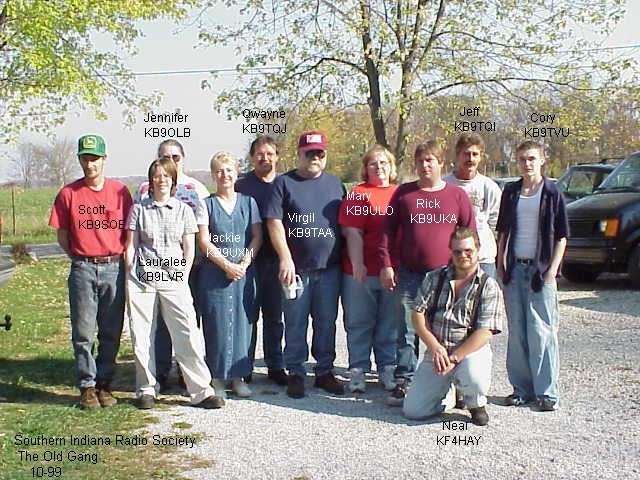 Ken ( KB9JLC ) took the picture above

Amateur Radio Licensing Section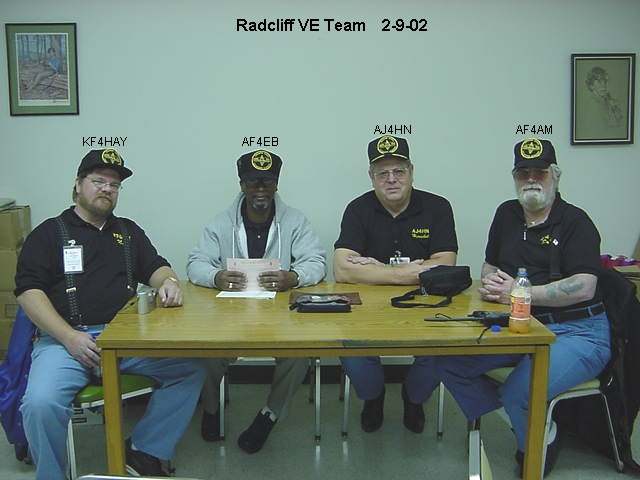 This is the Radcliff, KY VE Team. There are many VE's that assist with this team. We have testing the second Saturday of every month from 9:30 - 11:00 am at the Radcliff library. We give all license class exams . Fee is $14, and we need a picture ID and copies of your newest license and csce, if you have one. Radcliff is on the southern edge of FT. Knox and has easy access to Louisville, Lexington, Bowling Green and Owensboro. So come on out and test for that new license or upgrade and get in on all the activities Ham Radio has to offer. You can email Archie, AF4EB, [email protected].

testing site map
updated 3-08