LOWER SIDEBAND MOD

THIS MOD WILL GIVE YOU LSB AND CW - Remove top and bottom covers. Locate L12 that is an adjustable metal can inductor located rite behind PC board PC-132AA. To the LEFT of L12 is a 12 picofarad disc capacitor. Change this to a 47 picofarad capacitor.Readjust L12 to a known source on LSB. Reassemble the radio and your done.
NOTE: The capacitor I have shown on my diagram is not the one you need to change.
Change the capacitor to the left of L12. I will update the picture soon.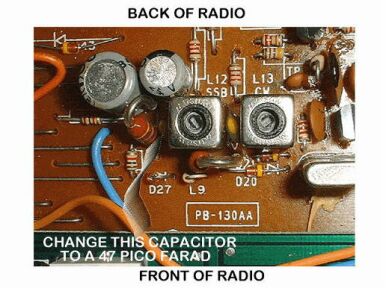 BACK