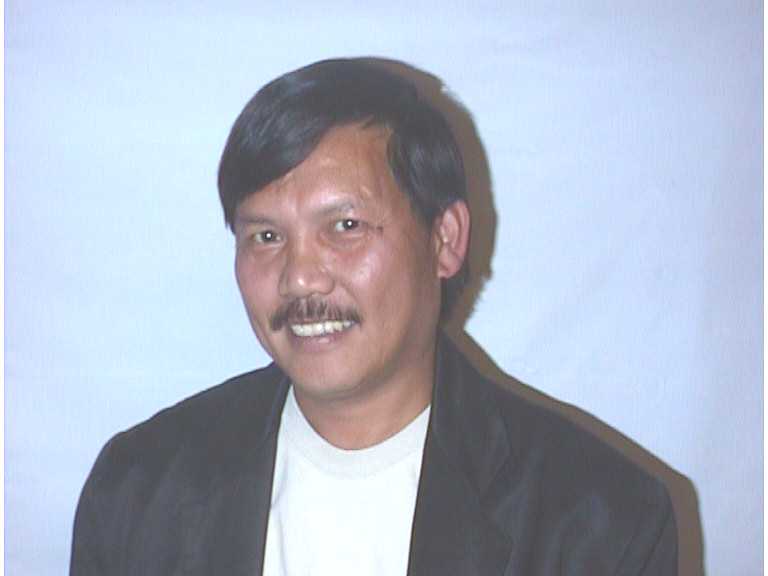 KN6NA Ted Lavitoria
Ted is originally from Paniqui, Tarlac, Philippines. He is a 21 year "retired" Navy veteran and is currently working as a Quality Inspector in a prototype research and development oriented machine shop in San Diego.
In 1970, he enlisted in the United States Navy and served in the Stewardsman rating before converting to Machinery Repairman. After several years of various duty stations, he returned as an instructor to the same place that taught him the basics of machinery repair. In there he taught and shared his vast knowledge of elementary and advanced concepts of machining and heat treatment of metals. He retired in 1991 as a Chief Petty Officer and was immediately hired as a civilian instructor teaching the same class as when he was in the active service.
Although his hobby in electronics started when the conventional automobile ignition systems got replaced with electronic ignition, it was during the later part of his Navy career that he finally got over the "microphone fright" and started hammering the air waves and joined radio communications organization. Like most of us, he started in the Citizen's band (CB) and was popularly known as "Yellow Stone" or Batong Dilaw. In 1989, he expanded his horizons and upgraded to amateur radio and got his first call sign KC6JYN. He later joined and became one of the original founders of the Filipino American Amateur Radio Society of san Diego (FILAMARS). He upgraded several times and got the call sign KD6SYL when he became General class. Now he holds an Advanced Class license and got his present call sign as KN6NA.
Endowed with the natural sense of inventiveness and curiosity, he started tinkering, assembling, and repairing CB radios, tuning antennae, and various electronic gadgets. Guided with the reasoning that a backyard mechanic should be able to fix his own transportation, he used the same mentality to strive to do the best with his amateur radio hobby through self study, experimentation, and learning from experienced and seasoned electronic technicians. Building and experimentation with ham radio yielded various gadgets, timers, home brewed antennae, filters, duplexers, band pass filters and repeaters. Today, Ted is a sought out, well respected, and highly admired technical adviser of various Filipino American amateur radio organizations through out Southern California.
Throughout the entire time he was involved with the hobby, he was unselfishly devoting his time teaching morse code, radio communication fundamentals, and imparting knowledge to new amateur radio enthusiast by direct mentoring, and actual hands on training.
Ted shares the hobby with his wife for twenty five years, Paz KD6VIT who is from Capas and raised in Paniqui, Tarlac. They have two children. His daughter Odette is employed with the Event Bowling Center for all the Marriot Hotel chain in San Diego. His son Aubrey is proudly serving with the United States Navy and was recently selected Sailor of the Quarter. His four year old grand son Josiah (JC) keeps the XYL occupied.
He is the founder, owner, and trustee of the Tarlac Amateur radio Society (TARS) operating in 446.775 negative offset 107.2 pl. He is also a co founder and First Vice President of the Spider ARC, member of North County Amateur Group (NCAG), and co owner of the STAR (Spider-Tarlac) Repeater System.