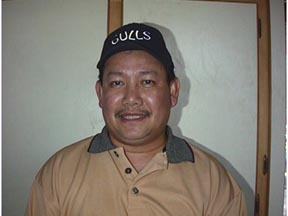 KF6UPU Van Buren Bueno
Van Buren is originally from Pasay City, Metro Manila, Philippines. He now resides in the beautiful and scenic city of Imperial Beach, California. Since retiring from the United States Navy, where he served as a Storekeeper (SK) after 20 years of honorable service, he has been enjoying his civilian life as fleet reservist. He now works fulltime for the NAS North Island Supply Department doing the same work he was performing the same outstanding work he was doing while on active duty.
Preferring to be called "Van," he was introduced to the amateur radio hobby when he passed and received his Technician Class amateur radio call sign in January 1999. However, he has been a radio communications enthusiast years prior to his amateur radio adventure. Prior to his military service, (1976 to 1996), he attended and completed the Commercial Radiotelegraph Operator course from Samson Technology School, Metro Manila, Philippines in 1974 where he excelled in transmitting CW at 20+ words per minute. He is now studying for the General Class (or better) FCC License in order to enjoy the privileges of HF radio operations.
Van is a dynamic individual who likes to meet new friends through amateur radio and enthusiastic in giving a helping in times of emergency through the hobby. He encourages everyone to participate in the hobby and make themselves available for worthy causes that the hobby has to offer. He is looking forward to going to the Grand Eyeball QSO to meet all the HF-ers.
Besides amateur radio, Van enjoys target camping, target shooting, playing basketball, fishing, or relaxing and spending a day at the beach with his family on his spare time.
Van's e-mail address is: buenovc@navair.navy.mil