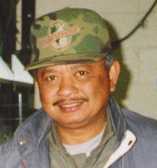 KF6HOD REY BULAN ESTEBAN
Rey is originally from the Subic City, Zambales, Republic of the Philippines. A 24 year retired Navy Chief Engineman, he currently works as an Automotive Specialist in one of the big auto-machine shops in town. He calls San Diego home since 1973. He is married to his beautiful wife Leonora and has two daughters, Vonna Rae (16) and Janice (9).
Rey got his Technician Class HAM Radio Operator license in November 1996 with the call KF6HOD. He is active in the 220, 2 meter, 440 mHz, and 1.2 gigagertz frequencies and also holds membership with of the Filipino-American Amateur Radio Society (FILAMARS) of San Diego.
He also pursue numerous other interests including camping, hunting "big game", game cock fighting, and fishing. He is never too busy, however, and always extends a helping hand to family and friends. His other hobby is performing automotive repairs for family and friends.
On his spare time, Rey plays and competes in table tennis matches, a hobby he picked up for fitness and recreation since June 1987. He is a member of the San Diego Table Tennis Association (SDTTA) and had excelled in the sport winning numerous titles including First Place 1200 Singles 1989 SDTTA West Coast Open, First Place DOUBLES 1992 Southern Pacific Table Tennis Championships (NAVY), First Place USS Cape Cod Captain's Cup 1993, Second Place DOUBLES 1995 Southern Pacific Table Tennis Championships, and First Place 1600 Singles 1997 UGBA Second Annual Table Tennis Tournament.
Email: kf6hod@4dcomm.com