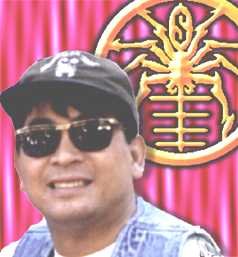 N6ART RUBEN CASAS MALINAO
Ruben was born and raised in Ormoc City, Leyte, Philippines before moving with his family to Cebu City. Endowed with talent and creativity, he became a performer as a singer, dancer, and choreographer for the University of San Jose Recoletos of Cebu City Dramatics Guild, which earned him two full college scholarships. After finishing two Bachelor of Arts degrees, he started a graphics design business and became successful before joining the rest of his family in the United States in 1985. Since then, he had been a vital catalyst in the Filipino-American community of San Diego. He currently works as a graphics artist designing logos for a reputable art company in town.
Following the lead of his younger brother, Ramir N6WJN, who is a long time "hard core" ham radio operator, Ruben took, passed, and got his Technician Plus call sign in 1990. Since then, he had been an avid amateur radio enthusiast. Originally known as "KC6ZNA," he now answers to his new vanity call sign, "N6ART."

Together with his amateur radio siblings and their spouses, he became an active member of the Filipino-American Amateur Radio Society (FILAMARS) of San Diego, and the Magellan Amateur Radio Repeater Network (MARRN). He became a trend setter in the amateur radio entertainment activities by developing choir and dance presentations especially during the Annual Filipino-American Grand Eyeball QSOs.
The elder of five younger siblings in San Diego, he is considered the patriarch of the "closed knit" Malinao Clan. Mindful of the need to communicate constantly especially during emergencies, he decided to put up the UHF 440 repeater system operating at 446.450 MHz PL –94.8, for family use. He also unselfishly made it available for others to use as well. To make the repeater coverage a lot wider, he negotiated and activated radio repeater linking with other organizations including the North County Amateur Group (NCAG) of San Diego, the Spider-Tarlac Amateur Repeater (STAR) System of San Diego, and the Kalayaan/APO Amateur Radio Club (KARC) of Anaheim, California. As more and more amateur operators joined in and started using the repeater as well, the growing desire to form a club prompted Ruben to officially organize and launch the Spider Amateur Radio Club on November 9, 1996.
He is happily married and enjoys the hobby with his beautiful wife, Marianita (Joy) KC6CRU. Ruben spends his off time with Joy, son, Shawn, and their Chihuahua dog, "Janet." Besides amateur radio, he also pursue other interests including camping, scuba diving, playing paint ball matches, snow skiing, hunting, sports fishing, singing, photography, and lately, golfing.
Ruben's E-mail is: ruben.malinao@worldnet.att.net