Dipole Antenna for 10 Meters and CB
from Ryan St. Arnold - KCěJEX
This antenna makes a a great antenna for 10 meters or CB, very low cost to build, and highly efficient.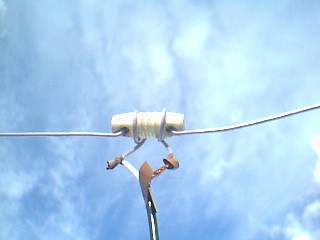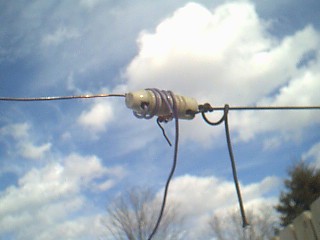 Materials:
18 feet of insulated #12 Solid Copper Wire (Uninsulated or stranded should also work, similar wire)
2 End and 1 Center Insulators
Nylon or similar rope to hold antenna up
Coax - your choice
Directions:
Take the 18 ft. piece of copper wire and cut it exactly in half

Take about 1 1/2 feet of one end, and wrap it around the insulator a few times, leaving about 3/4 foot or so for tuning. (Let it hang, see right picture)

On the other end or the half piece, wrap it once or so around the center insulator leaving about 4" for the coax connection.

On the wire just wrapped around the center insulator, strip about 1" for the coax connection.

Do the exact same to the other 9 ft. of wire.

Now you should have a dipole about 16-17 feet long, connected in the middle via a center insulator

Tie some rope on the other hole on both end insulators, enough to tie around a tree, or pole.

Connect the coax, as seen in the left picture. No connector is needed, cut the braid and center conductor of the coax exactly the same length, about 2", and wrap one around one wire, and the other around the unconnected piece of wire.

Put electrical tape over these to avoid weather damage, and to keep them on the wire.

Run the coax about 90║ parallel to the dipole, until it hits ground or roof.

Run the coax in house, install PL-259 on unused end, and hook up to SWR Meter which is connected to 10 Meter transceiver or CB.

Transmit on the radio and check the SWR, if happy with it, leave it. If not, go out to the dipole and trim an inch or so equally of each end of the dipole (hanging wire). Do this until happy with the SWR.
---
E-mail me with any questions, I will be more than happy to help out.
KC0JEX@qsl.net
Back to Antenna Homebrewing Page