He was a former president of the Elkhart County Repeater Association (E.C.R.A.)from 1993-1994. A former staff member of of the Maple City Amateur Repeater Society (M-Cars) group. He worked in the Elkhart County Sheriff's Department and was co-owner of Goshen Computer Associates. He was the the public Information officer at Elkhart County Emergency Management. A pasted officer in Chamber of Commerence in Goshen, Elkhart and Nappanee. He was first licensed as an amateur radio operator in the state of Michigan with the call sign of KB8??? and then moved to Indiana and received the call sign of KB9GNU in 1991 and then in 1997 as the vanity call sign program allowed him to acquire the call sign of WN9NDU, (which he wanted because of Notre Dame University in South Bend, IN. which is only about 35 miles north and west of here.)He was very dedicated to the Catholic religion so the call sign seemed logical for him.
This was taken at the Riley Hollingsworth of the FCC, meeting in Goshen, Indiana on November 16, 1999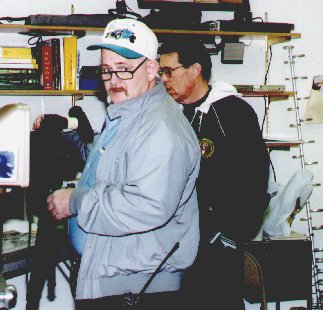 Taken at the Goshen Amateur Radio club house on October 1998
My self on the left in from and Michael, WN9NDU on the right.