HL9AVT Amateur Radio Operations in South Korea.

Korean War Museum - Located in Seoul, the Capital of South Korea, a must see.

Korean Links - In English.

My Apartment HF Antenna

Living in an apartment I did not have room for a big antenna, but I was up 10 stories so that helped some. My first antenna was basically a random wire antenna with a MFJ tuner installed right at the feed point. Grounding consisted of using the metal rail and a counterpoise wire.

With winter coming I found it too much of a hassle to go out in the cold and tune the antenna so I replaced the MFJ tuner with a SGC-237 tuner mounted in a kitchen food storage box. The SGC auto tuner works great, and tunes fast!


MFJ tuner and random wire antenna about 35 ft long.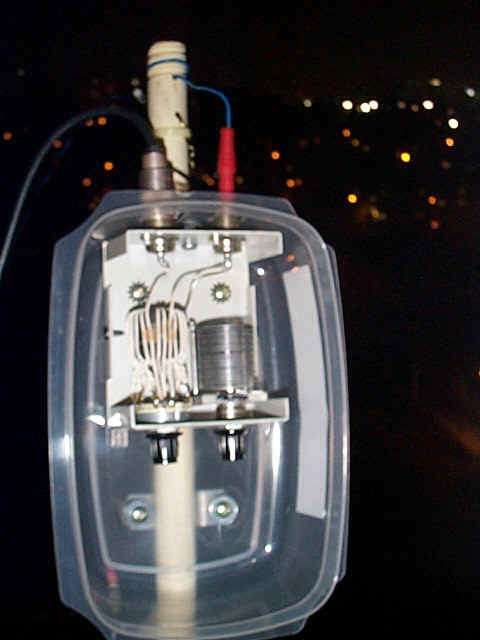 Station upgrade, SGC 237 autotuner ( shown mounted in plastic box, back view) with antenna wire coiled up.

The wooden pole is a toilet plunger that fits into the flag pole holder on the hand rail. A coat hanger is used to get the wire away from the building.




Shown below is the hand rail and flag pole holder (antenna mount) and grounding for SGC tuner. I also ran to 25 ft radials off the railing. The ground strap cost less than a dollar at a local Korean amateur swap meet.






Grounding attached to SGC 237 tuner. Not shown ,I also ran a total of four 25 foot radials from the same ground lug along two the wall boards (two along each wall). With the Radials I found you don't need the ground strap on the rail at all and the VSWR is actually better (lower).





This is the final installation. weather proof and ready to operate. This is nice, no more going outside to tune the antenna in the cold.




When not in use, I would bring the whole unit inside the apartment.

Below is a picture of the quick disconnects used. One is for the RG58, providing RF to the SGC antenna tuner the other is providing a few milliamps at 12.8VDC to the SGC tuner. The split bead torrid is used to help keep any RF off the power line.


Hope this helps others in similar situations see how to implement the SGC 237 tuner.
Copyright © 2003-2009 J. Lauben. All rights reserved.