Jonathan's MW QSL Card Page

Welcome to my mediumwave QSL card page. On display here are some of my favorite MW QSL cards. Tell me what you think!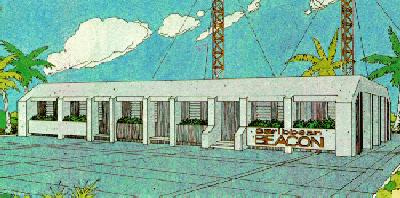 The Carribean Beacon, Anguilla, British West Indies. This station, with it's 50kw(now 200kw) transmitter and very clear frequency of 1610 khz, made it an easy catch on the Gulf Coast. This QSL card was for a transmission heard on August 11, 1986 at 0400-0415 UTC. Recently, the station joined the shortwave bands on 6090 khz and 11775 khz. When this card was received, the Carribean beacon was carrying time brokered religion programs, similar to what is heard on US MW and SW evangelical stations. Today, it carries the never ending ramblings of Dr. Gene Scott.




Trans World Radio, Bonaire, Netherlands Antilles. Another evangelical powerhouse from the Carribean. Operating with 500kw on a frequency of 800 khz, this is probably the most widely heard MW station in the Western Hemisphere, with evening coverage of the Carribean, Central, South America, and even into the United States. This station has also used shortwave, but left the HF bands a few years ago, deciding that mediumwave and local stations would be more effective at reaching it's intended audience. This QSL card, verifying a transmission heard on January 21, 1985 at 0600 UTC, commemorates the station's 20th anniversary. I heard this broadcast on a Zenith "Circle of Sound" AM/FM clock radio that was manufactured in 1980, using only its built in antenna. I heard some good MW DX on that little radio, and sometimes wish I still had it.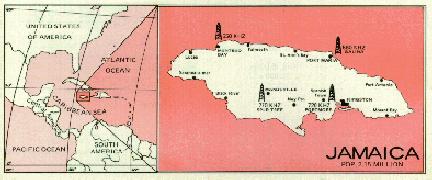 RJR, Jamaica, West Indies. Hard to believe a station in Jamaica running only 10kw could make it to the U.S., but it did! This card was for a transmission heard on September 25, 1987 during the early evening hours. RJR operates 4 MW transmitters lolcated in Naggo Head, Montego Bay, Spur Tree, and Galina. The transmission confirmed was for the transmitter in Galina, which is located on the Northeaster part of the island, and operates on 580 khz. I heard this station several times on this frequency, using nothing more than a Pioneer stereo receiever made during the mid 1970s, with a built in antenna. Don't get discouraged about DXing MW, even if your setup is less than spectacular.





KTRH, Houston, Texas. Catching this 50kw News/Talker on 740 khz was unusual because, unlike most MW DX which occurs at night, I caught this one in the daytime at 1650 UTC on July 18, 1986. Although I was in Lake Charles, LA, only a couple of hundred miles away from the transmitter, catching this one in was actually easier during the day, because at night, the transmitter beams its signal south, making it more difficult to catch to the east or west. I've heard other somewhat distant MW stations during the daytime too, since many cut power down or change antenna patterns at night, some interesting DX can be had during the day. Give daytime MW a try sometime.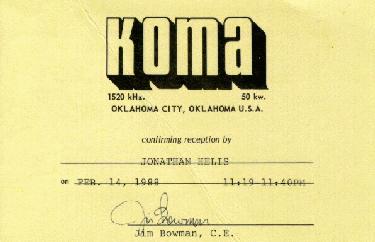 KOMA, Oklahoma City, Oklahoma. While tuning around on my Heathkit SW-717, I ran across some old radio shows on 1520 khz. It turned out to be KOMA, Oklahoma City, Oklahoma, running 50kw. Not a difficult catch, but the programming was nice. I heard this broadcast on February 14, 1988, and was really glad to get the card.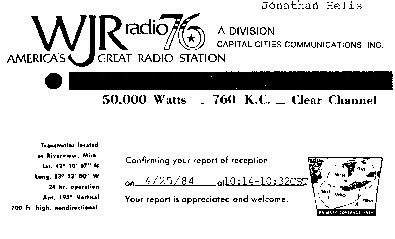 WJR Detroit, Michigan. This was my very first MW QSL card, received for a broadcast heard April 25, 1984 at 0414 UTC on 760 khz. WJR is a 50kw "clear channel" station, which made it pretty easy to hear, I was just surprised to hear it all the down in Louisiana. Even though it is a clear channel, this station, and many others, are becoming harder to hear, due to the FCC licensing stations to operate at night within the 750 mile protected area of clear channel stations, making the band a jumble of stations. This station said in it's response to me that it has been heard all over the U.S., and even down into Central America, and even in former U.S.S.R., give it a try, and you may hear its news/talk programs.




WPHG,Atmore, Alabama. I ran across this MW "X-Band" station on 1620 khz late one evening carrying gospel programming. More and more stations are moving to the expanded (1605 - 1705 khz) AM band, making alot of new DX available. Give it a try.