Amateur Operator KB0QMF (Quit Makin' Fun!)
Host and Sponsor of the Parsons Area Amateur Radio Club website
(Please see below)


Welcome to Mike Cobb's Website! Please try not to make fun of the chosen format, and above all, the author's call sign. He is known to be extremely sensitive to the phonetic nature of his call sign, and occassionally goes completely berserk when teased about it. (Really, not really!) Although the author knows that in order to keep up with the spirit of the hobby and be pleasing to God he Quickly Must Forgive, sometimes he forgets. (And then forgets to remember again!)
---
Mike lives at home under near-paradise conditions in Parsons, Kansas, with his wife Melanie and their Extremely Cool Cat, Momma. They have no children as of yet, but Momma is currently the next best thing! Neither Melanie or the Cat care much about Ham Radio, but Momma likes to listen to CW on 80 meters late at night. There now appears to be a better chance for the Cat getting her Amateur Radio license before the Wife.
---
Mike can usually be found listening during the day on 30 meters, around 10.110 mHz. In the evening he likes listening to 3.720 mHz, right down there in the Novice band where he belongs!! When the 2 meter band opens up, you can usually find him listening on the VHF SSB calling frequency at 144.200 mHz. (When no one's ragchewing on it, that is.) Thanks to Bob Morrison (KB0QPB) and Bob Wintle Jr., (N0QXC) Mike has also recently gained access to a couple of Russian Satellites. This discovery has unintentionally brought significant amounts of grief to some of you. Although Mike plans to upgrade his satellite station this year, he continues to whack away in Mode T on Russian Satellite 12. If you happen to hear him on any of the Ham bands, then please feel free to give him a shout. Should you ever hear something like, "CQ, CQ, CQ DX de KB0QMF" while monitoring any government, military, or public service frequencies, then please feel free to NOT respond. *smile*
---

The Seattle Counseling Information page (Where people like Mike should spend more time!) *Courtesy of Ron, KC7SQC

~fsv at www.netwalk.com..Are you interested in Radio? Then this page is for you! Jack's Fundamental Radio Page is the best place on the net for learning the basics of radio, honing your DX'ing technique, and improving your CW operating methods. An excellent information source on AM and Shortwave broadcasting as well.

WA7YAZ Homepage..Stop in and marvel at Steve Campbell's original graphic designs. This is an excellent springboard to some of Ham Radio's finest links.

Pittsburg Repeater Organization..Whatever else you do, don't miss this one! The Pittsburg Repeater Organization has a long history of being one of the very finest Amateur Radio organizations in the midwest. R. D. "Slim" Cummings (WA0EDA) hosts and maintains this fantastic site, which I've found to be one of the best club pages on the internet.

Jamie's Homepage
..Don't miss Dr. Jamie Bialek's excellent springboard to some of the coolest sites on the net! This page contains lots and lots of Radio Stuff, Jokes, Alternative Music, and most importantly, FREE STUFF! Your teen-agers will love this one as well.
Parsons Area Amateur Radio
ClubNews
President-Bill Collins, (N0RRY) Vice-President-David Sirota, (KB0UKW) Secretary-Donna Wilmoth, (N0LPT) Treasurer-Bob Morrison, (KB0QPB) Repeater Trustee-Will Shinn, (AA0JM)
The Parsons Area Amateur Radio Club meetings are held on the first Wednesday evening of each month at 7:00 pm in the Third Floor Classroom of the Labette County Medical Center in Parsons.
V.E. Testing is held every third month after the regular meeting. The next Test Session will be held on August 6, 1997.

Local Repeater News
146.685 (-)
The AA0JM Open VHF repeater is owned and maintained by members of the Parsons Area Amateur Radio Club.
All amateurs are welcome and encouraged to use the repeater, and to check into our net every Wednesday night at 8:30pm. (9:00pm on meeting night) The general purpose of the Wednesday Night net is for non other than to encourage and promote the friendly spirit of Amateur Radio in our community. Our friendly net controller is Bob Morrison. (KB0QPB)
---

Flash!

Oh my goodness.... did I say FLASH??? Most assuredly, that's exactly what happened at the Parsons repeater site on Wednesday evenining of June 25, 1997.
As many of you already know, the water tower that houses the Parsons repeater was struck by lightning during the last week in June. Witnesses reported a direct hit to the tower at approxamately 7:15 pm on June 25th, during a severe thunderstorm in Labette county. The blast disentegrated much of the antenna on top of the 150 foot tall structure. It miraculously appears that the only damage incurred to our equpment was to the antenna itself, and possibly the feedline to the repeater.
While the machine is out of service, many locals are now monitoring 146.420 simplex. If you happen to be passing through the area, then please feel free to jump in and say hello to the rest of the "Four-Two Crew"!
Repeater adjustments and repair are soon to come. As soon as final arrangements are made, the repeater will be sent in for alignment and any other needed adjustments. We hope to have it back on the air just as quickly as we possibly can.
July 12, 1997
We're Back On The Air!!
The workday scheduled for July 12, 1997 was yet another resounding success in the continuing saga of the Parsons Area Amateur Radio Club.
The weather was hot, but that didn't stop this dedicated group of hams from showing up for the scheduled Repeater Work Day. We are extremely happy to report that the feedline was found to be free of damage, and the installation is now complete. Repeater Trustee Will Shinn (AA0JM) transported the machine to Shell Knob Missouri on July 18 for alignment and a general check-up. Several adjustments were made, and now the "old girl" sounds as good as new! Wipe the dust off those handhelds and put some fire to the wire!

The Bold and somewhat Beautiful tower climbers were non other than Repeater Trustee Will Shinn, (AA0JM) and his sometimes rusty but always trusty cohort and climber extroridinair', Bill Collins. (N0RRY)
The somewhat mottely ground crew consisted of Rick Tucker, (W0RT) Ted Ferran, (KB0NHC) Bob Morrison, (KB0QPB) Mort Wilmoth, (WS0R) and Mike Cobb, (KB0QMF)
A very deep and heartfelt thanks to all who participated in the installation of the P.A.A.R.C. repeater antenna.
For further information on Club Activities or if you have any announcements you would like to have posted here, please contact Mike Cobb (KB0QMF) at 316-421-6139 or send Email to [email protected]

Special Bulletin!
As some of you may already be aware, Ralph "Deck" Decannier (W0GUR) suffered a light stroke on July 12, and is now in the Labette County Medical Center.
Just minutes after the antenna crew had finished their work at the repeater site, Deck threw his callsign out over the repeater frequency. Mike Cobb (KB0QMF) answered Deck's call, and commented on how nice it was to have the machine back on the air. On Deck's next reply, Mike and Betty Wintle (N0HHP, who was listening to the conversation) noticed in Deck's voice that something was wrong. After another brief exchange over the air, it was quickly determined that Deck was indeed in trouble.
Bob Morrison, Mort Wilmoth and Mike Cobb imediately responded to Deck's home QTH and found their friend quite disoriented and confused. Bob Morrison (Who is actually Dr. Robert W. Morrison, DDS) immediately checked Deck's pulse and over-all appearance. Dr. Morrison found Deck's teeth to be in excellent shape, but felt that he needed to go to the hospital anyway. *smile*
Deck was then quickly transported to LCMC where he recieved treatment through Wednesday, July 17. We're very happy to report that our friend is now back at the Presbyterian Manor, and will be living on the second floor while his condition continues to improve. *
So who says Ham Radio isn't important? In this case, it turned out to be VERY important for our long time friend and club member. One of these days, it could prove to be just as important for you!
Once again, a very special thanks to those who support and maintain not only our local club repeater, but repeaters and communication networks throughout the Amateur Radio community.
><><><><><><><><><><><><><><><><><><><><><
*Deck has now been moved back down to the first floor of the manor! His condition continues to improve, and He's back on the repeater as of Saturday August 2, 1997. Give W0GUR a call and then LOOKOUT!!!
><><><><><><><><><><><><><><><><><><><><><
If you'd like to send Deck a card, I know he'd be thrilled to hear from you.
Ralph Decannier, c/o Parsons Presbyterian Manor...3501 Dirr Street....Parsons, Kansas....67357

Get Well Soon Deck!!

Field Day 1997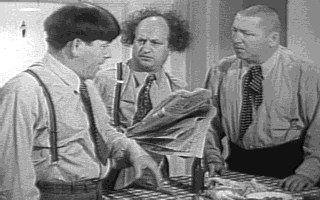 Here is a rare glimpse of Bob Wintle Jr., Bob Morrison and Mike Cobb preparing for this years Field Day activities.
This is an exquisite shot of Commander Bill Collins (N0RRY) sizing up the antenna situation. It's been rumored that Commander Collins can eat more Ice Cream in one sitting than any other living human.

Do you recognize these children? Correctly identify the current occupations of these little urchins, and win a free prize at the next club meeting! One grew up to be a Dentist. Another is now an Electronics Technician. One is currently a Telephone Man, and the other is now a Professional Dope.
Send your e-mail entries to [email protected]

---
Field Day 1997 Results
Field Day for the Parsons Area Amateur Radio Club turned out to be an overwhelming success thanks to each and every one of the members and guests who participated this year. Although our score was low, the level of fun was certainly high! 396 contacts were made during the 24 hour contest, (157 cw, 239 phone) giving a total of 1,406 points. A very special thanks goes out to everyone who participated, and to those who donated resources but were unable to attend.
---
Rock Chalk JAYHAWK!!

Official University of Kansas Athletics Page
---
Looking for the MOST RELIABLE Internet Service in Southeast Kansas and Surrounding Areas? You've Found It! Call Duane Schaub or David George at (316) 332-1616 -- Toll Free at (888) 332-1616.
Terra World. Inc. Is Connecting The Planet!

http://www.terraworld.net
---
Well, that's all for now! Thanks very much for stopping by, and a very special thanks to those of you who succeeded at not making fun of my call sign! This site is updated often, so please feel free to stop in and see us again!
If you have comments or suggestions, email me

[email protected]
A very special Thank You to my good friend Klifton Keplinger, without whom this page would not be possible.
A special thanks also to Mr. Al Waller, K3TKJ

Has this site been busy or what??
Last Updated August 8, 1997
Hit "Refresh" to re-play music.