Vintage Amateur Radio
---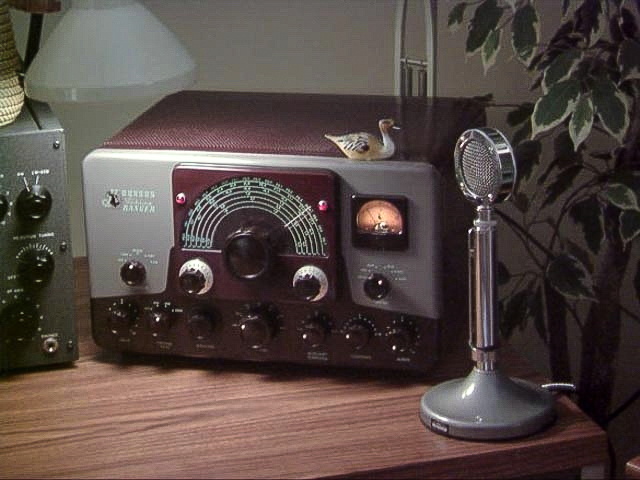 E.F. Johnson Viking Ranger I
The Ranger was E. F. Johnson's most popular transmitter....and with good reason. It's well engineered, ruggedly built, and full featured. The transmitted signal quality is excellent, particularly on AM. The modest input power level of 75 watts on CW and 65 watts on AM made this rig popular with Novices as well as veteran hams wanting to put out a quality signal.
To the best of my knowledge, this transmitter was manufactured in 1956 or 1957.
---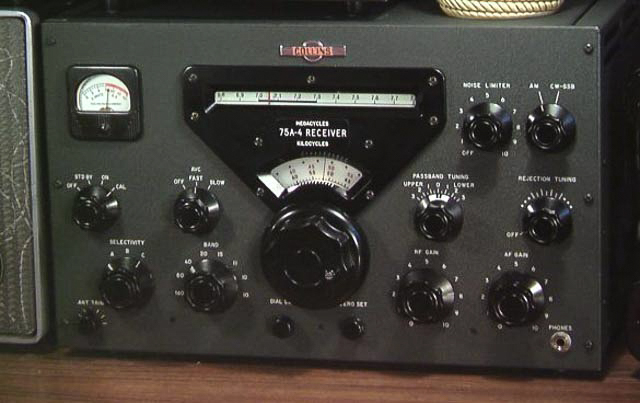 Collins 75A-4
The Collins model 75A-4, introduced in the mid-1950's, was the first Amateur Radio receiver designed for SSB service. It was very expensive and only about five thousand were ever produced. It was generally considered to be the most advanced communications receiver of it's day. A prized collector's item, the 75A-4 will make a good accounting of itself when compared to today's microprocessor-controlled, DSP-enabled, DDS-synthesized marvels.
Earlier versions of the 75A series, first introduced in late 1940's, had advanced the state of the art by using a new technique developed by the Collins Radio Company. The new scheme used a tunable IF with a crystal controlled HF local oscillator. The benefit was low drift, consistent tuning rate, and greatly enhanced dial calibration on every frequency covered by the receiver. The tuneable IF system, proven in the 75A series, was quickly adopted to gear sold to the military and remained the best design choice for serious radio builders until the advent of the "upconverting" front end mixer introduced in the late 70's.
The 75A-4 distinguished itself from the other 75A series receivers by incorporating features needed for the reception of SSB signals. It offered a product detector, which permitted the BFO and AVC to be used simultanously. The venerable 'A4 incorporated the world's first passband tuner, which allowed the IF filter's response curve to be positioned around the desired signal such that interference from a nearby frequency can be positioned down on the filter's skirt.
Another Collins innovation introduced with the 75A series receivers is the mechanical IF filter. This type of filter has a response curve approaching the ideal "rectangle" response.
---
There is a Collins Museum on the Internet. WA3KEY is the museum's curator. This fine web site has biographical information about Art Collins, historical information about the company, information about Collins products (including photos, specs, and circuit descriptions), a mechanical filter reference section, and a tube/crystal complement listing for their Amateur Radio products. There are links to other fine web sites, also.
---
Back to Ham Radio Page

Return to George's Place