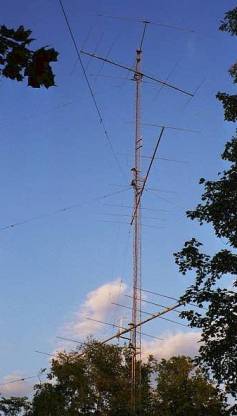 On your right is the heart of my station. It consists of 170' of Rohn 55, and houses 6/6/6/6 for 15 meters, and 5/5/5 for 20 meters. The 15M antennas are at 40/80/120/170', and on 3" X 36' booms. The bottom three are on W9RE swing-gates, and the top turned by a T2X.
With the 15M stack I broke the mono-band CQWW CW, ARRL Phone, and WPX Phone records.
On 20M the stack is at 50/105/155', and on 3" X 48' booms. All three rotate with TIC rings.
Welcome to my station
The tower at your left is a 130' of Rohn 45. It is located about 90' away from the shack, and is home to 6/6/6 on 10M at 38/76/115'. They are home-brew designs that are on 3" X 36' long booms. The top antenna is rotated by a TIC ring, and the bottom two are on W9RE swing-gates for 300 degree rotation (S-SW blind spot). At the top is a Cushcraft XM-240 for multiplier hunting, as turned by a T2X.