My QTH and the Force 12 C3SS at 77 feet
(Click here to see more of the tower, and better views of the antenna)

---
Below is my equipment which includes an ICOM 756 PROII, a Force 12 C3SS Tribander for 10, 15, and 20 which is spun by a Yaesu G-800DXA rotator, an LDG AT-11MP Autotuner for the inverted V or the Carolina Windom 80 Beam Special wire antenna for 40 and 80, a Hustler 6BTV vertical, a KamPlus TNC for PACTOR or other digital modes( mainly I use AGWpe), and an Arrow 2M/440 J-Pole for the local 2M and 440 repeaters. This compromises my base station. I also have 3 HT's (ICOM IC-T81A, Yaesu FT 50RD, and a RS HTX-202 used in my APRS tracker).
For portable use I have a a Yaesu FT-897 and a Ten-Tec Pegasus, with which I use a Tarheels screwdriver I have bought for the motorhome that I will be installing this winter. I also use a Yaesu FT-100 utilizing a Yaesu ATAS-100 screwdriver or a Hustler small vertical, plus a short dipole and the LDG Z11 Autotuner which I use in the motorhome or car when I travel. I also have a Yaesu FT-817 QRP HF, 2M, and 440 rig, with an MP1 Antenna, which I use at home for QRP, 2m and 70 cm and take with me for use on the boat or pedestrian mobile.
Below is my current radio setup. Click picture for the Pegasus and the FT-817.
---
I like the digital modes a lot, below is MixW2 and DXBase software running on my DELL 8200. I mostly do PSK-31, but like MFSK and slow scan also. Here is how I set up the filters on the 756 PROII, click to see Frequency vs. Amplitude plots. I also run APRS and have a program called WeatherView I wrote that shows the weather info, and also lets you interface with APRSplus to send a weather report, as well as interface with MixW to use a MixW macro to provide weather info for your QSO. Here is a link to the software, it's free.
---
I use a Behringer MX-602A mixer to get the audio in and out of my radio and PC. It makes for a very nice arrangement.
---
I have very sophisticated antenna switching equipment ;-).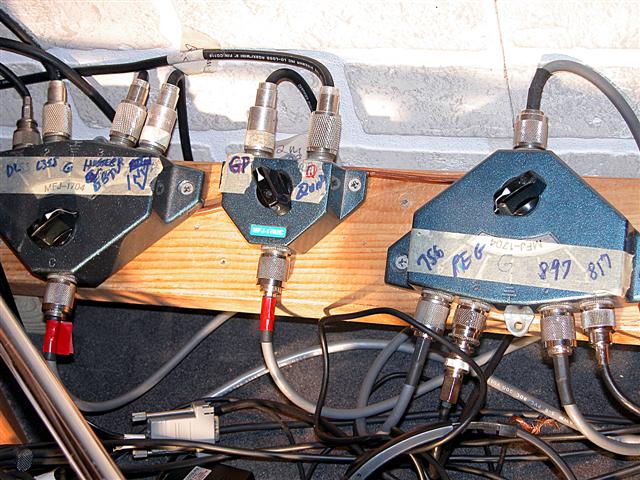 ---
Here are some additional specs on equipment plus the best ham radio operators manual I have ever seen.
Carolina Windom Beam 80 Special
(Click thumbnail to make text readable.)
---
Arrow 2M/440 J-Pole
(Click thumbnail to make text readable.)
---
My Current Portable Mast
My Dream Portable Mast (I missed the auction)