FIELD DAY OPERATIONS - 1995
The club had another great field day (dry, in other words), on Hall Mountain. The call of Sid Adams, WI4M, was used over his protests, and many members of the club participated. One contact was even made on 2 meter SSB, but the higher bands of 15 and 10 meters were not open very much at all. Great food was prepared by KE4AER (no one got sick), and there were no complaints.
---
THE FIELD DAY CREW - SUNDAY.
---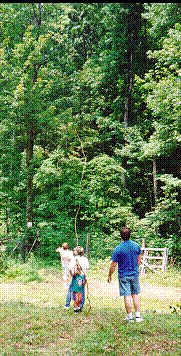 RICK, ARE YOU SURE THIS IS HOW YOU CATCH A SQUIRREL OUT OF SEASON?
---
A FIELD DAY GALLERY
WB4IEA ENJOYS FIELD DAY
---
Copyright © 1996
This Page was created by WebEdit,Tuesday, February 20, 1996
Most recent revision Saturday, March 4, 2000.