Information and pictures received on the
K3ASI 10 meter Repeater on 28.690 mhz.
---
To operate the repeater
---
As of July 2005 all the pictures received will be posted on my SSTV Repeater Web Cam page.

---
Example of Beacon Pictures Sent out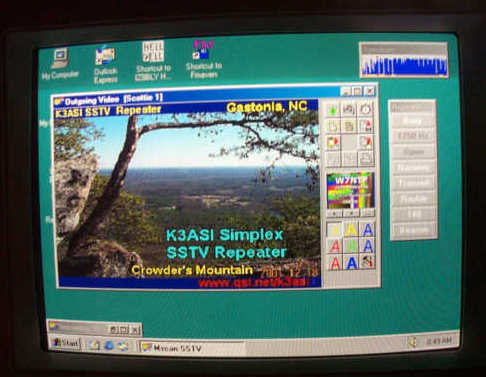 ---
Please be patient: After your CQ picture or other pictures are repeated, please stay on frequency for at least 2 to 3 minutes. As it will take the other station answering your CQ at least 1 minute, 50 seconds, or more to send the repeater his picture. The repeater will send his picture in 8 seconds or less.
I have seen stations send CQ though the repeater and leave the frequency right away and miss a call coming back. Good SSTVing, Dave
---
When you use the repeater would you please put in your text, (VIA RPTR) that way the other station will know you are using the repeater to send your picture.
---
It sends a beacon picture out every 15-20 minutes. Signal reports would be appreciated just send the repeater 5~a picture with the RSV of my signal or E-mail me.
k3asi@qsl.net
---
MSCAN has discontinude the SSTV Repeater List do to lack of updates
---
Information on the K3ASI 10 Meter SSTV Repeater
---
INFO on K3ASI SSTV Repeater
---
Rig: HTX-100 , with Amp running 20 Watts.

Operating: 24 hours a day.

Interface: NoMic Rigblaster.

Computer:Home brew 1.8 ghz, 1G RAM, OS-XP.

Antenna: A-99 Solarcon Vertical.

Software: MMSSTV-In Repeater Mode.

Location: Gastonia, NC about 25 miles West of Charlotte near Crowder's Moutain State Park.
---
How to operate!

To operate the repeater send a 1750 Hz tone wait for the repeater to reply in CW, after CW send your pic within 8 seconds. The repeater will then send your pictures over the air on the same frequency.
---