KØXM's Tower and Antennas

---

I moved into a house located on 1 1/2 acres in November 2000. At that time, I made MAJOR changes to the house. Here are some before and after pics of the work. To say I miss the house is an understatement, along with the other occupants at the time. Hopefully one day in the future I will be able to acquire another plot like this. Although it will be nice to have, it will not be the same without that one special person to share it with.

To see the pics in a larger image, just click on the image, and use your "Back" button on your broswer to return
---

For info on Force 12 antennas, visit their home page by clicking the logo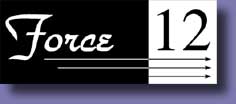 For info on the Col-At-Cho Vertical, I have scanned the manual as a PDF file.
You can find it here:
Col-At-Cho Manual
To view this, you will need the Acrobat Reader which you can get by clicking on the logo


---
Here are some pictures of how the house looked right after we moved in.
The antenna is a Force 12 C3SS on a small Tri-ex crank up tower at 38 ft.


---

Here are some pictures of the tower and house work completed (well, at least the OUTSIDE of the house that is). I owned 1.5 Acres in Western Wyandotte County, approx. 5 miles north of the Kansas Speedway. The tower is 60ft. of Rohn 25g and the antenna at the top is a F12 C4XL which covers 40 thru 10 mtrs. The Vertical in the pictures is for 160 and 80 mtrs. It is top loaded on both bands, and is 42ft. tall. Thanks to Jerry, NXØI, for selling me the verticals and phasing....a single one is a KILLER antenna. I can't wait until the rest of the system is up and operational. Also, I run a Kenwood TS850sat barefoot for dxing and contesting.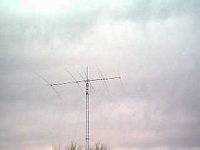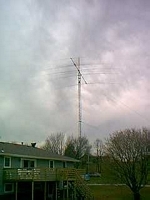 ---

Here are some pics of the Elevated Guy Posts. This is before sanding them and painting.
The post is in 2ft of concrete under 1ft. of dirt. The slab of concrete is 2ft wide by 6ft long. Information for how to install these are from CQ Magazine, November 2001.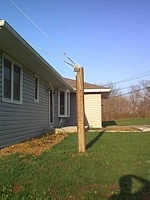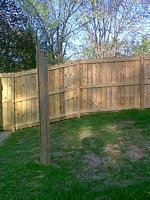 ---

Onward to Tower Page Two...


---