My Mid-life Crisis Page

May 2, 2007 was a monumental day for me. After 26
years, 10 months at the Board of Public Utilities I decided I had enough of the games and crap. I walked off the job and started a new life. Upon getting my retirement and handling all my financial backlog, I decided to get what I had wanted since I was a wee little lad of 7. So, I put the word out I was looking for a Harley. A former co-worker called and told me he was selling his to upgrade. I went, I saw, I bought.
And let me tell you, I should have done this YEARS ago. This bike is the ultimate stress buster. No matter what the day held, I could saddle up and hit the road and all the crap is gone in minutes. So, with out further adieu, here is my new baby: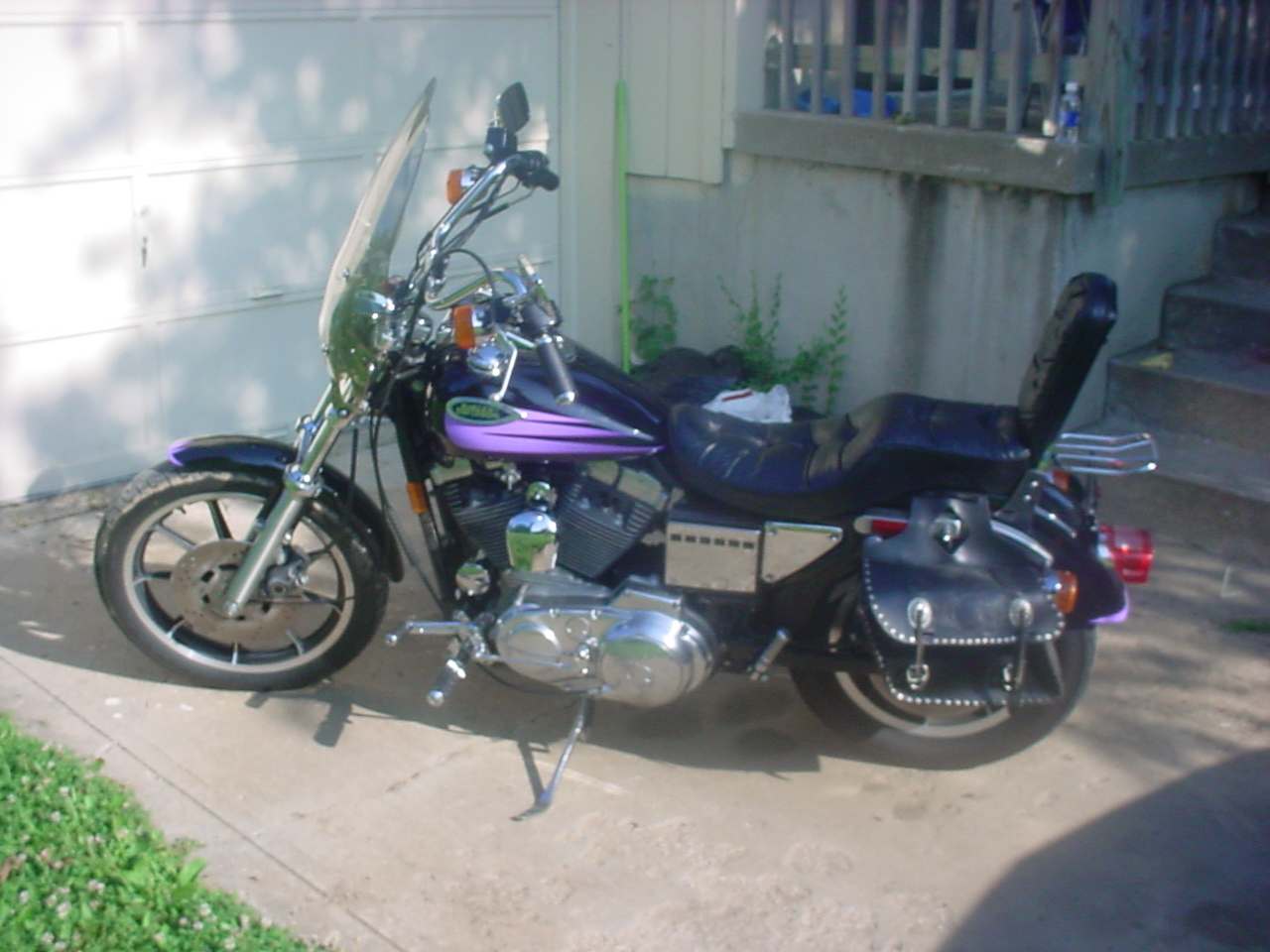 Here are the details:
1993 1200 Sportster
Mileage at time of purchase: 14,060
Mileage at time this page was created: 16,035
Screaming Eagle setup
SportBob 3.5 gal Tank


I have MANY changes in store for over the winter. For starters the paint has GOT to go. The tank and fenders will be changed to Metallic Candy Apple Red.
New Saddle Bags, and since it has been regularly marking its territory in the garage with a leak from the front rocker cover (and spraying my left pants leg as I ride) a through going thru on the motor is in the plans. New rubber all the way around, and maybe a new seat. The rear end gets to falling asleep after 50-60 miles of an all day ride. The front turn signals are going to be relocated to where they SHOULD be on the forks.

I have a great group of guys who I ride with regularly, and we have gone on some AWESOME rides. Usually we go all back roads to our destination. Some of the rides we have taken include Valley Falls Kansas, Gardner/Edgerton-Wellsville (including getting lost in Leavenworth- Douglas county Kansas at 10PM one nite), Regular runs thru downtown KCMO at nite and more planned on the way.