---
WRØACC Six Meter Repeater Licenses
---
I thought these old licenses may be of some interest. In 1973 the FCC decided to make rules to govern Amateur Radio Repeaters. The new requirements for a ham repeater license was more difficult to comply with than a commercial broadcast station application.

I'm sure those that went through this process will appreciate looking these licenses. The new requirements were not only for the repeater, but the same process was required for our three remote receiver sites, and each control operator had to submitt their license for modification.

These licenses were the product of weeks of work by a small group of our club members, and after building a three to four inch thick file folder, we were finally awarded with these new licenses, and a club call sign.

The repeater call sign then changed from KØRWU/R to WRØACC, and we were thrilled. Well, I guess all this was too much paper work for the FCC and a few years later they did away with these requirements.
---
The WRØACC Six Meter Repeater License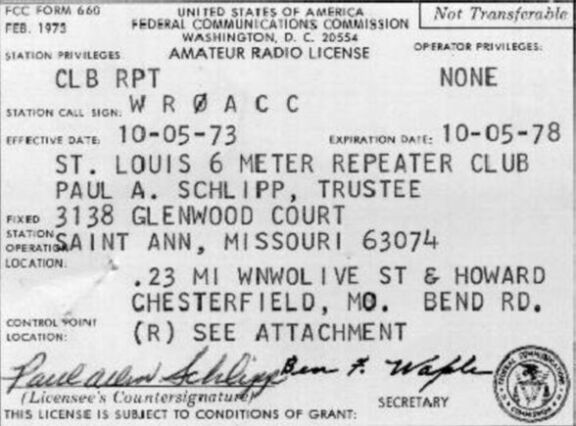 The Chesterfield Transmitter Tower Location
---
An interesting note about these license applications is that the paperwork deals mainly with requirements for the bands, The Six Meter Repeater, and 444 mhz Control Stations, and the license has no indication of which band it authorized.

To become a control station, the operators license had to be modified to PRIMARY and CONTROL station and have the same expiration date as the repeater license.

Also, notice these licenses were SIGNED, and the zeros have the military slash, something you don't see anymore. I guess the old "BEN F. WAPLE" stamp must have finally wore out. Hi Hi.
---
The WAØVXT 44Ø Mhz Remote Link License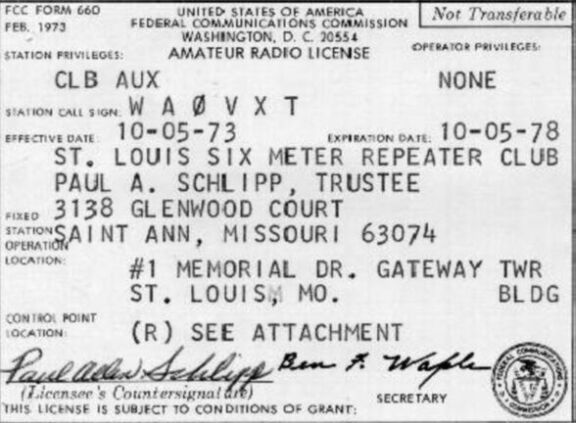 The 44Ø link at the KMOX radio building located in downtown St. Louis, MO.
---
The WAØVXU 44Ø Mhz Remote Link License
The 44Ø link on the FM radio tower located at Lindenwood College in St. Charles, MO
---
The WAØVXV 44Ø Mhz Remote Link License
The 44Ø link on the radio tower in High Ridge, MO.
---
The WRØACC Control Station Attachment
Attachment authorization for repeater control stations.
---
KØRWU Modified License for Control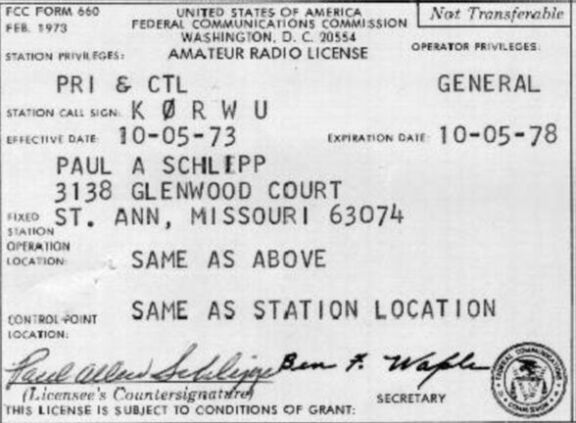 All control stations had their license modified for repeater control stations.
---
Click here to return to my home page

---