<!BODY BACKGROUND="mble5.jpg" BGCOLOR="#000000" TEXT="#82FF40" LINK="#07EFF5">
KØiL's Ham Station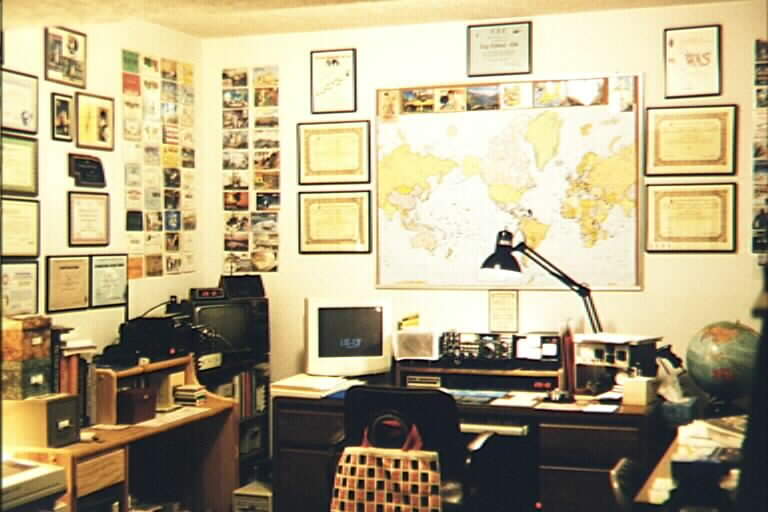 Be it ever so humble...
Omaha, Nebraska
Douglas County
Grid Square EN11wh
This Page is under perpetual construction...
just like my shack!
---
Station Information
Currently my ham shack is a humble station,
but I'm still dreaming of bigger antennas high in the sky!

RIGS:
ICOM IC-751A HF with CIV computer interface
- IC-SP3 matching speaker
- IC-PS15 power supply
ICOM IC-756 HF (borrowed--during contests)
ICOM IC-207H VHF/UHF

ANTENNA GARDEN: (too small to be called a farm!)
- CUSHCRAFT R5 vertical (roof mounted at 35')
- HUSTLER 5BTV vertical (ground mounted)
- CUSHCRAFT Ringo Ranger (sewer vent mtd @ 15')

ACCESSORIES: (other stuff)
- VECTRONICS VC-300DLP antenna tuner
- BENCHER iambic paddle
- KANTRONICS KAM-Plus packet/RTTY controller
- Pentium clone (AMD K-2) using WIN-EQF for logging, Cluster terminal, awards tracking, etc...
---
<!Copyright © 1997 ed>
e-mail to
Ed-kØil

<!Copyright © 1997 ed>
Most recent revision Jan. 26, 2004
Return to start of KØiL's Shack on the Web