---
This is the effort of two retired guys, John Fisher K5JHF and I, (and other AQRP members) to make some useful kits available for you at reasonable prices to encourage kit building and homebrewing. As you can quickly determine, these kits are all based around readily available, low cost Microcontrollers with flash (program) memory and most use a certain LCD display that was very, very, inexpensive. The criteria for us, as "low buck" designers, was that firmware development tools have to be free, hardware interface tools have to be inexpensive, and PC board design tools have to be free.
As we run out of parts we'll just order more if there is interest in the kit. Some kits may be retired as the number of kits grow or demand falls off. Should be fun and educational and that's what this is all about. I'll make improvements to the web site as time allows and hope to make it convenient to use. Both John and I are ready to answer any questions and help out.
I just got back from the post office and the rates went up Jan 27th, 2013, especially for DX, so I had to adjust the postage charged.
I realize there are some Hams out there who think they will have difficulty with the small surface mount parts placement and soldering and "think" they can't do it. I highly encourage you to try. If you "ping" a small part across the room and it's lost forever, contact me and I'll send you another at no cost. Some may have vision problems, steadiness problems, etc, again I encourage you to try.
---
---
To order kits please contact me directly at K5BCQ followed by an @ sign followed by ARRL.net with no spaces. Or via mail (OK in QRZ).

There have been some problems with the email forwarding through the ARRL Website so let me try this as an alternative; hopefully to also cut down on the robospam. You can also contact me through windy10605 followed by an @ sign followed by Juno.com with no spaces. Let me also do the same for the other email IDs.
---
---
The Hi/Lo Temperature Kit #1

Back for yet another 30 Kit Run
An assembled Hi/Lo Temperature Kit #1.
Closeup of the small microcontroller board with the temperature sensor (8 pin SOIC). The microcontroller is on the back of the board.
This is one of the easier to build kits. It simultaneously shows the Low, Actual, and High Temperature readings in degrees F or degrees C (so it's educational too). You reset it by momentarily turning the power OFF and back ON. There are two versions of the code which you need to specify when ordering ....."T" (Toggle) which will automatically toggle between degrees F and degrees C every 5 seconds ("T" is the default if you do not specify "T" or "F") and "F" (Fixed) which will read degrees F without the jumper "J1" installed and degrees C with the jumper "J1" instsalled. The battery consists of 2-AA Alkaline cells and should last about one year. Use Alkaline cells because of the 1.5V rating. Rechargeable NiCad cells at 1.2V are really too low for proper LCD contrast. The temperature sensor is a MicroChip MCP9801 which is spec'ed at +/-1 degree C from -10C to +85C and +/-3 degrees C from -55C to +125C.
So what comes in today's Hi/Lo Temperature kit ? .....Bill of Material:
1 PC board
1 MC9S08QD4 programmed microcontroller ("T" or "F" version ....see above)
1 KTM-S1201 LCD 12x1 LCD
1 MCP9801 Temp Sensor
1 Battery Box 2-AA
1 2x5 header
1 8.2K resistor
1 0.1uf capacitor
1 DS foam tape
The price for of this Kit is $10 plus $3 postage in the USA and $9.50 postage for DX.
---
The Si570 Controller and Frequency Generator Kit #2
An assembled Si570 Controller. The LCD shows Memory location "36" and 14.060Mhz with the cursor in the 1Khz position.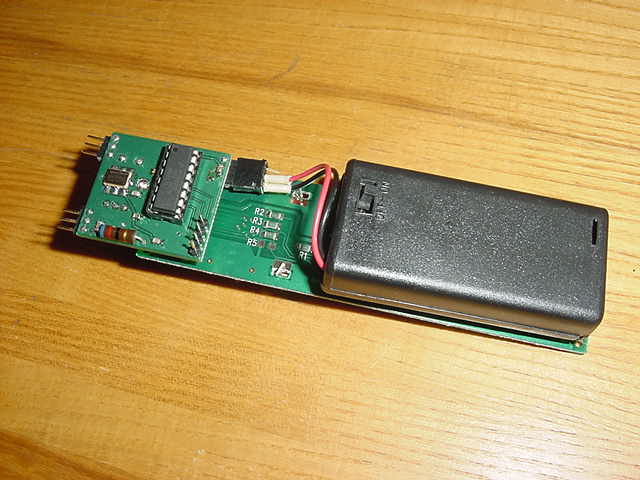 You can see the Si570 chip soldered on the back.
New V4.x board with 4 mounting holes and a more convenient way to interface the I2C Bus to an externally mounted Si570.
This standalone unit (no attached PC required) has a frequency range of 3.5Mhz to 1417.5Mhz (yes, 1.4Ghz) depending on the Si570 part used. I have tested it up to 1200Mhz which is as high as my scope will go. Really an amazing, low jitter, and very low spur levels chip. You can go to the SiLabs website and look at the specifications. All setup and control is via the rotary encoder knob and it's push button. Power is battery (3V) or external power (5V-12V). It's compatible with all Si570 CMOS and LVDS versions, single ended or differential output, and any default frequency. This makes an ideal signal source for SoftRocks and many other projects. The Si570 Controller and Frequency Generator Kit includes a 12 digit LCD frequency display, a programmed MC9S08QG8 microcontroller, and a rotary encoder for tuning. It can ordered with a CMOS Si570 chip which is spec'd at 3.5Mhz to 160Mhz. Using other LVDS Si570 parts, the frequency range can be extended up to 1.417Ghz.
NOTE: I have received a few emails from people who accidentally applied reverse voltage to the 12VDC input and took out some parts. To prevent this from causing damage, in the future, I am adding a silicon diode to the kit .....to be mounted in series with the 56 ohm resistor (R1). If you think you might accidentally reverse power sometime on an existing unit, and who doesn't, I would suggest adding a diode to your Si570 Controller.
-------------------------------------------------------
ERATTA for V4.x Boards
Looks like SiLabs has changed the programming spec and disabled some math multipliers to facilitate their implementation of "Speed Grade". "A" Grade (1.4GHz) parts are not affected. I don't know how "B" parts are affected by the present Si570 Controller code. We use the "C" grade CMOS (160MHz) and LVDS (280MHz) parts. Using the existing Si570 Controller code does not appear to affect CMOS "C" level part operation, but the LVDS "C" level part is now limited to 260MHz with the existing Si570 Controller code (4 programming dots).
-------------------------------------------------------
Jack Smith, K8ZOA, of Clifton Laboratories has provided an excellent evaluation of the CMOS Si570 capabilities and the Si570 Controller kit at Clifton Laboratories
Sid Boyce, G3VBV, provided additional insite on how he used his Si570 Controller at G3VBV info
Features:
Plus or minus Frequency Offset to compensate for Mixers, IF's, etc. The LCD will show the actual frequency.
Frequency out integer Multiplier and Divisor for SoftRock (4x, etc). The LCD will show the actual frequency.
Selectable encoder pulses per dial increment allows Variable Dial Speed.
Dial Lock indicated by a flashing cursor. A momentary push of the PB sets/resets Dial Lock.
Startup Memory location is selectable.
980 memory locations to save frequencies. The first 20 locations are Si570 Controller operational parameters.
For best accuracy, the custom factory set registers in your Si570 chip are read and used.
Can be powered for short periods with the 2-AA cells but the chip draws ~70ma so they won't last long and external power is advised. Use Alkaline cells because of the 1.5V rating. Rechargeable NiCad cells at 1.2V are really too low for proper LCD contrast.
Hold knob PB in and rotate to change cursor location to selected digit, release, and tune
Hold knob PB in for 3sec to save frequency to memory location shown. Memory will jump to next available location.
Left most memory position provides for external BPF selection (1-8) provided via a 3 bit and Ground header (000-111) with 3V logic (memory "0xx" selects a BPF, "1xx" selects another BPF, etc).
The display is a 12x1 serial LCD (3-3/4" x 7/8") and the programmed microcontroller is a Freescale MC9S08QG8. All the parts are supplied (except the batteries) and an instruction sheet is provided.
There are many output options available ranging from normal termination resistors to isolation transformers to LVDS/ LVTTL level converters. Some of thse devices have their own frequency limitations such as the MiniCircuits RF transformers are spec'ed to 800Mhz and the FIN1002 is spec'ed to 400Mhz. It's totally dependent on your application. The Si570 Controller board has footprint options for many alternatives. Also some of you bought Si570 parts from Tom Hoflich, KM5H, and may want to use those parts. Some of you have sample parts or parts from other sources. For that reason, the kit is offered with or without the Si570 part. The Si570 parts I supply are CMOS "C" speed which means they are spec'ed 3.5Mhz to 160Mhz by SiLabs (although they have been observed much faster than that).
So what comes in today's Si570 Controller kit ? ......Bill of Material:
1 PC board with 4 mounting holes
1 MC9S08QG8CPBE programmed Microcontroller
1 KTM-S1201 LCD 12x1 LCD
1 24(AA/LC)32 EEPROM
1 Battery Box 2-AA w/SW
1 2x5 header
1 Misc header M/F
1 56 ohm 1W resistor
2 2K resistor
2 51 ohm resistor
1 147 ohm resistor
6 0.1uf capacitor
6 0 ohm resistor
1 3.3V LDO Regulator
2 10uF smt electrolytic capacitor
1 10uF smt 0805 size capacitor
1 Rotary Encoder w/PB and threaded shaft bushing
1 Knob
1 10 wire IDC flat cable
1 DS tape for battery
1 CMOS/LVDS Si570 chip if ordered
1 MiniCircuits TC1-1TG2+ RF Transformer if ordered
1 FIN-1002 lever converter if ordered
The price for of this Kit without Si570 is $25 plus $4 postage in the USA and $12.75 postage for DX.
The price for of this Kit with CMOS Si570 (160MHz) is $40 plus $4 postage in the USA and $12.75 postage for DX.
The price for of this Kit with LVDS Si570 (260MHz...see Eratta above) is $45 plus $4 postage in the USA and $12.75 postage for DX.
Options:
There are 2 optional parts available. None of thse are required for an operational kit, only if you want complete DC isolation or LVDS conversion from differential to single ended LVTTL.
Mini Circuits TC1-1TG2+ (easier to solder than the previous TC1-1T+) RF Transformer is $2 plus $2 postage in the USA and $2 postage for DX. No postage if ordered with a kit. You only need this part if you want complete DC isolation.
FIN-1002 LVDS to LVTTL Converter $1 plus $1 postage in the USA and $2 postage for DX. No postage if ordered with a kit. You only need this part if you are using a LVDS Si570 and you want to have an LVTTL single ended output vs the differential LVDS output.
---
The Morse Code Buddy Kit #4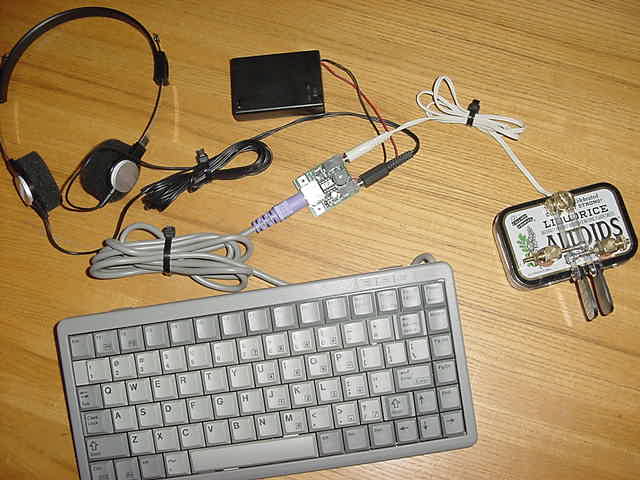 A MCB with keyboard, headphones, and a set of homebrew Iambic paddles made from two sections of hacksaw blade. Those blades are hard to drill but have the right spring feel.
Closeup of the MCB. The large pads (on both sides of the keyboard connector) are for attaching two spring contacts which, when grounded to the keyboard connector shield become a small iambic paddle. Neat, huh ?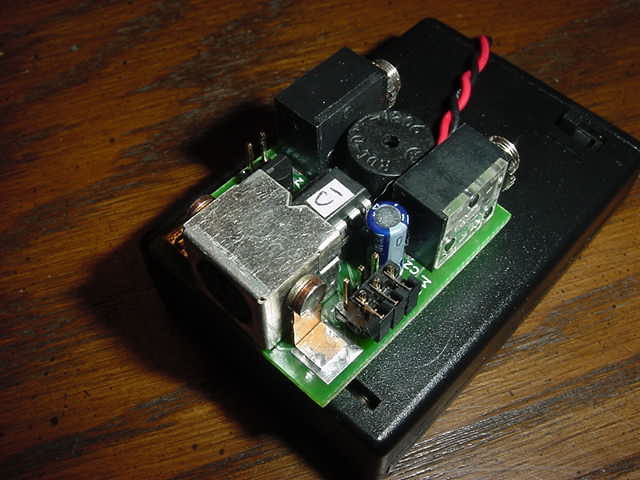 More detail on soldering relay contacts as a cheap iambic paddle ....sorta.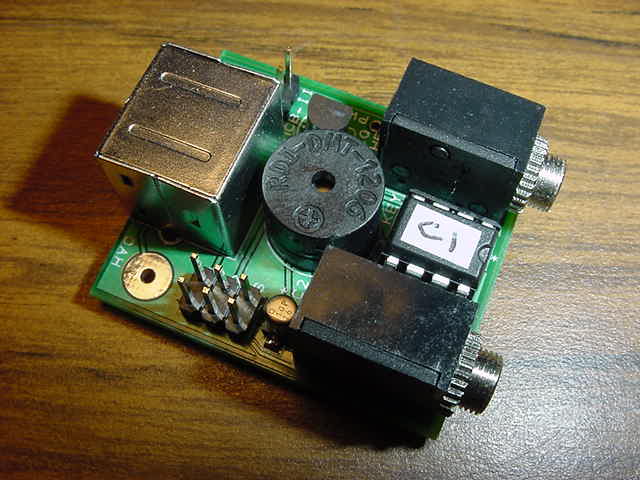 This is the MCB-II. The Beeper and Microcontroller locations are switched, making it much easier to change out the microcontroller for different functions.
The Morse Code Buddy (MCB) allows you to receive and send practice code at speeds of 3-wpm to 40-wpm with a keyboard or iambic paddles, or just shirt pocket use for receiving practice code via the beeper or headphones. For those in the know .....and real CW operators, this is a Type B iambic keyer. There are three versions of the microcontroller, which is pluggable. The "C" version sends random 1x1, 1x2, 1x3, 2x1, 2x2, 2x3 calls (USA and DX) with 20 varying tones on a per call basis (sorry, no random noise in the background). It will send all alphabetic combinations. The "P" version sends random groups of all Morse Code letters, numbers, and characters. The "B" version will allow Beacon mode where one character string you define is repeated at an interval you define. Handy for calling CQ on a basically dead band or use during transmitter hunts. Hit any keyboard key on any of the versions and it reverts to iambic keyer mode.
It's also a 512 byte memory keyer, with adjustable tone, keyboard or iambic paddle input, Tx keying via a 2N7000, and it's powered by 3-AA Alkaline batteries (>100hrs). Do not use rechargeable NiCads. It's not required from a power standpoint and the 3.6V voltage is too low. The two large pads to the side of the keyboard connector can be used for isolated mounting or fabricate a set of paddles from the pads to the grounded shield of the keyboard connector (old relay contacts ?) and you have yourself a set of homebrew mini-paddles. Cool, huh ? ....check out the picture above.
The power options are many since the power requirement is 4-5VDC. You can use the battery box provided with 3-AA Alkaline batteries for portability, you can tap 5V off your rig if that is available, you can use an external 5V power supply, or you can tap 5V off a computer USB port you may have on the desk (all you need is a cable with the USB connector). If you use a cable for power it's a good idea to provide a strain relief using a plastic tie-wrap through one of the two holes at the keyboard connector end of the board.
This is a relatively easy kit to build. Some of the parts are an interference (tight) fit so they stay in place when you flip the board over for soldering.
Features:
Stereo or Mono headphones, 3.5mm stereo jack
Paddle input, 3.5mm stereo jack
Keyboard input, 6pin Mini-DIN
Keyboard arrow up/down is 1-wpm change, Page up/down is 5-wpm change
Keyboard arrow left/right is 20Hz tone change
Toggle the sidetone on/off
Lock/unlock "key down" for tuneup or tuner adjustment
Any paddle/keyboard input and MCB goes to Operational Mode, will go back to Practice Mode with "Alt/P"
"Alt/F1-F12" stores memory, "F1-F12" plays memory in any sequence.
The first two characters stored in location F10 "seed" the random number generator.
Toggle Farnsworth Mode on/off
Toggle the variable tone Practice Mode on/off ("C" version)
Store and erase memory
Keyboard speed/tone default modes
Jumpers to select speed for shirt pocket use, all other parameters use last saved data.
So what comes in today's MCB kit ? .....Bill of Material:
1 PC board
1 MC9S08QD4 programmed Microcontroller
1 2N7000 FET
1 Beeper
1 8 pin socket
1 Battery Box 3-AA
1 2x5 header set
1 1x3 header
2 Stereo Jack
1 Keyboard connector
1 10K resistor
1 1K resistor
4 0.01uf capacitor
1 DS foam tape
The price for of this Kit is $15 plus $4 postage in the USA and $9.50 postage for DX.
Each kit is supplied with a "C","B", or "P" microcontroller (you specify). If you want more than one, please add $5 for each additional microcontroller to the above numbers.
---
The Digital QRP mWattmeter II Kit #9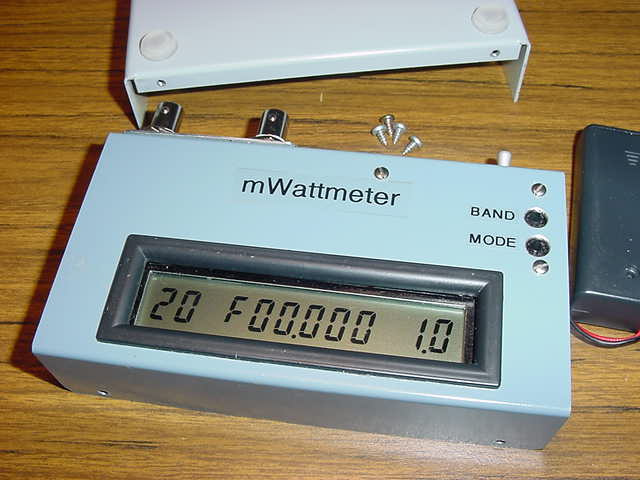 K5BCQ's mWattmeter II packaging scheme using a "Royal Crown" LMB #CR-531 box. The tactile pushbuttons (Up, Down, Mode) which come with the kit (you can use both Up and Down pushbuttons or only one of them) are mounted on the bottom of the ADC/Microcontroller board in this enclosure scheme and protrude far enough to be used from the front of the enclosure if you bevel the hole edges a little. The bezel and On/Off toggle switch are not included in the kit. I call this "flounder packaging" ....due to this enclosure's aspect ratio and the LCD on top ;o)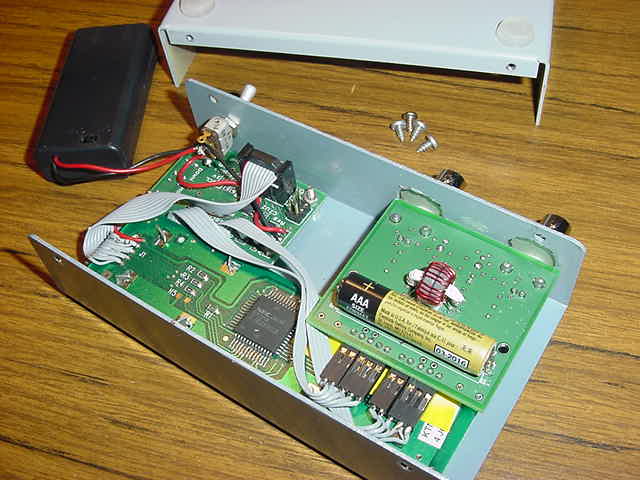 Inside of the LMB #CR-531 box. The AAA bias battery can be mounted on either side to suit your enclosure. Here it is on the bottom of the Directional Coupler board. The Berg connectors were added on my unit because it was removed often during development.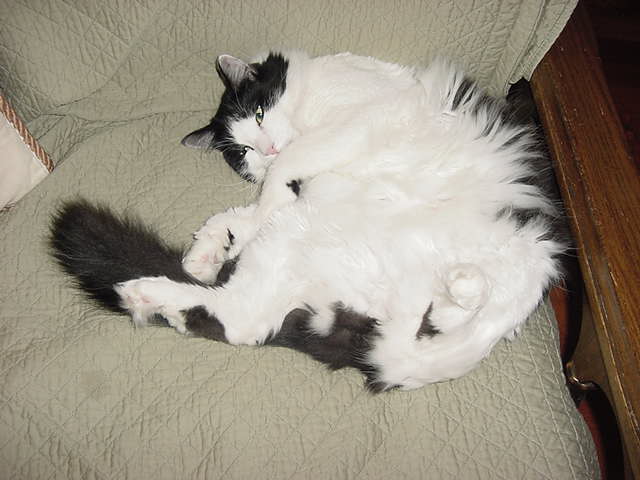 Top view. Mount T1 on the top of the coupler board and T2 on the bottom of the coupler board using a small piece of double sided tape as a spacer off the board. This locates the board between the two transformers for isolation. It also puts a spacer between the toroid coils and the ground plane to reduce capacitive coupling. The single turn of wire is a short piece of RG-188A/U coax (just like RG-174A/U but it's Teflon so much more "solder iron friendly") and ground (ONLY) one end of the shield to a nearby ground via on the board. This provides a Faraday shield between the primary and secondary of the transformers to reduce capacitive coupling between the windings.
I cut slits in the coax jacket to make it more flexible. Any derbis comes from a "helpful" cat (Inspector #2) who insisted on checking all the solder joints and as you can see, it's very stressful and tiring work.
This shows the bottom of the coupler board. I cut slits in the coax jacket to make it more flexible.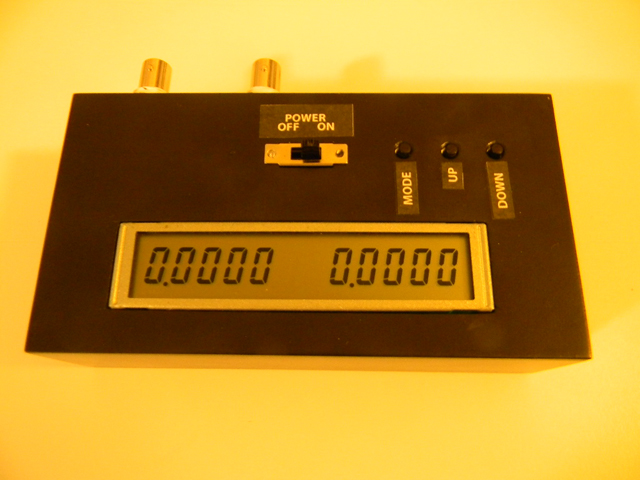 This a mWattmeter kit built by Ken, VA3ABN, ......looks nice.
Thanks to John Fisher, K5JHF, and Milt Cram, W8NUE, for the microcode and Ben Bibb, NO5K, for taking one heck of a lot of data in his lab. Power measurements have been surprisingly accurate from 160m to 6m at better than 3% in the QRP <5W range which was the focus of this design. I was talked into raising the power to 20W at a later time. Thirty-three curve fitting polynomials are used, three per band, 11 bands. All thirty-three are second order. Eleven band selections, between 6m and 160m, are used to further improve accuracy by not having to "average" any data readings.
This particular project has provided me with considerable education. In order to maintain good accuracy (<3%) at the low end (the design point) I've found out that the data is only as good as the test equipment used to obtain the curves. The math is straight forward, the hardware is not. First, it's much easier to make an accurate mWattmeter using my design point than it is to make an accurate INLINE mWattmeter, or even more so, an accurate INLINE mWattmeter which shows VSWR. Directional Couplers with toroids are not known for stablity/ accuracy and a separate enclosure with better RF bypassing of the analog voltage would help some, but ferrite material is inherently affected by temperature (power) and RF coupling between the two transformers. Second, there are Amp output impedances to consider, LPF characteristics, Attenuator characteristics, etc, etc. There is a considerable difference between "ham quality" and "commercial quality" instrumentation. This is my best run with available instrumentation.......most of it lab quality, callibrated, and excellent, some of it, like the LPF, "ham quality". At a later date, if someone can provide me with better ADC voltage to power data, it's relatively easy to update the microcode via the BDM socket on the board and/or the kit is now supplied with a 16 pin DIP socket for the microcontroller.
IMPORTANT: The mWattmeter V2.0 microcode will only produce correct readings with the Directional Coupler wired as described and shown above. The earlier V1.0 microcode compensated for unwanted coupling between the toroids and is no longer required. The mWattmeter II is designed for 50 ohm impedance input and 50 ohm impedance output. Variations from that will effect data accuracy. When measuring the output from a Power Amplifier be sure and use a good 50 ohm LPF, otherwise the additional output frequency harmonics will distort the observed readings.
There are six LCD display Modes; #1) shows raw Forward/Reverse voltage being sent to the ADC by the Directional Coupler board in 0.1mV increments. #2) shows the battery Voltage as x.xV, #3) shows "BBBFxx.xxxsY.Y" where BBB is the Band from 6 to 160, "F" indicates Forward Power, xx.xxx is the Wattage in 1mW increments, s is a space, and Y.Y is the VSWR from 1.0 to 9.8. #4) shows "BBBFxx.xx*x.xx" for the higher power levels and is in 10mW increments, * is a backwards "F" for Reverse "Forward" Power, x.xx is the Reverse Power in 10mW increments. #5) shows "BBBFx.xxx*.xxx" for the lower power levels and is in 1mW increments, * is the backwards "F" for Reverse Power, .xxx is the Reverse Power in 1mW increments. #6) provides some additional detail on the bands covered .....the bytes were free, what the heck.
Use Alkaline cells because of the 1.5V rating. Rechargeable NiCad cells at 1.2V are really too low for proper LCD contrast. Power consumption is about 1.25mA......not much.
The mWattmeter uses a (very familiar) 12x1 digital readout, will measure 0.25mW (actually a little lower) to 20W (that's about a 50dB dynamic range), has automatic range switching of 3 ranges (0 to 45mV, 45mV to 450mV, and 450mV to 2.0V), uses a total of 33 polynomials for curve fitting, uses matched Schottky diodes which are forward biased at 5uA, uses an 18bit differential input ADC (vs the usual 10bit or 12bit ADC), that allows temperature compensation by utilizing the differential ADC inputs, Battery operation (2-AA Alkaline, 1-AAA Alkaline for bias), draws 1.25mA so batteries should last even if it's accidentally left on, has a battery voltage indication, will store selections automatically and power up in the last state used, has a 6-pin BDM connector for reprogramming with a USB Multilink or USB Spyder, and provides 2 BNC connectors.
Most of the recent low power wattmeters have used log-amps like the AD8307, AD8310, LT5537, etc. (and there are many more, largely driven by the cell phone and RF tag industry). In addition to the obvious log curve linearization, one key advantage of the log-amps over diode detection is that they provide range "compression" resulting in a very wide dynamic range (80dBm to 100dBm). The main drawbacks are cost (in my opinion), unuseable packaging (ever hand solder an 8 pin CSP ?), and we don't really need that much dynamic range (maybe 45dBm to 50dBm).
After considerable diode specification searching (special thanks to the Crystal Radio group for some really great links), I came to the conclusion that there are basically two alternatives left for a non log-amp wattmeter, 1) use a good pair of matched germanium diodes or 2) use a good Schottky diode pair and forward bias them slightly (5uA is good). After purchasing some germanium diodes (1N60, 1N34A, 1N270, 1N277) and testing them for stability and consistency it was determined that germanium diodes have neither. The "best" germanium diodes out of this batch were those labeled "ITT 1N277". The 1N270 diodes marked "1N270" or with color bands were very good also. 1N34A diode quality (several batches) depended heavily on the supplier. Some were really bad (forward resistance varied 5x+), some were "just so-so". I was really looking for low end accuracy and settled on the HP HSMS-2815, a matched pair of low barrier Schottky diodes. The matched pair comes in handy for balancing the bias levels into the differential ADC inputs and offers temperature compensation using the ADC differential inputs.
The next step was to decide on the directional coupler values based on our constraints of <1mW to 20W and max input to the ADC of 2V. I don't want to use resistor voltage dividers with their inherent tolerance variations. The fewer the components in the bridge frontend, the better. Using 20W as max and 2V as max, we need a coupling factor of about 1:200 or greater. Since the transformers give us a 1/(N*N) coupling factor, N must be 16 or more turns (1:256). From the ARRL Antenna Handbook.. The low frequency limit of the directional coupler is determined by the inductive reactance of the transformer secondary windings. The inductive reactance should be greater than 3x line characteristic impedance to reduce loss at the lower frequencies where the circulating current will be significant. The result is heat which we don't want. For 50 ohm line that is 150 ohms and that works out to be 13uH for 1.8MHz. That is why so many designs using small powdered iron cores "cook" them at the lower frequencies. A material #2 (red) T-68 or T-80 core with 30 turns, only has an inductance of about 5uH.
If we select type 61 Ferrite material on a FT-37 size core, 16 turns measures ~15.4uH ....close, but OK! We also want the lowest possible series inductive reactance of the single turn on the transformer. For the FT-37-61 that now measures 0.06uH.....GREAT! Note that type 43 material has a permeability 20x that of type 61 material and is not acceptable. For higher frequencies, we want to reduce the length of the transformer windings to "well below a significant fraction of a wavelength". We use a little more than one foot..... OK. We also want to reduce the turn-to-turn capacitance which can be achieved to some degree with insulated wire. Teflon insulated #30 wire is great but "slick" and a little difficult to wind. Kynar insulated #30 wire is easier to work with and has a slightly smaller diameter. I decided against using a "binocular" Ferrite core (although the board layout is wired to accept one) because the small ones are too difficult to wind with more than 10-12 turns and the larger ones have too much single turn inductance. I don't think we'll have a heat problem with FT-37-61 cores but there is always the FT-50-61 core or multiple FT-37-61 cores. The board layout will accept either one.
Milt Cram, W8NUE, ran simulations and mathmatical analysis on the design and so have I. Data indicates low insertion loss and relatively accurate SWR representations for 10 to 250 ohm resistive termination impedances. Complex impedances are more difficult to measure accurately.....tell me about it.
After all the above is said and done, MANY experiments run, MANY diodes purchased, and MANY prototype boards built (most which are now "drink coasters"), we narrowed in on an acceptable design. Two boards... a Directional Coupler board with all the RF and only the detect signals coming off the board and an ADC/Microcontroller board with no RF (that was the intent anyway). The best results for 160m to 6m were seen with two dual FT-37-61 cores with a 23 turn winding of #26 wire and a 1 turn winding of shielded wire.
Since all diodes are non-linear how do we compensate for that in order to calculate accurate Forward and Reflected power ? Well......Why not use the floating point math power of the modern microcontroller and a "few" 2nd or 3rd order polynomials to perform curve fitting ? Sounds interesting to me and I ended up with 18 polynomials. After enlisting the aid of John Fisher, K5JHF, and Milt Cram, W8NUE, to work their firmware magic, and Ben Bibb, NO5K, to make some accurate measurements in his well equipped lab, we're off to the races.
So what comes in today's mWattmeter kit ? .....Bill of Material:
1 Microcontroller/LCD PC board
1 MCP3422 18-bit ADC
1 MC9S08QG8CPBE programmed Microcontroller
1 KTM-S1201 LCD 12x1 LCD
1 16-pin socket for microcontroller
2 2K resistor
3 0.1uF capacitor
1 10uf capacitor
1 47uF capacitor
3 PB switches
1 Battery Box 2-AA w/SW
1 2x5 and misc header
1 10pin IDC connector
1 10 wire IDC cable
2 5 wire IDC cable
1 MCP1703 3.3V LDO Regulator
1 DS tape
1 1mW to 20W Coupler PC board
2 HSMS-2815 Schottky diode matched pairs
4 FT-37-61 Toroid Cores
1 misc bare/enameled #26 wire
1 piece of RG-174 or RG-188 coax
2 BNC Connectors
6 150ohm resistor
2 10nF capacitor
4 270K resistor
3 0.1uF capacitor
The price for of this Digital QRP mWattmeter II kit #9 is $55 (just like the mWattmeter I kit) plus $5 postage in the USA and $12.75 postage for DX.
In case you were wondering about the nice Bezel, they are available from Digi-Key and are part number PRD360B-ND.
---
The SDR2GO Kit #10
Now for the most ambitious and complex kit of them all .... a SDR Hardwarwe/Firmware Development Platform which nets a pretty nice Software Defined Radio Transceiver and does --NOT-- require an external computer. This makes it highly portable .....hence "SDR2GO". The idea here is to also not duplicate existing hardware which you may already have by using existing I/Q frontends, like the various SoftRock Rx/Tx units, UHFSDR, SR63ng, etc.
SDR2GO Graphics Interface Notes
SDR2GO dsPIC33 HEX Code V1.9.0
All SDR2GO kits are now shipping with the V2.0 full code which includes the bootloader code.
Be sure to check out kit #17 which provides an optional Graphics Interface for the SDR2GO. Graphics is required to take advantage of several functions provided in V2.0.
K5BCQ's first SDR2GO (board on the left) with SoftRock RxTx V6.3 (boards on the right). Keyboard is plugged into the back for convenient data loading and setting .....you can also use the rotary encoder. Many of the switches shown will be replaced with encoded BCD switches for future use.
Ben Bibb's, NO5K, SDR2GO with a UHFSDR board.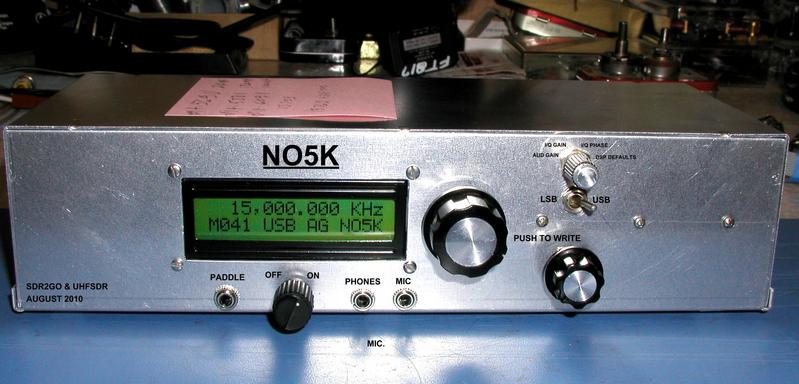 Ben Bibb's, NO5K, SDR2GO Transceiver, front view.
Riku Luostari's, ZL1KLP, compact packaging of a SDR2GO ....to go.
Yes, Virginia, there really is a SDR2GO. This unit takes the place of the computer and uses an existing I/Q frontend such as a SoftRock RxTx, SoftRock Ensemble RxTx, UHFSDR, and others. It is the work of mainly four hams; Charley Hill, W5BAA, who started this (and thus, deserves most of the blame/credit), John Fisher, K5JHF, Milt Cram, W8NUE, and myself Kees Talen, K5BCQ.
The major features are listed below:
I/Q Signal Demodulation
I/Q Signal Modulation
Headphone Output
Microphone/Line Audio Input
PTT Input
PTT Output for control of SoftRock/UHFSDR receive/tramsmit operation
Effective Receive AGC
Si570 Frequency Control
Backlit 16x2 LCD Frequency and Status Display
Design will support positive/negative bias LCDs and pin 1/2 variations
Main Rotary Encoder for frequency control and Si570 parameter definition
Keyboard Port for Si570 parameter definition and real time frequency control
Secondary Rotary Encoder for setting DSP parameters
USB/LSB selection switch input
Microphone/Line selection switch input
Output Audio/IQ Amplitude adjust selection switch input
IQ Phase adjust/Default IQ parameter selection switch input
EEPROM storage for Si570 control and DSP parameters
Onboard mounting of the Si570 as an option
Physical access for I2C interface for mounting Si570 on I/Q frontend
Three bit data interface for controlling a switcheable BPF
Physical access to dsPIC SPI interface for future use
Physical access for programming the dsPIC
Physical access for programming the SH32
Five Volt Power input
Board size identical to a SoftRock V6.3 RxTx or the "NG" footprint
Board layout and device pads designed to accomodate hand soldering
The SDR2GO uses a dsPIC33JF128GP804 microcontroller for the DSP functions and a MC9S08SH32CWL for Si570 tuning, keyboard interface, alphanumeric display control.
Some New Additions (from The Si570 Controller Kit #2):
Backlit 16x2 LCD
Keyboard Interface in addition to a Rotary Encoder
Scanning capability
Additional feedback to user
Offsets selectable on a memory location basis instead of one offset for the controller
12 characters of your custom alphanumeric text may be displayed
The frequency is shown in KHz with 1Hz resolution
The unit is really a platform for firmware development (come and join in) and general SDR experimentation. As such, there is quite a bit of flexibiliy designed in (some of which, bit me) and there are several available interfaces for future expansion.
All that said, it makes a real nice low power CW/SSB rig "as is".
For our first trials, 30 V1.x kits were built and they are out there being used and refined (including trying to come up with good documentation). To be honest, this is NOT an easy kit to build because it has parts such as a 32 pin QFN CODEC TLV320AIC3204 (best part for our needs that we could find and only available in that package). It also has a 44 pin QFP and a SOT-6 package.
So what comes in today's SDR2GO kit ? .....Bill of Material:
1 2-1/2" x 3-1/4" PC board
1 TLV320AIC3204IRHBT CODEC
1 dsPIC33FJ128GP804IPT programmed DSP Microcontroller
1 MC9S08SH32CWL programmed Si570/KBD Microcontroler
1 16x2 Yel-Green Backlit LCD
1 Bezel for LCD
1 24(AA/LC)128-I/SN EEPROM
1 24(AA/LC)32AT-I/SN EEPROM
1 SN74LVC1G3157DBVR FET Switch
1 MCP1703-3302E/DB 3.3V Regulator
2 Rotary Encoder w/PB switch
1 Kbd Conn
3 2N7000 FET
1 12MHz Crystal
1 10K Potentiometer
2 1N4148 Diodes (for charge pump)
2 LED green (power)
1 Push Button (reset)
13 Misc Headers
2 Stereo Jacks (HP & Mic)
3 10pin IDC
1ft IDC cable
4 Resistor 0 ohm
1 Resistor 100 ohm
2 Resistor 2K
2 Resistor 2.7K
2 Resistor 3.3K
13 Resistor 4.7K
5 Resistor 8.2K
2 Capacitor 22pF
17 Capacitor 0.1uF
13 Capacitor 10uF
2 Capacitor 47uF
1 Inductor 47uH
1 CMOS Si570 chip (160MHz) if ordered
1 LVDS Si570 chip (260MHz....see Eratta in Si570 Controller section) if ordered
1 MiniCircuits TC1-1TG2+ RF Transformer if ordered
1 FIN-1002 lever converter if ordered
The price for the SDR2GO Kit #10 is $73 plus $5.00 postage in the USA and $12.75 postage for DX.
Optional parts: CMOS Si570 chip $15, LVDS Si570 chip $20, MiniCircuits TC1-1TG2+ RF Transformer $2, FIN-1002 lever converter for LVDS $1.
Just to show other hams what a "state-of-the-art, volume manufacturing" operation this is, here is a picture of the two low cost homebrew fixtures used for programming loose Microcontrollers and the debug tool to verify programming success. Hey, QFP clamshells cost big bucks and this one will accept 44 pin to 64 pin devices.
----------------------------------------------------
I didn't know whether to put this at the top or bottom of the SDR2GO section, but here it is ....
"GOTCHA, OOPS, @#$!!, HUH??" SECTION ......based on questions
There are just a few differences between the first batch of V1.0 boards and second (today's) batch of V2.1 boards. 1) R43 and R44 pullup resistors were added for future use 2) A missing power wire to U8 was added 3) This time I remembered to specify bottom silkscreen as well as top silkscreen, 4) Pads for C25 to C29 were deleted because they were not needed and caused problems 5) Registration of the 4 board corner holes was off and is now corrected as well as making minor layout tweaks to accomodate the new hole locations.
The LCD contrast pot orientation is with the wiper arm pin in the hole closest to the board edge (goes to pin 3 of the LCD). Apparently you can bend the pins into the wrong holes.
Check the IDC connector wiring at least 3 times with an ohmmeter. It's really easy to confuse the pin numbering once you have fliped the cable.
The I2C interface to the Si570 should only have one pullup on SDA and one pullup on CLK. Make sure the I/Q frontend you are driving does not have a second set installed.
The Si570 chip is not provided in the kit unless you order one. It is assumed that you use the chip from the I/Q frontend you are using or cable to it using the I2C interface. It is electrically preferable (my opinion) to mount the chip on the SDR2GO and coax cable the RF output to your I/Q frontend vs running the I2C bus from the SDR2GO to your Si570 chip (which might require a few Ferrite Beads). Use of the RF isolation transformer at the Si570 output is very helpful.
As before, with the Si570 Controller, you must have the default frequency of the chip you are using loaded into memory location "000".
The silkscreen artwork for the diodes and LEDs (4 total) shows "+" on the Cathode. That should have been "-". The schematic representation is correct.
Since we designed in lots of flexibility, sometimes that requires some further words. Such is the case with the LCD which come in various colors, backgrounds, backlighting, and interfaces but basically there are these differences 1) power on pin 1 & ground on pin 2 ---OR--- ground on pin 1 & power on pin 2. Hard on the parts if you mix them up 2) contrast bias levels which vary from -1V to +1V 3) external or internal backlight wiring. The board is designed with a charge pump to supply about -2.8V to +3.0V for contrast bias. Most of the positive bias LCDs are about +0.42V and the negative bias LCDs are -0.70V. It's a good idea to set these levels so you don't wonder why the LCD is "blank". The board is also designed to use either Power/Ground configuration. You bridge the correct jumper pads located between the BDM connector and the contrast pot.
The first batch of SDR2GO kits were supplied with positive bias, pin 1 is ground LCDs. Later batches used negative bias, pin 1 is power, internal backlit SC1602BSLT LCDs. I have run out of those negative bias LCDs ......so I'm back to the positive bias, pin 1 is Ground LCDs.

This shows both LCDs with today's LCD on top. You will note that 4 pins (D0-D3) are not wired on either version. On the top display R9 (on the left) controls backlight intensity which is presently set at "low" with a 50 ohm resistor. J3 next to R9 turns the backlight on/off to further save power. You can also install a switch across J3.

This shows the SC1602BSLT LCD with low level backlighting on. You really have to pay attention to the various LCDs. Some require the backlight to be on all the time. Some look awful outdoors. You want one which looks great in sunlight and indoors, and in the dark with a low level backlight. Note that 4 pins are not wired (D0-D3) with the 10 wire cable.

---

The ThumbTach Kit #12

The ThumbTach is the small board in the middle. It's connected to a 4.5VDC (5V) power supply and a DSO nano-Scope which is showing the 60Hz output from the overhead lamp (120Hz on the screen).

This is a little tachometer circuit developed to measure propeller speeds on model airplanes. It also has many other uses measuring rotational speeds via changes in light. The detector is a simple photo-transistor driving an Op-Amp. This photo tansistor was picked to be most responsive to visible light.

The output is pulses as can be seen on the scope. You may use it to drive a counter circuit or whatever.

So what comes in today's ThumbTach kit ? ......Bill of Material:

1 PC board
1 LM358 Op-Amp
1 SFH309P Photo Transistor
1 2pin header
2 100nF capacitors
1 8.2K resistor
1 7.5K resistor
1 1K resistor
2 100K resistors
1 2.2K resistor

The price for the ThumbTach Kit #12 is $6 plus $3 postage in the USA and $4 postage for DX.

---

The Attenuator Kit #13

Two assembled Attenuator Kits, showing the back and front sides.

This was developed as a crude but simple HF Attenuator after I had miserable reliability problems with commercial attenuator switches. The attenuation would change depending on how the switches "felt" that day. Very difficult to get repeatable results. I also tended to stress the attenuator resistors because of their 1/4W rating. This kit provides Vishay 1W 5% resistors and uses jumper vs switches. Sure, they makes it a little more time consuming to change values, but the jumpers provide very positive contact and if they wear out .....get another jumper, they only cost 1 cent each and extras are included in the kit. Due to the "Open Design", I would not use this above HF frequencies.

It has served my needs, does what I need an attenuator for, and will work for you too.

The kit can be provided with BNC connectors as shown or SMA board edge connectors. Your choice to specify, same price.

OK, OK, so the jumpers are a little cumbersome if you change them often so we'll offer an option to replace the 9 2x3 Headers and 25 Jumpers with 9 nice APEM 2P2T slide switches for an additional $5.

What the one with the switch option looks like.

Ben Bibb, NO5K, checked this Attenuator in his lab and was very impressed. The SWR at 6m is only 1.2 and the SWR at 2m is only 1.4. Lower frequencies are, of course, better with a SWR of 1.0 to 1.1. Ben also found the accuracy of the attenuation to be within 1-2% and the Return Loss levels are very acceptable. Insertion loss is a fraction of a dB. Those 1W Vishay 5% resistors are good ones and cost $0.16 each. Overall not bad for a $20 open board Step Attenuator. Those slide switches are made in the USA and good for 50,000 cycles.

So what comes in today's Attenuator Kit ? ......Bill of Material:

1 PC board
2 SMA or BNC connectors
9 2x3 headers with 25 Jumpers --or-- 9 APEM 2P2T slide switches
2 Vishay 1W, 5% 910 ohm resistors
2 Vishay 1W, 5% 430 ohm resistors
2 Vishay 1W, 5% 300 ohm resistors
2 Vishay 1W, 5% 150 ohm resistors
4 Vishay 1W, 5% 240 ohm resistors
2 Vishay 1W, 5% 100 ohm resistors
8 Vishay 1W, 5% 62 ohm resistors
1 Vishay 1W, 5% 75 ohm resistor
1 Vishay 1W, 5% 36 ohm resistor
1 Vishay 1W, 5% 18 ohm resistor
1 Vishay 1W, 5% 12 ohm resistor
1 Vishay 1W, 5% 5.6 ohm resistor

The price for the Attenuator #13 is $15 (or $20 with slide switches) plus $4 postage in the USA and $9.50 postage for DX.

---

The 50 ohm Dual MMIC Amplifier Kit #14

This kit has been retired and a single very low noise MMIC with adjustable gain will soon be added in it's place. I'll use the same kit number to keep people from asking "What happened to....".

---

The 20W HF Amplifier II Kit #15

The 20W HF Amplifier II shown with the new optional Heatsink. The SMA connectors (board has the footprints) were installed for my testing, the kit is provided with 50 ohm coax to connect to the BNC/SMA/HF connector of your choice. Normally the Ampifier would be mounted inside an enclosure with a hole so the MOSFETs can be bolted directly to the outside heatsink.

Picture of the optional drilled and tapped heatsink.

Never wanting to leave well enough alone, the 20w Amplifier I has been replaced by the 20W amplifier II. The main differences are adding some surface mount components, replacing the two output transformers with a single BN43-3312 core which Diz, W8DIZ, now carries (better matching than 2 cores), adding much better RF chokes, reducing the SOX timeout by changing the capacitor from 10uF to 1uF, and now provide an optional drilled and tapped heatsink (no fan required) from HeatsinksUSA.

When it comes to Amplifiers, the Radio Amateur is responsible for making sure his amplifier operates within the guidelines established by the FCC and that it does not cause unwanted ipassnterference. This is a Broadband Amplifier and will require some sort of Low Pass Filter (LPF) or Band Pass Filter (BPF) on the output to attenuate harmonics. You may already have one you intend to use.

Amplifiers have been around a long time and continue to evolve, one design being based on another, etc. I want to give credit to some who "plowed the ground" before me: G6ALU, KE9H, WA2EBY, TF3LJ, K5OOR and above all NO5K who provided all the testing in his extensive lab. The question may come up, "Why ANOTHER Amplifier ?" To that I say, "Looks like fun, why not ?"

My idea was to provide a good and low cost Amplifier for the HF bands (160m to 6m) which can be driven by a SoftRock SDR or any other low power driver and provide ~20dBm of gain. Low power being defined as less than 1W. Some of the new SDR units supply less than 50mw and really need a little "boost". This Amp uses well received RD16HHF1 RF MOSFETs which are each rated at 16W output for 12.5VDC at 30+MHz. These parts are quite robust and much better than the IRF510 Switching Power Supply MOSFETs used earlier, largely because of their low cost and availability. The other advantage of the RD16HHF1 is that the mounting tab is attached to the "Drain" pin which is at ground potential …so no mica insulator is required. The Amplifier has a Signal Operated Switch (SOX) for CW QSK. I didn't really put it there for SSB …..but who knows (still better to use PTT). Did I mention good and low cost ?

The design and components which have been selected require that the operational criteria of 1) an Input of 1W max –AND-- 2) an Output of 20W max ………whichever comes first, NOT be exceeded. To allow some adjustment, the input to the Amplifier has places for a Pi network Input Attenuator of your selection (Rx, Ry, Ry) ….3dB, 6dB, etc. Parts for a 3dB (50% power reduction) attenuator are provided in the kit. The purpose of the attenuator is to reduce input power and to provide proper 50ohm matching for the driver. This design has been extensively tested and optimized to provide good matching to 50ohms without the attenuator. If you elect to not use an attenuator, replace Rx with a jumper and do not install either Ry.

Power Profile

Coming soon......This is the power profile as measured by Ben Bibb, NO5K, in his well equipped lab.

Please check the AQRP Website on Yahoogroups.com for construction hints and other documentation.

The design provides Class A/B linear operation for (all Modes). This means that both MOSFETs -MUST- have their gate bias adjusted and balanced so they are the same on both devices. The actually current required is between 250mA and 350mA. You determine the optimum level for your application, power supply voltage, etc. Do not exceed the 350mA gate bias per MOSFET. This is simple to set up. After assembly, with the MOSFETs screwed to the heatsink and the Bias switch closed (shorts R2), turn the bias potentiometers fully counterclockwise, connect a 50ohm load to the input connector and to the output connector, put 12V on the PTT input to pick the Rx/Tx relay and and turn on the 6V bias regulator. Now measure the current. There should be a small current draw. Turn one bias pot clockwise until the current increases by 300mA, then turn the other bias pot until the current increases an additional 300mA. Now the bias levels are balanced and set for Class A/B operation for your Amplifier.

The design also provides Class C operation (CW only). This allows lower power consumption when you really don't need linear operation. A single resistor reduces the Gate Bias current on both MOSFETs to around 25-35mA each. Testing has shown them to remain adequately balanced. You can also use the potentiometers to adjust this if you prefer and only want to run Class C (for CW).

Many MOSFET Amplifier circuits do not use a feedback circuit but I thought it would be good design practice to do so and added one. It's absolutely minimal feedback with 1.5K ohm resistors (that's ~1dB) and, at least, the component footprints (L,C,R) are there if we need them later. The T2 compensation capacitor is a 150pF Mica capacitor. This value seems to work best for 160m to 6m (emphasis was put on working well at 6m), and Mica capacitors are very stable across a broad range of frequency and temperature.

Another design parameter which seems to help on all the bands, especially 6m, is to further reduce spurs by paralleling capacitors of different values to reduce the capacitor self resonance effects. You will see that in many cases a 100nF cap is in parallel with a 47nF cap or 10nF cap and also a 1nF cap.

For ASSEMBLY HINTS see the AQRP website on Yahoogroups.com.

So what comes in today's 20W amplifier Kit ? ......Bill of Material:

1 Double sided board with silkscreen and soldermask, the board measures 2.5" X 2.9"
1 Schematic and Bill of Material for above board
2 RD16HHF1 MOSFETs
1 G5V-2-DC12 RF Relay
1 LF60AB 6V Regulator
1 FB43-101 Ferrite Bead
3 BN43-302 Binocular Ferrrite Cores
1 BN43-2402 Binocular Ferrite Cores
1 BN43-3312 Binocular Ferrite Core
1 2N3904 NPN Transistor
1 2N2907A PNP Transistor
1 1N4001 Si Power Diode
3 1N4148 Si Signal Diodes
1 150pF mica 500V Capacitors
2 47uF Electrolytic Capacitors
10 100nF Ceramic Capacitors
3 27nf/47nf Ceramic Capacitors
7 10nF Ceramic Capacitors (2 are 0805 smt on back of V1.3 board)
1 1nF 1KV Ceramic Capacitors
7 1nf Ceramic Capacitors
1 820ohm Resistor
2 1W 27ohm Vishay Resistors
1 7.5Kohm Resistor
2 3.3Kohm Resistors
3 1.0Kohm Resistors
2 10Kohm Potentiometers
1 1W 18ohm Vishay Resistor
2 1W 300ohm Vishay Resistors
1 Power connector
Various braided wire, enameled wire, bifilar wire, coax
Heat Transfer Paste

I offer 4 heatsink alternatives for the 20W Amplifier (board measures 2.5" x 3").

#1) No Heatsink/fan, Just the 20W Amplifier for $50, you come up with your own AM-2 Heatsink/fan or whatever Heatsink you want to use. The amplifier was origianlly designed for a computer type AM-2 heatsink .....or whatever heatsink you have laying around.

#2) A 4.23" x 2.90" x 1" Heatsink from HeatsinksUSA. This Heatsink has 11 fins and is drilled and tapped to match the board. I am the driller/tapper. Price will be an additional $15. Postage will go up because of the added weight.

#3) A "Heavy Duty" 5.375" x 2.875" x 1.375" Heatsink from HeatsinksUSA can be provided. Has 21 fins and a 0.375" thick base. That's 15.45sqin and won't require a fan. No holes are drilled or tapped. I don't know what enclosure you are going to use and therefore don't know where you want the holes. This Heatsink is 2.90" wide so it will fit a LMB CR-351 enclosure (my preference). This is very little work for me so the price will be my cost of $10.

Shipping for one kit with option #1 (NO heatsink) is $5 First Class Mail in the USA and $9.50 First Class Mail for DX. Shipping for a kit with any Heatsink option (#2, 0r #3) in the USA will be $6 for a small Priority Mail Box. DX shipping costs for option #2, #3 are determined by location.

EXTERNAL LOW PASS FILTERS

Toroids for external Low Pass Filters are not very expensive and W8DIZ suplies a wide variety at reasonable cost. If you need 25-100 of those you are better off to order directly from W8DIZ. Since I've had some requests and if you only need a few, here is my list. They all came from W8DIZ:

AVAILABLE TOROIDS Feb 31st, 2013

T37-2 $0.25 each
T37-6 $0.25 each
T44-2 $0.30 each
T44-6 $0.30 each
T50-1 $0.35 each
T50-2 $0.30 each
T50-7 $0.30 each

500V Mica caps for Low Pass Filters are pretty expensive so I'm offering these out of my stock.

AVAILABLE MICA CAPACITORS Feb 31st, 2013

8200pf $1.00 each 10%
6800pf $1.00 each 10%
4700pf $1.00 each 10%
3300pf $2.00 each
2700pf $2.00 each
2200pf $2.00 each
1800pf $1.50 each
1500pf $1.50 each
1200pf $1.50 each
680pf $1.00 each
620pf $1.00 each
510pf $1.00 each
470pf $1.00 each
430pf $1.00 each
390pf $1.00 each
330pf $1.00 each
200pf $1.00 each
150pf $1.00 each
100pf $1.00 each
82pf $0.75 each
75pf $0.75 each
68pf $0.75 each
56pf $0.75 each
47pf $0.75 each
39pf $0.75 each
27pf $0.75 each
13pf $0.75 each
12pf $0.75 each
6pf $0.75 each

---

The Graphics Interface for the SDR2GO Kit #17

Example of a typical display screen

This is what one looks like attached directly to a 128x64 Graphics display

This Graphics Interface kit was designed as a Development Platform for a Graphics LCD and has a number of features not used with the SDR2GO application. Don't worry about a number of unpopulated component locations on the board (top side), only the parts listed are needed. All the parts are supplied except for the Graphics LCD which you source (they cost about $16-$18 shipped).

For the typical ebay 128x64 Graphics LCD, you need a backlit display with a KS0108 controller or equivalent. They will have a total of 20 pins, Vss (Gnd) on pin 1, Vdd (5V) on pin 2, CS1 on pin 15, and CS2 on pin 16 (for the two halves of the screen). Serial Parallel controllers will not work. Color, screen size, and mounting holes are up to you.

So what comes in today's Graphics Interface kit ? ......Bill of Material:

1 Graphics Interface board
1 Schematic and Build Notes for above board
1 MCP23S17 SPI I/O Expander
1 Various headers and their mating connectors
1 27ohm resistor 1206 size
4 8.2K resistors
1 10K potentiomenter
1 0.1uF capacitor
1 47uF electrolytic capacitor
1 10uF electrolytic capacitor

The price for the Graphics Interface kit is $20 plus $4 postage in the USA and $9.50 postage for DX.

This is what Milt's, W8NUE, SDR2GO with Graphics Interface looks like. Nice huh ?

This is what it looks like in "CW" mode ....note the "narrow" underscore

Here is some data on Milt's Graphics Interface on his SDR2GO/RXTX transceiver.

The 8 position PB rotary switch is used as follows:

# Function
0 CW
1 SSB
2 DIG Modes
3 Set Defaults (RX,TX IQ Trim)
4 TX Amp Trim
5 TX Phase Trim
6 RX Amp Trim
7 RX Phase Trim

When position #1 is selected, Mic Power is also enabled.

The two front panel toggle switches are for Wide/Narrow Filter selection, and Upper/Lower Sideband selection.

The revised graphics driver displays the function selected by the 8 position PB rotary switch and the two toggle switches. It also includes Charley's, W5BAA, Received Signal Level and the Version of the firmware. With nearly all the pertinent information now displayed, you don't need to label anything.

Milt added a graphics function to display "Strings" and included the C String library (string.h). He also added an include file (Strings.h) that provides a number of strings that are used to display the functions listed above.

Since much of the data on the Graphics LCD is now redundant with what is displayed on the 16x2 LCD, you can customize those characters to something else .....your call maybe ? (Heathkit sorta did that on the SB-104A).

---

The WB6DHW Band Pass Filter Kit #20

The WB6DHW BPF Kit with toroids, top view. Note that I mounted the toroids on the bottom of the board to reduce interference with other components. The SMA connector in the picture is for my testing, the kit does include 1 ft of RG-174 coax.

The WB6DHW BPF Kit with toroids, bottom view. That's a lot of little toroids to wind ....but it does have higher "Q" (less insertion loss). You can adjust the turns spacing to get closer to the "target inductance" on the provided sheet.

The WB6DHW BPF Kit with chip inductors top view. This shows one type of chip inductor, your kit may vary. I tried to select the highest "Q" chip inductors which were easy to solder and reasonably priced.

The WB6DHW BPF Kit with chip inductors bottom view. This particular board uses one of Dave's earlier versions without the extra holes for toroids. All boards now being shipped have the extra holes (R1 level).

The idea here is to offer a complete BPF kit based on the board offered by Dave, WB6DHW. I know it's difficult to buy all the various parts in small qtys so this is an attempt to help out. As you know, the values Dave selected, using the great L/C filter program from AADE, provides 6 overlapped BPFs which cover from 1.5MHz to 30MHz. Note that none of the passbands include harmonics. In other words, the highest passband frequency is less than 2X the lowest passband frequency. I refer you to Dave's, WB6DHW, website for schematics and additional details.

I have made a few minor modifications which are detailed in the instructions which come with the kit. Basically for the larger inductances, I use 2 stacked cores to cut down the turns count, a different 1:1 RF transformer is used, and you have the option to install L44 or a 1N914A diode for "accidental 5V power reversal protection" which will cost you both FETs.....been there, done that.

Since many of you have ordered the board from Dave already and may not have gotten around to ordering all the remaining parts (or like me, couldn't find it), I offer the option of buying the BPF Kit with or without the board. OPTION #1

The lowest BPF insertion loss will be if you use handwound toroids. This is not easy, there are 42 of them, and it requires a steady hand, good magnifier, and patience, patience. You may want to enlist the aid of a young type person. The cores come with 20ft of Belden #28 Thermaleze wire. OPTION #2

Some of you may not want to undertake the task of winding 42 REALLY SMALL toroid cores, and you have the option of selecting 0805 size chip components which are easy to solder and no winding is required. Although I have selected chip inductors with high "Q" levels, they still have slightly higher insertion loss as shown by the comparison BPF plots on the AQRP website on yahoogroups.com (under my call and BPF #20).

We are trying to find a local person to wind the toroids and provide pre-wound sets....but that has not been worked out yet and I have no idea of the costs involved. The only thing that is certain is that it won't be me.

CONSTRUCTION and TESTING HINTS:

It's best to unpack the envelopes and especially the capacitor/inductor sheets over a large piece of white paper so you don't accidentally "ping" small parts into the carpet. Remove only one capacitor/inductor value at a time and get it soldered in place. It's also best to put the cat in an isolated room.

For initial testing, check continuity across each filter from the filter side of each 100nF DC blocking capacitor on the input and output. The resistance should be less than 1 ohm. To check the 3-bit filter selection for the 8 possibilities, measure the voltage on the outside of the DC blocking capacitors. When a specific filter is selected you will see +2.5V on the 100nF DC blocking capacitors for that filter. Don't forget to measure the two filter positions which will be used later.

So what comes in today's WB6DHW BPF Kit ....other than a --LOT-- of small parts ? ...Bill of Material:

1 Instructions
1 L43 CM322522-101 100uH Inductor
1 L44 CM322522-101 or 1N914A Diode or 100uH Inductor
2 U1,U2 CBT3251DB 8x1 FET Switch
5 H1,2,3,4,5 Misc Headers
1ft RG/174 Coax
1 T1 T1-1T or equiv RF Transformer 1:1
2 R1,2 3.3K Resistor
3 R3,4,5 10K Resistor
16 C43-C57,60 100nF Capacitor
2 C58,59 10uF Electrolytic Capacitor
1 C37 24pF NPO Capacitor
1 C30 39pF NPO Capacitor
1 C23 56pF NPO Capacitor
1 C40 68pF NPO Capacitor
1 C16 110pF NPO Capacitor
2 C33,38 120pF NPO Capacitor
1 C9 150pF NPO Capacitor
3 C26,31,41 220pF NPO Capacitor
1 C2 270pF NPO Capacitor
1 C19 330pF NPO Capacitor
4 C24,34,36,42 390pF NPO Capacitor
2 C12,39 510pF NPO Capacitor
1 C17 560pF NPO Capacitor
2 C27,35 680pF NPO Capacitor
1 C29 750pF NPO Capacitor
1 C5 820pF NPO Capacitor
3 C10,20,32 1000pF NPO Capacitor
2 C22,28 1200pF NPO Capacitor
2 C13,25 1500pF NPO Capacitor
1 C3 1800pF NPO Capacitor
2 C15,21 2400pF NPO Capacitor
1 C6 2700pF NPO Capacitor
3 C8,14,18 3300pF NPO Capacitor
1 C11 3900pF NPO Capacitor
2 C1,7 4700pF NPO Capacitor
1 C4 6800pF NPO Capacitor

OPTION #1 Bill of Material:

OPTION #2 Bill of Material:

21 Lx T-20-6 cores
25 Lx FT-23-61 cores
20 ft #28 Wire Thermaleze

OPTION #3 Bill of Material:

1 L39 MLF2012DR10J 100nH 5%
3 L32,36,42 MLF2012DR12J 120nH 5%
2 L29,35 MLF2012DR18J 180nH 5%
2 L25,40 MLF2012DR22J 220nH 5%
2 L18,22 MLF2012DR27J 270nH 5%
2 L28,33 MLF2012DR33J 330nH 5%
3 L15,21,37 MLF2012DR39J 390nH 5%
1 L26 MLF2012DR47J 470nH 5%
2 L11,30 MLF2012DR56J 560nH 5%
3 L8,14,41 MLF2012DR68J 680nH 5%
4 L4,19,23,34 MLF2012A1R0J 1.0uH 5%
3 L1,7,12 MLF2012A1R5J 1.5uH 5%
3 L16,27,38 MLF2012A1R8J 1.8uH 5%
1 L5 MLF2012A2R2J 2.2uH 5%
2 L9,20 MLF2012A2R7J 2.7uH 5%
1 L31 MLF2012A3R3J 3.3uH 5%
1 L2 MLF2012A3R9J 3.9uH 5%
2 L13,24 MLF2012A4R7J 4.7uH 5%
2 L6,17 MLF2012E8R2J 8.2uH 5%
1 L10 MLF2012E120J 12uH 5%
1 L3 NLV25T-220J 22uH 10%

The price for the WB6DHW BPF KIT #20 is $15, plus $9 for OPTION #1 (if you don't already have the board ....or can't find it), plus $10 for OPTION #2, plus $10 for OPTION #3, plus $4 for postage (for 1 or 2 kits) in the USA and $9.50 for DX postage. You can order option #2 AND/OR option #3, but you only --need-- one of them. Options can only be ordered/shipped with a kit.

---

So what else are those AQRP guys up to ?? Well, lets see.........

This is the 7 band (2 shown populated), relay switched, Low Pass Filter board.

This is the 6 band Rx/Tx Manually switched BPF board and the 8 band Rx/Tx, Relay switched, BPF board showing some of the individual 2.5" x 0.6" BPFs. Most are shown unpopulated. The BPFs are symetrical and can be plugged right side up or upside down. You only locate the header pins on the other side of the board. When using T-50 cores, you can not flip ther board upside down. You also need to check clearances for unique BPFs. Decided against a single MOSFET Amp added on on this board.

This is another view of the 6 band Rx/Tx Manually switched BPF board. The BPFs are symetrical and can be plugged right side up or upside down. You only locate the header pins on the other side of the board. When using T-50 cores, you can not flip ther board upside down. You also need to check clearances for unique BPFs.

This is the 8 band Rx/Tx, Relay switched, BPF board showing some of the individual 2.5" x 0.6" BPFs. Most are shown unpopulated. The BPFs are symetrical and can be plugged right side up or upside down. You only locate the header pins on the other side of the board. When using T-50 cores, you can not flip ther board upside down. You also need to check clearances for unique BPFs.

This is the Si570 Controller II. You will note that it's just the bottom half of a SDR2GO board (above).

This is the Si570 Controller II which offers the same features described in the SDR2GO section. The main ones are "standard" backlit 16x2 display, keyboard input (as well as rotary encoder input), ability to display some user defined text, scanning capability, and enhanced frequency/display offset capability.

This kit is waaaaay on the back burner at this time .........and the burner is "off". I do have several boards available for $10 each, postpaid in the USA or $20 for a board and programmed microcontroller (only, no other parts), postpaid in the USA.

---