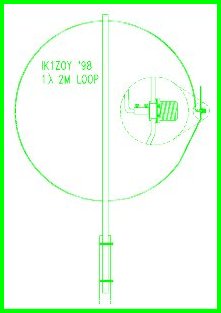 2m full wave loop
Go to italian version

After the good evaluation of a full wave loop for HF use (Not confuse it with little magnetic loop), I tried to design the same type of antenna for VHF 2m. band. The main properties of this aerial are:
-Direct feeding with 50 ohm coax-cable (no need Z match).
-Not high front-side ratio but more gain than simple dipole or ¼ lambda vertical.
-Galvanic short circuit and no problem with static discharge.
-Very strong, easy to build and low environmental impact.
Components:
-2,1 m. of aluminium wire 3 mm. dia.
-1m. of plastic pipe line for wiring electric plant 20 mm. dia.
-2 "mammuth" type screw-contact
-1 female coax connector join screw type of good quality and well-known brand.
-2 metallic screw-tie.
Construction: Bent the aluminium wire to obtain a circular shape and insert it through the plastic tube. On the tube we have previously made two holes at a distance of 0.65 m. The first one at 20 mm. from the top . Extract the internal brass part of "mammuth" type screw-contact and weld them to the female coax connectors as shown in the picture. Bent at 90° one extremity of the aluminium wire and insert it in the screw-contact fixed on the central pin of the female coax connector. Insert the other wire end through a second screw-contact fixed to the external part of the connector.
Tune the loop for the minimum R.O.S running the aluminium wire through the screw-contact. After tuned the aerial, close firmly the screws of screw-contacts.Fix the loop to a mast by the two metallic screw-ties.
As shown in the drawing, the loop has vertical polarization. For SSB use (horizontal polarization) the ring should be rotated 90° in order to have feeding point positioned on the bottom.
The project was published on Radio Rivista n.2/1999.