POETRY & POESIA & MUSIC & ARTS DI PIERPAOLO SANETTI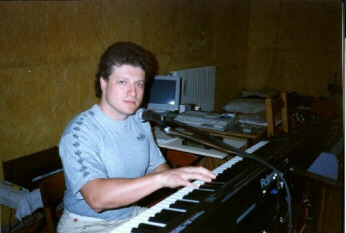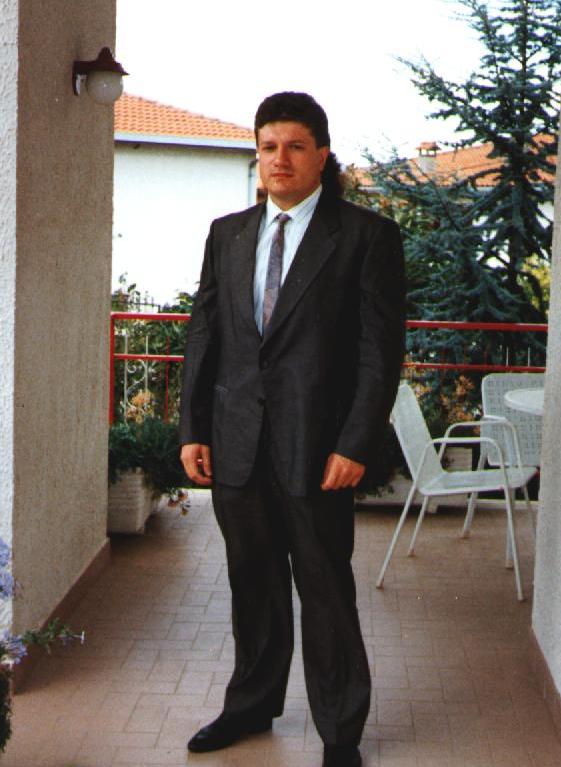 CIAO! My name is: PIERPAOLO SANETTI
I was born in the: 16-AUG-1964 in the capital city of Italy: "ROMA" where i have lived for 18 years. At the moment i am living in a small town called :" TRE CROCI" In province of "Viterbo."
School frequented: i am diplomated in a high school: "Perito elettronico" which means electronic technician. I am a radio tv and hardware personal computer technician and repairer.
I have got, through a very hard legal state examination the international patent of : "Radio telegraphist ship officer operator" for the commercial marine. Now i am also an amateur radio operator "ham" with my personal station at home, my call sign is: IK0YKK..... i have studied cw morse telegraphy for many years and i have made thousands of contacts with om radio stations around the world!
As you see in my first photo, i am also a musician, piano & keyboarder & electric bass player. I am able to write, compose, and read music. I have composed many personal and nice original songs. My favourite music is: jazz, fusion, classic, latin, some pop... etc. At my home i have a personal recording studio equipped with professional keyboarders, mixers, processors, tape recorders, microphones and computers. I am able to create music from beginning with my immagination and creativity, i reach the final product by myself only with my equippement and my artists' mind.
As i know many professional musicians around the world i could create interesting musical groups like a quartett, quintett, sixtett etc. At the moment i am a band leader of my personal pofessional commercial music band quintett, available for contracts on cruise ships, hotels, disco etc. I can also play alone, with a singer or even in trio for "piano bar" situations. If you need me, our performance, if you are a manager or simply an hotel or a disco owner you can contact me!! See below my address.
MY STORY: I was born in an honest and sane italian family my father was a policeman and my mother a convinced and catholic person. When i was younger instead of spending my free time together the usual street urchin, i preferred to remain at home for study music, electronic and cultivate all my cultural interests. Probably this behaviour did not accustom me to live in this false, conformist and superficial society, because i also used to avoid superficial, narrow mindness, and unsensitive persons. Therefore this situation had isolated me. I liked to mix only with intelligent people who could trasmit me something. I have been always against the violence and racism, but i have been often treated in a very bad way by many bad persons who did not understand me, exactly because i was different and sincere. They have been envious and wicked! I have always been a little shy in my life, so many people took advantage of me and made fun, especially the girls who have always preferred the other boys instead of me just because i was too sincere and good. Yes! I have always suffered in my life for loveless, because i have been often unlucky with women. I am not afraid to say that and that's the reason why probably i can be so sensitive, friendly and understanding with the people who suffer for the same reasons and that's why i can be an original artist. At the moment i feel lonely at my home and it's very very hard believe me especially at my age, when you know that you don't deserve it and you are forced to stand it. You know, the most of the woman today are spoilt, they claim perfect, handsome, rich men like actors, who have been seen in to the television or in the cinema. Infact these women are influenced too much by publicity, television, fashions, actors, mas media etc. and they don't appreciate anymore the humans' value and the true and simple men, rather they avoid the true and sensitive men. What's the world coming to!! That's my experience with the most of the women that i have known in Italy, but for my fortune in other countries the situation it has been different, and for this reason i have travelled so much around the world in my life for work and holidays. Sometimes in other countries i have got a wonderful love stories, but unfortunately they have lasted me not much time.
I should write a book about this subject but it's not possible to do here sorry!! In final i say that i am very disappoint!! If you are a woman and you wish to know me, you can contact me, see below my address.
And.....what about jobs in my life? Well......i have been electronic technician, but when i have tried to dedicate me in to music business i have been often unlucky, because it has always been very difficult to get contracts, to be required and to find good and honest people. Especially managers and agents who were always think only to their own business mercilessly for people who needed to work urgently. You know, the most of them never don't take care about musicians and so musicians must never mistake with them, or in case contrary they will revenge and musicians never get job anymore. Artists are often blackmailed and if they want to survive, they must obey and accept to any condition proposed. Frequently it's enough one banal error for to be throw out and don't get job for a long period of time, so many unfortunate musicians are obliged to change their job even if they don't deserve it. I have been victim many times of these situations. Many agents are ruin entire generations of musicians and sometimes some band leaders have done the same to their components too. Now there is exploitation, egoism and incomprehensions around this great job and so many deserving artists are now cut off..... for the fault of someone bad....someone has distroyed this great profession!! who has done it??
If you want to contact me write to: PIERPAOLO SANETTI
p.o. box n.1 -cp01010-Tre Croci Viterbo--Italy--or send email to:
ppaolos@hotmail.com
SOME "SANETTI PIERPAOLO'S POESIES" IN ITALIAN LANGUAGE:
1) GLI IDEALI:
Non sono le mode o le masse che fanno gli uomini ma sono gli ideali. (composed in the 1983)
2) SAGGEZZA:
PietÓ non Ŕ colpa sua se non ragiona
la sua mente Ŕ offuscata da uno sporco e lurido sistema
non condannarlo aiutalo a guarire!! (1983 composed when i was in the army)
3) SOLDATO:
Soldato vinci la morte nel buio incolto
costretto a pensare al pensiero ritorto
costretto a pensare costretto a sparare
ti passa la voglia ti passa la vita
se pensi che un giorno sarÓ finitÓ. (1983 composed when i was in the army)
4) DOMANDO A DIO:
PerchŔ Dio ci ha condannato in questo modo?
a morire per colpa dei nostri difetti
in fin dei conti sei stato tu a crearci
o essere onnipotente
sei tu che hai creato il destino di ogni cosa
o essere onnipotente
e tu ora non puoi condannarci!! (composed in the1984)
5) TRADIZIONI BASTARDE:
Le persone sono fatte cosi
per tanti significati
e tutti nascono scornati
nel mistero che ci avvolge
anche quando una donna non ti guarda
e sfugge per la sua srada
lei vorrebbe....
ma Ŕ legata da quei grossi problemi di tradizione e di usi
che tramandati dalle vecchie generazioni
stanno distruggendo il mondo
quindi continua per la sua strada, continua
lasciando traccie di odio e di rancore
perchŔ anche oggi o Dio
non vedo il tuo costante. (1984)
6) MICHELA:
Stasera ho conosciuto Michela
nel treno era bella e misteriosa
e nel silenzio le ho chiesto
tante cose le piu' famose
quelle indispensabili per un rapporto duraturo
ma lei non ha tenuto. (1984)
7) ORA!
Ecco piango! Sento te, sento me
vedo la vita nera com'Ŕ
mi rivolgo sempre a me, perchŔ Paolo?
La solitudine che non riesco a vincere
m' invade mi assale, mi tramuta in un pazzo
quando un sentimento artistico si sprigiona,
sono un leone e i leoni non perdono anzi vincono
anche se vengono soffocati nel buio di una comune vita. (1983)
8) IN CHIESA:
Due fiamme coincidono in un impasto di colori
nell' atmosfera calda dalle tenebre offuscate,
mi trovo qui dentro ad aspettare e ricordare
quando un' amore stupendo dentro di me m' invade
in questo posto agghiacciante da solo
scrivo e chiamo nel pensiero distrattamente
miei cari vi amo!! (1983 composed when i was in the army)
9) A CAPO TEULADA
In questo momento io sto' qua'
in un posto sconosciuto dalle mie memorie
e sto' a rimirare il paesaggio con il sole stupendo e lo strano tramonto
quando questo sapore di mare e di venti caldi di questo posto
mi fanno riflettere per capire dove sono.
Domani c'Ŕ l'assalto su Capo Teulada
e quindi ci saranno uomini che si credono giusti
che con la loro potente immagine
credendo di difendere i propri interessi e quelli di una sporca societÓ
possono distruggere tutto questo!! (1983 composed when i was in the army)
10) L' ARTISTA:
La musica Ŕ un' arte che pochi sanno comprendere
che ispira sensazioni prospetti ed immaggini
quando Ŕ creata con fine preciso
risuona maestosa risuona in un mito
del povero musicista che crea suonando
un' immaggine stupenda del suo amore. (1984)
11) LA SPERANZA:
Quant'Ŕ bello il dolce far niente
il silenzio astratto della gente
la gente confusa nella folla di una festa
la gente confusa nella gioia di una mente
la mia terra che cala al calar delle tenebre
e sorge al tuonar della luce
Ŕ globo meraviglioso di terra e sassi
che all' includer dell' uomo festoso al crear
illumina il sistema e la mente piu' astratta finisce purtroppo in malefatta
ma la speranza al sognar Ŕ diva e nella mia terra Ŕ viva. (1983)
12) GLI SGUARDI:
Gli sguardi della gente mi convincono poco
mi includono addosso un triste pensiero
pensiero ignorante di quella persona
che vive soltanto per stare padrona
padrona e schiava del brutto sistema
che la rendeva cattiva e serena. (1984)
13) LA SOFFERENZA:
In fin dei conti la nostra vita Ŕ fatta per soffrire
in un sistema sporco e sbagliato che la testimonia
nelle sofferenze piu' atroci dai mille motivi
un' uomo diverso capiva il perchŔ. (1983)
14) IL NULLA:
O Dio Cristo signore il mio aspetto esterno Ŕ diverso da quello interiore
mi sento strano in questo strano ambiente
vorrei raggiungere me stesso
nell' atmosfera proporzionale alle mie capacitÓ
mi sono staccato da lui un essere inferiore e materiale
ti prego aiutami e non farmi del male. (1984)
15) IN UN' ANGOLO:
Non vÓ scrivere poesie in questo momento
perchŔ la mia testa Ŕ altrove
raggiungere gli strati piu' alti di questa societÓ
nel modo di pensare e nel vedere le cose
faccio l' amore con tutte le rose
cose fuggiasche nel fosco imbrunire
imparo in silenzio imparo a morire. (1984)
NOW I SHOW YOU ONE OF MY SONG TEXT TOO :
ORA VI MOSTRERO' IL TESTO DI UNA DELLE MIE CANZONI :
TITOLO: SOFFERENZA (composto nel 1995)
E' giÓ mattina e mi sono svegliato in questo posto dove sono capitato
i miei ventanni ci ho sprecato, per cercare chi non mi ha accettato
donne signore ragazze presenti perchŔ fate finta di essere assenti
sempre cercate l'uomo col denaro, il tipo che credete bello e virile
tutta apparenza tutta ignoranza ma voi continuate sempre a cercare
il tipo conforme alle vostre esigenze pratiche, di solo denaro.
Cercate il tipo che deve avere simpatia, faccia tosta, macchina bella, conto in banca, 740
abbronzatura, la divisa,il negozio, le scarpe nuove, la giacca firmata, la casa al mare,
lo sguardo da duro e che ve se sposa e tanta ipocrisia ipocrisia ipocrisia......eccetera.
la canzone continua....non e' completa. song is not complete.
ANOTHER SONG: LOVE FOR CUBA (composed in the 1990 dedicated to my ex love story with "Eleana B." a woman from Cuba living in Puerto Rico whom i can't forget.)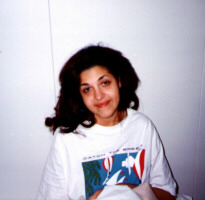 Today i think of you, and than i love you, i say that's true you know
tell me what i have to do for meet you again, i feel so bad in side oh my love
forgive me now ,i cry my got
when i wake up in the morning i feel so lonely, i need you here close to me.....eccetera...etc.
la canzone continua non Ŕ completa...song is not complete.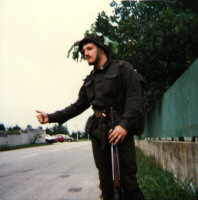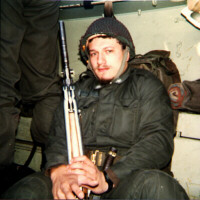 PER QUANTO RIGUARDA LE POESIE QUESTE SONO SOLO ALCUNE, IN REALTA' NE HO SCRITTE A CENTINAIA. PER QUANTO RIGUARDA LE CANZONI LO STESSO, CERCO EDITORE DISPOSTO A PUBLICARE LE MIE POESIE E PRODUTTORE MUSICALE PER I MIEI BRANI MUSICALI.------- I AM LOOKING FOR A MUSICAL PRODUCER FOR MY MUSIC AND A PUBLISHER FOR MY POETRIES..AS I HAVE WRITTEN HUNDREDS OF SONGS AND POETRIES.--- NOTA BENE TUTTI I TESTI DI POESIE E CANZONI CONTENUTI IN QUESTO SITO SONO PROTETTI DA DIRITTI D'AUTORE, QUINDI NE E' VIETATO L'USO NON AUTORIZZATO DAL SOTTOSCRITTO.-----PAY ATTENTION: ALL RIGHTS RESERVED! NO ONE OF THESE COMPOSITIONS MAY BE REPRODUCED IN ANY WAY WITHOUT EXPRESS PERMISSION FROM THE AUTHOR: "PIERPAOLO SANETTI."
CIAO ! what do you think about this site and my compositions? feel free to write me. Che cosa ne pensi di questo sito e delle mie composizioni? Se vuoi dare un giudizio puoi anche scrivermi una e-mail:
ppaolos@hotmail.com I have a "SKYPE" account, if You wish to talk to me send me an e-mail and I will tell you my Skype nick name.
YOU ARE THE VISITOR NUMBER ?