Tower n.1 : TH7 dxx @ 50' crunk-up 10-15-20

Tower n.2: 7 Mhz 2 element Yagi @ 50'

Cushcraft vertical 10-40m

80m Delta loop vertical apex on the pine tree at the picture uppper left -

Other 80 m dipoles are partially visible in this picture.
I also added some long wires and loops, only for low band RX
Position is not very nice, high cliffs are almost in all directions. This picture shows how is west from my QTH. The mountain obstructs from south FL to all South America.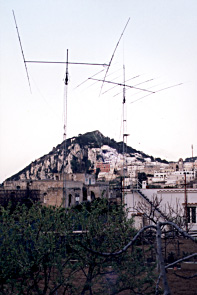 Until 2006 Antenna Setup: 40 meters beam on a 40' tower - Picture beaming EAST
---
Until 1993 Antenna Setup: 2 Elements Cubical Quad 10-15-20 and 40 meters rotary dipole in the middle.