Commander Linear Amplifier PI-L improvements





It was not only my fault if the amplifier suffered such accident.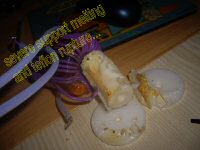 The repairing was not so easy as it could seem.
The delrin support was impossible to find as new piece on my side of the world .
So I found via ebay a seller in the Usa that had some ceramic pieces complying the needed dimensions and ordered a pair.
But the Luck has turned his head on the other side so the first packet went lost in the Postal Mare Magnum.
On the second try the small packet arrived quite soon, but the seller had only 1 support left of the proper dimensions....





Any improvement or suggestions will be appreciated,
Write to my to my email on ic8pofATyahoodotcom (copy,paste and correct)
.





lug.2011



.......................