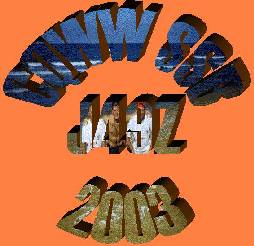 J49Z
CQWW SSB 2003 from Crete Island, EU-015
by IK8UND, IK8HCG, I2WIJ
October 20 - 27 &nbsp 2003
Our TARGET as a Multi-Single Entry was

> 10.000.000 points and TOP 5 Europe!

We missed it, again. Never mind, we had fun however!

Here our CQ Award attesting the #1 Crete ranking, reaching 5,950,412 points.



This is our Un-OFFICIAL score as declared to the 3830 forum list at
contesting.com
More deep comments and discussions will follow soon.


                    CQ Worldwide DX Contest, SSB

Call: J49Z
Operator(s): I2WIJ,IK8HCG,IK8UND
Station: J49Z

Class: M/S HP
QTH: Crete
Operating Time (hrs): 45.5

Summary:
 Band  QSOs  Zones  Countries
------------------------------
  160:   97     8       44
   80:  439    14       72
   40: 1336    29      112
   20:  919    33      118
   15: 1004    31      109
   10: 1677    34      121
------------------------------
Total: 5472   149      576  Total Score = 6,497,450

Club: Marconi Contest Club (1/3)

Comments:

Still a fun-enough contest and better than expected after the storm alert
of the days preceeding the contest.
We had suffered a number of Mr. Murphy related events, more or less overcomed,
and our final result reflects them.

We experienced a very hot weather and an African hot wind, flowing
all days with gusts, that didn't help our work and our physique.
(Luckily there was the pool, and we enjoyed it!)

Sal, could not reach us till late wednesday, when most of the antenna work
was already done. This tired us much more than foreseen.
The 160 m vertical did not tune at all, and this cost us a whole thursday of
work
trying to find different solutions: we ended the work due to lack of daylight
and stenght!! The result has been a 160m new type of antenna: the capped
NAIL!.

The CL-33 mult beam, once up on the pole, did't tune correctly, so we had
to redo the work on a ladder. Lou, IK8HCG is a juggler, so he did it!

Nonetheless, when first we needed it, it was broken again. The wind gusts
tossed it so well that the central feeder was disconnected.
Our juggler went in action again!

The Alpha 374 amplifier has been damaged during the sea trip, so it
could only be used in AUTO mode. On sunday, surely too hot, it switched off
and restarded only some two hours later!
On sunday the 756Pro went also out of order, and was replaced by a TS950SDX

The second night of the contest, the wind, which calmed down for a while,
started to flew from NW. This cool and strong wind, brought us rough sea and
pushed on our main beam from an unusual direction, where the guys
didn't work well.
At around 11Z the beam was going to come down: just a lucky coincidence
let us to see it in time and saved the beam to break. With the beam lowered
to a safety position, our high bands traffic almost died.

The positive side of our story is the 40M 4-square that let us put out 
a solid signal (at least is what we undestood from the on-the-air comments)
and, even if one of the 4 verticals was also brought down by the wind
and the sea (damage easily repaired), we enjoyed a lot the pileups, and the
easy beam switch gave us the chance to null out the strong EU signals
and let us work the JA pileup nicely. 
And some nice calls are in the log on this band: 4W, AH2, KH0, HS, VK9X,
Success!!

The CT-Win we used, crashed every now and then, and our log is full of holes
and not in order yet, after a quick merge. We hope some more 
qsos and mults will come out when the repair will be completely worked out.
(Why not a single word on the CT-User reflector of a new 9.91.002 version
that solved the crashes???)

Thanks to all who called us and our apologies to the Europeans, but
sometimes we had to call DX only! 
You, Europe's guys and gals, are always too loud down there!

We would like to thanks again our host Manos, SV9ANJ.

73, IK8UND, IK8HCG, I2WIJ.

 
+ + + + + + + + + + + + + + + + + + + + + + + + + + +
I2WIJ is the 1/3rd part of the Marconi Contest Club, 
the other two are free-lance contesters!!
+ + + + + + + + + + + + + + + + + + + + + + + + + + +



NG3K CQWW SSB 2003 Announced operations
Go to Main Page

Updated on 15-Dec-2006
Copyright © Roberto SORO - I2WIJ
All the informations and images cannot be modified but can be reused, without any prior authorization, providing the source is always quoted.