Philips FM900 FM914 FM914PM FM916 FM91 FM92
1 OFF FM914
High Band
50 channel
Set used Emergency Control by Southern possibly Essex Council.
Complete.
2 OFF FM91
50 channel Low Band
Ex RAF, mint condition in wooden transport boxes.
Bought August 2003
1 OFF FM92
Complete on wooden board.
Ex Metropolitan Police.
2 metre 99 channel sets.
1 OFF FM92 set + control box.
2 OFF FM92 set only
Philips FM92
VHF synthesized mobile FM.
Boot mounted 25 watts.
As used by Metropolitan Police Crime Squads on 155 MHz.
1 OFF complete on board as used as temporary base station for operational use.
With control box working on 2 metres 99 channel.
3 OFF sets and 1 more control box
Bought from Anchor Surplus Nottingham October 2001.
Service manual.
Metropolitan Police Crime Squad FM92 transportable 100 channels

FM92
VHF dash mounted
Scottish Office voting system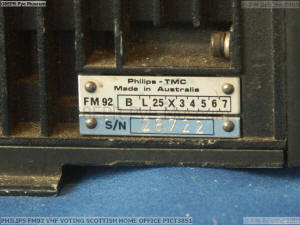 FM93 10 channel Dash mounted
2 OFF FM97 Low Band.