SEIGER
Seiger is our alsation pup. At the time of writing (early October) he is 9 weeks old. We have only had him for 2 weeks but already he is toilet-trained and will sit and give a paw.
After years of having Jack Russell Terriers it's strange to have a dog that responds so well to training. Watch this space!
Four weeks on and Seiger is growing like a weed! He's more than doubled in weight and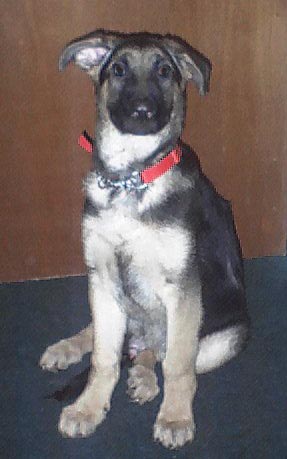 is now innoculated so he can go for walks with our Jack Russell, Abbey. Abbey runs here and there like a mad thing, chasing birds, cats etc. Seiger follows for a few steps, then watches. It's as though he's thinking "It's not armed or dangerous, it's not even human. Why bother chasing it?"!!
It's now July and Seiger is almost a year old. He has almost worked his way through the chewing phase but still drives Abbey demented by his determination to play with her all the time.
Seiger's idea of playing doesn't match with Abbey's. He wants to gnaw gently on her, which he thinks is reasonable. However, when her head disappears inside his mouth she reckons that, gentle or not, this isn't a game she wants to play! She can be very patient but Seiger brings out the Jack Russell snappiness in her!
Hopefully, as he grows up he'll continue to calm down!